House of the Dragon Trailer - The Loop
Play Sound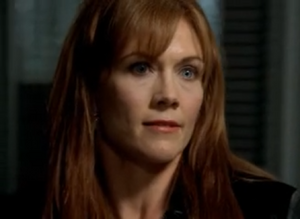 Debra Archerson is the main antagonist from "Sweet 16", episode 3.10 of CSI: NY.
She was portrayed by Stacy Haiduk.
Biography
Debra Archerson is the wife of wealthy Edward Archerson, as well as the mother of their offspring, Autumn and Chaz. She began to harbor resentment over Autumn being spoiled, as well as Edward catering to her every whim. It all came to a head on Autumn's 16th birthday, when the couple went shopping for a car as a gift for their daughter. Debra was set on buying a Mustang, but Edward planned to buy Autumn the more expensive Benz, much to the chagrin of Debra, who was unaware that the Benz was Edward's payment to Autumn for her silence after she caught him with her best friend, Paige.
The couple argued while sitting in the Benz on the night of the party, with Debra criticizing Edward for spoiling Autumn, while Edward told his wife to be happy for once and that "you only turn 16 once.". The argument ended with Debra turning heel and strangling Edward to death; removing her hair extension and using it as the murder weapon. After a snake was found in the car, Chaz was accused of killing Edward, as he put the snake inside as a prank. Debra was at her son's side during his interrogation from Stella Bonasera, but after a hair from the extension was found at the scene, Debra was revealed as her husband's killer. During her own interrogation with Stella, the evil Debra brashly admitted to killing Edward, while also blasting him for spoiling Autumn as well as giving her that name, and even claimed that the kids could be better off. Debra was later arrested for her crimes (off-screen).
Gallery