Demon King Psycho is the ruler of the Madou crime syndicate and the main antagonist of Space Sheriff Sharivan. He is a demonic idol-like being with powerful illusion conjuring abilities who seeks the domination of the entire universe. He later returns as the main antagonist of the movie Kamen Rider x Super Sentai x Space Sheriff: Super Hero Taisen Z.
He is voiced in all of his appearances by Shozo Iizuka, who also voiced later Metal Heroes villains Great Emperor Kubilai and Org Ninja Dokusai.
History
Space Sheriff Sharivan
Though Psycho was immobile at first, he eventually uses his fully mobile cyborg Psychorror as an extension of himself, armed with twin swords. When Sharivan and Gavan enter his fortress, they discover that he uses two bodies at once. Sharivan destroys his immobile self while Gavan simultaneously destroys his second body.
Kamen Rider × Super Sentai × Space Sheriff: Super Hero Taisen Z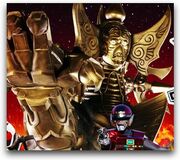 At some point, Psycho was able to revive Strategist Reider, who set in motion a plan to revive Psycho at full power, assembling Space Shocker from revived past foes of the Kamen Riders to serve as a front for Madou's return and to capture Psycholon, who housed a fragment of Psycho's soul that could be used to absorb magic and bring back Psycho.
Eventually, after the Galactic Union Police fire the Super Dimensional Cannon at Earth in order to destroy Space Shocker, Reider uses his magic to hijack the energy of the beam to complete the Demon King's resurrection. The resultant explosion provides enough power for it, before Reider perishes, just to later return as Space Reider, bringing several other monsters to the fight.
Psycholon is also overcome by the energy surge and is put under Madou's control as well, fusing back into Demon King Psycho. Psycho and his army of revived monsters then attack the Kamen Riders, Super Sentai and Space Sheriffs and start to overwhelm them, but an army of Kamen Riders and Super Sentai led by Kamen Rider 1 and Akaranger arrives to reinforce their fellow superheroes against Madou. As Psycho wreaks havoc, Yoko calls out for Psycholon and it manages to break free from Psycho's control, Psycho fires an attack at her, only for Psycholon to block the attack, sacrificing itself to protect Yoko. After being weakened by Space Sheriffs Gavan Type G, Sharivan and Shaider, Demon King Psycho is ultimately defeated when the Kyorugers' Kyoryuzin and Kamen Rider Wizard's WizarDragon combine and use their united powers to destroy the Demon King.
Gallery
Community content is available under
CC-BY-SA
unless otherwise noted.