Jurassic World: Dominion Dominates Fandom Wikis - The Loop
Play Sound
This article's content is marked as Mature
The page Mature contains mature content that may include coarse language, sexual references, and/or graphic violent images which may be disturbing to some. Mature pages are recommended for those who are 18 years of age and older.


If you are 18 years or older or are comfortable with graphic material, you are free to view this page. Otherwise, you should close this page and view another page.
The Demons served as supporting antagonists in the 2019 American supernatural superhero film Hellboy.
History
Some of the demons were quickly seen in a vision in which Hellboy would lead them to destroy humanity while riding on a large dragon-like beast.
The demons were released from Hell when Hellboy pulled Excalibur from the stone after Nimue killed Trevor Bruttenholm. Several different types of these creatures started to rampage throughout the streets, killing and torturing any humans they encountered, with one large demon even destroying the Tower Bridge.
Eventually, all demons were sent back to Hell and also Nimue's head, after Bruttenholm's ghost managed to appeal to Hellboy's humanity.
Types of demons
There were several different types of demons that were released from the Hell:
Winged demons
The winged demons were numbered in the hundreds, if not thousands. They were seen flying all around London, picking up people and tearing them apart.
Blade-handed demon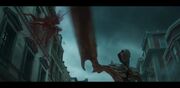 This demon had an enormous blade for an right hand. The creature notably grabbed a business man and skinned him with his weapon.
Fire demon
This demon appeared to be formed from human-arms and legs, with it having two large arms that are floating detached from it's arms. It could also breath fire on people. During it's rampage it killed dozens of people.
Giant demon who destroys the Tower Bridge
This large demon destroyed the Tower Bridge, killing hundreds of civilians in the process.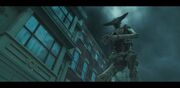 Horned demon
This demon looked like a giant human skeleton with big horns, as well as long spear-like legs, which it used to impale people. The creature seems to have skewered at least half a dozen people during it's rampage.
Other links
Trivia
The large demon that destroyed the Tower Bridge resembles Outer God Nyarlathotep from the Cthulhu-mythos.

Villains
Comics
Adoet de Fabre | Aphrodite | Astaroth | Arnold Wald | Baba Yaga | Baron Ernst Koing | Black Flame (Raimund Diesel, Landis Pope) | Bog Roosh | Cyclops | Demons (Andras, Asmodeus, Azzael, Balam, Beelzebub, Behemoth, Beleth and Sytry, Bifrons, Eligos, Gamon, Gamori, Iblifika, Leviathan, Lusk, Marchosias, Shax, Sybacco, Ualac) | Effie Kolb | Ereshigal | Frog monsters | Giants | Grigori Rasputin | Gruagach | Gunter Eiss | Gustav Strobl | Hammerheads | Hecate | Heinrich Himmler | Herman von Klempt | Hraesvelg | Hydra | Igor Bromhead | Ilsa Haupstein | Inger von Klempt | Iron Shoes | Isaiah Marsten | Jeremiah Witkins | Kamala | Karl Ruprecht Kroenen | Koschei the Deathless | King of Fear | Krampus | Kriegaffe | Larzod | Lazar | Leopold Kurtz | Mennan Sea | Nimue | Nukekubi | Ogdru Hem (Conqueror Worm, Katha-Hem, Sadu-Hem, Salton Sea Monster, Urgo-Hem) | Ogdru-Jahad (Nunn-Jahad) | Osiris Club | Penanggalan | Pluto | Raimund Diestel | Roderick Zinco | Roger's brother | Romulus Diovanni | Rudolf Bergen | Saint Leonard Wyrm | Satan | Sebek | Thrym | Unmensch | Vârcolac | Varvara (Yomyael) | Vampires | Vladimir Giuresu | Werewolves | Wieland Lorst | William Grenier | Yumiko Daimio
Movies
Hellboy (2004): Grigori Rasputin | Karl Ruprecht Kroenen | Ilsa Von Haupstein | Sammael | Ogdru-Jahad (Behemoth)
Hellboy: Sword of Storms: Thunder & Lightning
Hellboy: Blood and Iron: Hecate | Erzsebet Ondrushko
Hellboy: The Golden Army: Prince Nuada | Mr. Wink | Golden Army | Forest God | Tooth Fairies
Hellboy (2019): Vivienne Nimue | Gruagach | Camazotz | Baba Yaga | Demons

Villains
Animated Features
Preminger | Madame Carp | Midas | Nick and Nack | Laverna | Fungus | Firebird | Wenlock | Wenlock's Griffin | Ollie | Fungus Maximus | Raquelle | Todd | Frieda | General Hemmer | Yegor | Lady Vain | President Stone | General Heckler | Cora | Hamegg | Tony | Rogues (King) | Cecil Clayton | Tublat | Edwin Carbunkle | PATBOT 3000 | Wilf | Anthony Trumper | Pigs | Bull | Mr. Greene | Mel & May | Linnux | Riff | Skozz | Storm King's army (Storm King, Tempest Shadow, Grubber & Storm Creatures) | Lord Nooth | Agent Red | Mugg-1N5 | The Hazmats | M.A.D.
Live-Action Films
Boy | Snik | Lady Van Tassel | Headless Horseman | Reverend Steenwyck | Patrick Bateman | Rachel Newman | Leprechaun | John Kramer | Amanda Young | Zep Hindle | Punisher | Howard Saint | Quentin Glass | Livia Saint | John Saint | The Russian | Harry Heck | Mickey Duka | Georges Rutaganda | Gregoire | Yuri Orlov | Andre Baptiste Sr. | Andre Baptiste Jr. | Tony Shepard | Lawrence Gordon | Madea | Mark Hoffman | Karen Crowder | Tatmadaw (Major Tint, Lieutenant Aye) | River Pirates | Jigsaw | James Russoti | Carmine Gazzera | Ink | Maginty | Schist Petroleum Company (Frederick Schist & Jake Schist) | Rodney Thibadeaux | Wayne Thibadeaux | Linda Davis | Anton Poldark | Glaze | Tatiana Creel | Larry | Abalam | James Munroe | General Garza | Dan Paine | Lawrence Sparks | Jonah King | Animal Masked Assailants, (Fox Mask, Tiger Mask, Lamb Mask) | Felix Davison | Crispian Davison | Zee | President Coriolanus Snow | Gamemakers (Seneca Crane) | Peacekeepers (Romulus Thread) | Erudite (Jeanine Matthews, Caleb Prior) | Dauntless (Eric Coulter, Max, Peter Hayes) | Factionless (Evelyn Johnson, Edgar) | The Bureau of Genetic Welfare (David, Romit) | Jean Vilain | Hector | The Sangs | Arthur Tressler | Willard Hobbes | Lester Clark | Drake | Senator Quintas Corvus | Marcus Proculus | President Alma Coin | Cootie Kids (Shelley Linker, Patriot, Dink, Angela, Tricycle Girl, & Racer Dopkins) | Conrad Stonebanks | Krug | Goran Vata | High Table | Viggo Tarasov | Iosef Tarasov | Avi | Ms. Perkins | Kirill | Bel and Genesis | Vladimir Malevich | Adrian Yates | Crane | Laughter | Fausto Alarcón | Walter Mabry | Tsarnaev Brothers | Santino D'Antonio | Ares | Gianna D'Antonio | Cassian | Dukhovich's Soldiers (Vladislav Dukhovich, Jean Foucher) | General Milić | Leatherface | Burt Hartman | Jonathan | Logan Nelson | Hal Hartman | Joanna | Orian Franklin | Crosby Franklin | Acapulco | Pinhead | Sean Carter | Jophiel | The Stygian Inquisition | Vivienne Nimue | Gruagach | Camazotz | Baba Yaga | Demons | The Adjudicator | Zero | Winston | The Elder | The Shinobi | Olga | Ransom Drysdale | Fran | Hugo Martinez | Victor Martinez | El Flaco | Aristotle Papadopoulos | Michael Bryce Sr. | Nanobot Swarm
See Also
Aardman Villains | Agatha Christie Villains | Barbie Villains | Blumhouse Productions Villains | Castle Rock Entertainment Villains | Cooties Villains | Escape Plan Villains | EuropaCorp Villains | Hellboy Villains | Hellraiser Villains | John Wick Villains | Lantern Entertainment Villains | Luc Besson Villains | Man-Thing Villains | My Little Pony Villains | Netflix Villains | Punisher Villains | Rambo Villains | Ridley Scott Villains | Saw Villains | Sleepy Hollow Villains | Studiocanal Villains | The Expendables Villains | The Hunger Games Villains | Tim Burton Villains | Texas Chainsaw Massacre Villains | Warner Bros. Villains
Template:Summit Entertainment Villains