Wiki Targeted (Entertainment)
Play Sound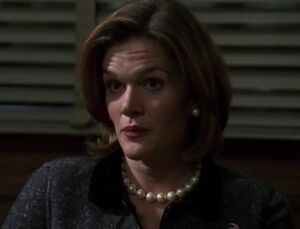 Dena Carter is a minor antagonist in Law & Order, appering in the episode from "Deadlock".
She was portrayed by Catherine Dent, who also played Kay Marquette.
Biography
Dena Carter is a defense attorney and a former prosecutor who is running for State Senate in New York. However, her campaign is plagued by scandals, which results in low poll numbers. Needing a boost, Dena follows the case of notorious killer Leon Vorgitch, who escaped custody and killed several children.
Carter uses Robert Purcell, father of one of the victims, as a pawn in a scheme to improve her public image and attract more votes. She contacts Purcell and informs him of the exact time that Vorgitch would be at the courthouse, and it is there that Purcell shoots and kills him. Carter takes on Purcell's case, planning to use her position to appeal to public support for the death penalty. After Connie Rubirosa and Jack McCoy discover that Purcell may have been tipped off regarding Vorgitch's location, the latter confronts Carter regarding her role in Vorgitch's murder. Carter denies involvement, but later indirectly admits to informing Purcell by telling McCoy that she did nothing wrong, and that even if she did, he could not prove it.
Following Carter and McCoy's closing arguments, Purcell is convicted of second-degree murder. After the conviction, McCoy tells Purcell that Carter used him to further her campaign. Purcell then tells McCoy that Carter had tipped him off about Vorgitch's whereabouts. A few days later, Carter is disbarred and indicted for second-degree murder.
External Links