Click to help Cruella!

This scum Dennis Mcfield is driving Cruella insane!
IT MUST BE REWRITTEN OR ADDED TO!!
So sayeth the great Lord of Darkness Sauron, or he will send Darth Vader to terminate you.

Help improve this article by rewriting, expanding, updating the poorly written text of the article. ✓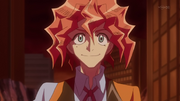 Dennis McField, spelled Dennis Mackfield in the Japanese version, is a character in the Yu-Gi-Oh! ARC-V anime. He is an exchange student from the Leo Institute of Dueling School for the Performing Arts (Broadway campus in the Japanese version) and belongs to the Xyz Summon course. In reality he is associated with the Duel Academy from the Fusion Dimension. He is a former member of the Lancers.
Dennis truly enjoys being an entertainer, and seems to like spending time with his fellow Lancers. Nevertheless, he is loyal to his dimension's cause and despite knowing the consequences, he green-lit the Invasion of the Xyz Dimension after discovering Lulu.
Despite this, he showed noticeable annoyance and anger at Shay for "taking off his mask" as the Duel progressed, and after being forced into a corner, Dennis reveals his true colors and his usual cheerful tone becomes more maniacal while declaring it a "Hunting Game".
After his final defeat, he is approached by Yusho, who says that his Duel brought a lot of smiles, and he can bring more if he rejoins the Lancers. Dennis, feeling guilty for his betrayal against the Lancers, refused. But he is still a good loser, fulfilling Kite's demand as well as Rin's location. As per his loss, he cannot return to the Professor, and carries out one last thrilling show by carding himself.
After Zarc's Defeat, during the Arc League Championship, Dennis, now freed of His card faced Yuya in the XYZ Dimension, and was defeated.
Community content is available under
CC-BY-SA
unless otherwise noted.