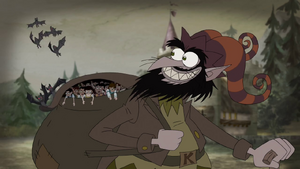 Der Kinderlumper is a one-time villain of Phineas and Ferb, appearing in the episode "Der Kinderlumper". He is a mythical monster from Drusselstein's folklore.
When Heinz Doofenshmirtz turns into one, he was voiced by Dan Povenmire.
Role
The story of the Kinderlumper seems to have two versions. In one version (told to Roger Doofenshmirtz, the current mayor of Danville), the Kinderlumper is a kind, loving creature who brings presents in the night, similar to Santa. The other version (told to Roger's brother Heinz Doofenshmirtz) depicts him as a krampus-like ghoul that kidnaps children and puts them in his "gundersack" if they're naughty, or for very minor reasons, such as blinking, having saliva in your mouth, or drinking a glass of water. His powers seem to be coming out of toilets, snakelike flexibility, and shooting bats from his cane.
In the episode, Heinz attempts to briefly turn himself into a Der Kinderlumper in order to scare Roger into relinquishing control of the Tri-State Area, but soon finds out that Roger was told of the kind loving version, much to his dismay.
Appearance
Der Kinderlumper is a huge, trollish human-like creature with a nose like a broom handle and a huge sack over his shoulder. He looks vaguely like Heinz with a long beard.
Trivia
"Kinderlumper" seems to be the match-up of two German words: "kinder" and "lumper", which means "children" and "stevedore".
He is probably inspired by Krampus, a similar dark satyric-demonic bogyman from Southeast German and Austrian folklores.

Villains
Community content is available under
CC-BY-SA
unless otherwise noted.