Jurassic World: Dominion Dominates Fandom Wikis - The Loop
Play Sound
This article's content is marked as Mature
The page Mature contains mature content that may include coarse language, sexual references, and/or graphic violent images which may be disturbing to some. Mature pages are recommended for those who are 18 years of age and older.


If you are 18 years or older or are comfortable with graphic material, you are free to view this page. Otherwise, you should close this page and view another page.
| | | |
| --- | --- | --- |
| " | Well, if you insist my name is Devo the Cursed, and since you're probably wondering my stand is the card of The Devil. It represents insanity of the cursed and a precipice of malevolent fall to ruin. | " |
| | ~ Devo | |
Devo, (also known as Soul Sacrifice in the English dubbed version), was an evil Stand user and one of the assassins hired by Dio Brando in JoJo's Bizarre Adventure: Stardust Crusaders. He wields the Stand Ebony Devil.
In Japanese, he has been voiced by Yuji Kishi in JoJo's Bizarre Adventure: Heritage for the Future, the late Unshō Ishizuka in JoJo's Bizarre Adventure: All Star Battle, and Shouto Kashii in the anime. In the anime's dub, he was voiced by Edward Bosco.
Biography
Past
Even before allying himself with DIO, Devo was known throughout as a dangerous assassin, hired by shady figures to get rid of people they want gone. Devo lets everyone his attacks make the first move, and no-one has managed to survive one of his attacks yet. Some even say his way of death is actually the cause of a curse he casts.
JoJo's Bizarre Adventure: Stardust Crusaders
Devo is first seen in a hotel in Sigapore, hiding in Jean Pierre Polnareff's room's fridge. Polnareff, noticing the removed alcohol, noticed Devo's presence and revealed him. Once Devo was revealed and summoned Ebony Devil, Polnareff stabbed at him, removing his left eye. Devo then activates his Stand to possess a doll before falling off the balcony to escape, then hiding in a bathroom stall.
Ebony Devil then attacked Polnareff inside the doll, killing a hotel employee and tying him under the bed to use spilled alcohol and a haywire hair-dryer to cause a fire or electrocute him. However, Polnareff perishes to neither, using a broken mirror to find his reflection and attack Ebony Devil. Polnareff asks for info on J. Geil but when not met with info, Polnareff chops Ebony Devil, and due to this, Devo, to pieces.
Powers and Abilities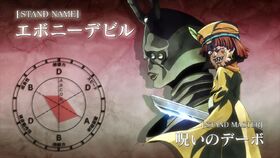 | | | |
| --- | --- | --- |
| " | The pain! Just you w.... How dare you! How dare you do that to me! Now I can hold one hell of a grudge against you! Such torture! Such agony must be avenged, and you're the pathetic one, Polnareff! I let you find me and attack me on purpose! You're a dead man now! | " |
| | ~ Devo cursing Polnareff for attacking him. | |
Ebony Devil's main ability centered around having it's user being damaged, a risky strategy. Once activated, Ebony Devil will transfer itself to a physical object, mainly a doll, to attack. It first quietly makes itself known, before bigger stuff follows suit. It's power also is strengthened depending on Devo's hatred for his foe. Devo can control the doll from a distance, and any damage it receives will be dealt to Devo.
Gallery
Images
Videos