House of the Dragon Trailer - The Loop
Play Sound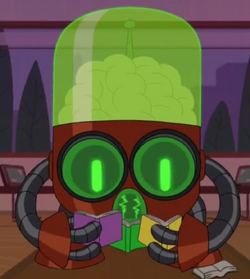 Dewey Decimal is a one-time villain from the 2016 reiteration of the Cartoon Network original series The Powerpuff Girls, only appearing in the episode "Splitsville". He is a highly intelligent robot who destroys the library.
He was voiced by Tom Kenny.
Biography
Blossom had to stop a crime all on her own. The crime was taking place at the library, where a giant robot by the name of Dewey Decimal was going around, picking up random books from shelves, and throwing them on the floor. He was also knocking over shelves and being loud. The librarian told Blossom about the travesty that was happening and asked her to stop him.
Blossom thought out a logical plan, wherein she would push a book cart into a laptop computer, making the screen tilt back ever so slightly. She would use her laser eyes on the computer screen and it would reflect off of it, zapping the rope to the chandelier, and making it drop down onto Dewey Decimal. However, Dewey Decimal extrapolated this plan and he grabbed the chandelier down from the ceiling, himself, and threw it at Blossom. Dewey Decimal told Blossom that he would make her part of the Decimal system and then fired a bunch of decimal points at her.
Blossom knew that she needed to find out a new way of taking down Dewey Decimal. She tried to go up to him and politely asking if he could stop destroying things, but this did not work at all, as Decimal simply just smacked Blossom across the room, landing her in a pile of book, where he proceeded to insult her, and tell her that she was inferior to himself in terms of intelligence.
Blossom thought about what her mentor would say about this. Her mentors were Bubbles and Buttercup, who both argued over how she should fight Decimal. Blossom got extremely angry and just charged right into Decimal and started beating him left and right with no rhythm or rhyme to her attacks. Dewey Decimal could not predict the outcomes of her attacks, because she was not thinking of any plans. She was just going for it. Finally, she managed to destroy him, turning him into a pile of scrap metal.