Doctor Strange in The Multiverse o Madness - The Loop
Play Sound
This article's content is marked as Mature
The page Mature contains mature content that may include coarse language, sexual references, and/or graphic violent images which may be disturbing to some. Mature pages are recommended for those who are 18 years of age and older.


If you are 18 years or older or are comfortable with graphic material, you are free to view this page. Otherwise, you should close this page and view another page.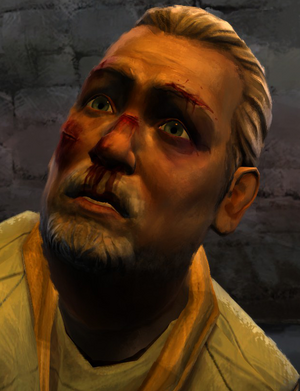 | | | |
| --- | --- | --- |
| " | Why are you doing this? | " |
| | ~ Raza begging for his life, unaware of Beskha wanting to kill him. | |
Dezhor zo Raza is a minor yet key antagonist in A Game of Thrones: A Telltale Games Series. He was a slave master in Meereen. He was originally Beskha's slaver and pitted her against other children in the fighting pits until she escaped.
Dezhor is a ruthless, uncaring, manipulative and sadistic slaver. However he is also weak of will and cowardly, quivering and whimpering when he is confronted by Beskha. Though he appears excited and happy when he sees Beskha, he is quick to proclaim dominance as when he says "My Beskha", as if he shows pride in her. He also does not care about the lives or wellbeings of his slaves, and is even said to take twisted pleasure and entertainment in watching them fight for their lives.
A Game of Thrones
Sons of Winter
Dezhor is first mentioned by Beskha as the reason she doesn't want to come back to Meereen. After her dispute with Croft and Asher, she reveals that she was in fact a slave herself when she was a child, taken from her family at three years old by him. By age seven, he forced her to slaughter other children in the fighting pits, which eventually included one of her good friends. This had scarred Beskha for the rest of her life.
Dezhor later fully appears in the episode when Croft, Asher, and Beskha are sent by Daenerys Targaryen to liberate the slaves of Meereen. He is spotted by Asher in his home. Beskha confronts Dezhor, who panics and begs for his life upon seeing her desire for his death, and throws him out of his home after finding a slave dying from injuries suffered by getting beaten by Meereen guards. Driven by revenge, she savagely beats him up until Croft stops her, to which she revealed that he was her master. Croft says that if she kills him it could jeopardize their mission, and threatens to shoot her with his crossbow if she doesn't comply to his orders.
Asher can let Beskha kill Dezhor, kill him himself, or agree with Croft and stop her.
If Dezhor survived Sons of Winter, it is unknown what becomes of him after. It is assumed that he is killed by the freed slaves that roam around Meereen. Daenerys Targaryen will either praise or criticize Asher based on how Dezhor survived or died in their encounter.
Death (Determinant)
Killed by:
Beskha

(determinant)
Asher (determinant)
If Beskha kills Dezhor, she sticks both of her blades into his stomach, then pulls them in opposing directions, creating an X-shaped deep wound across his chest and being left to bleed out.
Asher can also step in and kill him, cutting his throat open, also leaving him to bleed out, silencing both Croft and Beskha and ending the argument.
Killed Victims
Numerous counts of children (caused)

Villains
Video Games
Toy Mafia (Hugh Bliss) | Brady Culture | Soda Poppers | Jurgen | Strong Bad | The King of Town | Sultry Buttons | Uzi Bazooka | Craig | Trogdor | Queen Bee | Bumblebees | Pudgie-Woo and Tinkie-Wee | Monty Muzzle | The Narrator | General Skun-ka'pe | Anton Papierwaite | Sammun-Mak | "Junior" Max | Charlie Ho-Tep | Billy Yoder | Dr. Laura Sorkin | Miles Chadwick | Walkers | Stranger | Save-Lots Bandits | St. John Family (Andrew, Dan & Brenda) | Jake | Linda | Jolene | Vernon | Crawford Oberson | Logan | Larry | Lilly | Kenny | Marcus Crabtree | Nate | Russell | Roman | Bigby Wolf | Crooked Man | Bloody Mary | Jersey Devil | Georgie Porgie | Vivian | Bluebeard | Ichabod Crane | Grendel | Jack Horner | Woodsman | The Tweedles | Geppetto | Carver's Group (William Carver, Troy & Johnny) | Arvo | Buricko | Vitali | Natasha | Winston | Victor | Ralph | Michelle | Kenny | Jane | Mike | Rhys | Fiona | Handsome Jack AI | August | Hugo P. Vasquez | Vallory | Bossanova | Rudiger | Asher Forrester | Andros | Britt Warrick | Damien | Dezhor zo Raza | Gared Tuttle | Gryff Whitehill | Harys | Ludd Whitehill | Rickard Morgryn | Tazal | Hostile Mobs (Wither Storm) | The Ocelots | Ivor | Soren the Architect | Aiden | Maya | Gill | White Pumpkin | PAMA | Hadrian | Mevia | Em | Norma | Randall | Monroe Colonists (Gabby & Jonas) | Children of Arkham (Vicki Vale, Oswald Cobblepot & Blockbuster) | Catwoman | Harvey Dent | Falcone Crime Family | Joe Chill | Victor Zsasz | Mr. & Mrs. Vale | Gotham Criminal Triumvirate (Carmine Falcone, Thomas Wayne & Hamilton Hill) | The New Frontier (Joan, Badger & Max) | Scavenger | Romeo | Stella | Prismarine Foes | Warden | The Pact (Riddler, Harley Quinn, Bane, Mr. Freeze, John Doe & Eli Knable) | The Agency (Amanda Waller & Roger Harrison) | Rumi Mori | Willy Deever | S.A.N.C.T.U.S. | The Delta (Lilly, Minerva, Abel, Dorian, Sullene, Gad, Michael, Gina & Armando) | Marlon | Violet
See Also
Game of Thrones Villains | Homestar Runner Villains | Jurassic Park Villains | Minecraft Villains | Telltale Batman Villains | Telltale's The Walking Dead Villains | Wallace and Gromit Villains