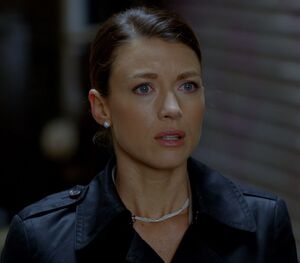 Diane Hanson is the main villainess from the pilot episode of Person of Interest.
She was played by Natalie Zea, who also played Maxine Seagrave on Under The Dome.
Diane Hanson is an assistant district attorney prosecuting against Lawrence Pope, who was on trial for a gang related murder. Finch and Reese tracked Diane with the belief that she's being targeted by gang members, but it was later revealed that Diane is the evil mastermind of a conspiracy involving a group of corrupt cops who steal drugs and money while framing Pope for their crimes.
Diane's villainous reveal came when she met with the crooked cops in an alley, where Reese followed her. She revealed that she had Pope killed in prison and after Reese was found by the group, the evil Diane ordered them to kill Reese and later kill Wheeler, Diane's ex-boyfriend and a fellow prosecutor. Diane was eventually exposed during a court proceeding, when a recording of Diane revealing her role in the conspiracy was played by Reese. Though not shown on screen, Diane was arrested for her crimes.
Community content is available under
CC-BY-SA
unless otherwise noted.