The Sandman Will Keep You Awake - The Loop
Play Sound



Click To Help Joker!

The Joker believes this article is lacking a certain flair -

namely some good quality images... you could just leave the article without pictures, but really now... where's the fun in that?'
✓
Dirty Duck, also referred to as Coward Duck, is a Outer Heaven mercenary, and a minor antagonist of Metal Gear (1987).
Biography
Backstory
Dirty Duck was the former leader of an extremist terrorist unit called Egg Plant. He would become a mercenary, and go onto join Outer Heaven.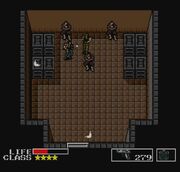 Metal Gear
During the events of Operation Intrude 313, Dirty Duck held key card 8, which led to the basement of Building 3, which contained the TX-55 Metal Gear. He confronted Solid Snake in Building 2, using three POWs as human shields, and dared Snake to shoot him. Attacking with his boomerangs, and being additionally protected by a pit trap in case tried to get closer, Dirty Duck was killed by Snake without harming his prisoners.
Trivia
While Dirty Duck's nationality is never specified, his choice of boomerangs as weapons has led him to be thought of as Australian.