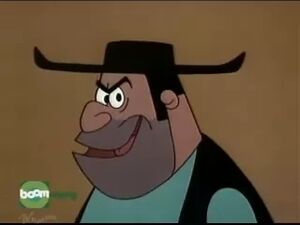 Dirty McNasty is a recurring villain from the Woody Woodpecker Show and one of many characters who served as Woody's foil.
He was voiced by the late Dallas McKennon.
McNasty appears as a bulky outlaw, usually shown to have a short temper. His face design changes a bit in every appearance: he uses a pointy hat on his first episode, which he trades for a small one on his later appearances, while he keeps a unshaved face until his appearance in Have Gun, Can't Travel, which is the one time where he sports a mustache.
McNasty likes showing himself, being proud of the "Wanted" signs with his face on it and the huge rewards for his capture. He owns SugarFoot the Horse in most of the episodes he appears in, though he abuses him constantly.
While he is played as a more serious antagonist, he's still as much a victim to Woody's antics as any other character.
Appearances
Phantom of the Horse Opera (1961)
Saddle Sore Woody (1964)
Woodpecker Wanted (1965)
Have Gun, Can't Travel (1967)
Lotsa Luck (1968)
Community content is available under
CC-BY-SA
unless otherwise noted.