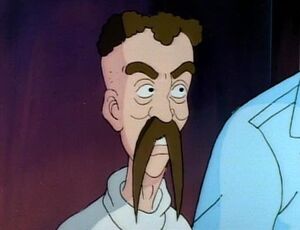 Dr. Dmitri Smerdyakov
was a scientist who helped
Vladimir Pavel Maximov
and their fellow members of the Old One Cult summon
one of the Old Ones
 and a villain in
The Real Ghostbusters
cartoon series. Dmitri hails from Pinsk, a city in Belarus, a country annexed by the Soviet Union.
History
Dmitri helped Vladimir steal "The Nameless Book" during a paranormal conference while the Ghostbusters performed a demonstration of their equipment.
They met up with the Old One Cult and began the process of awakening the Old One. However, the pedestal holding up the book kept sinking. Dmitri was forced use his back to properly prop it up.
After the Ghostbusters defeated the Old One, he and Vladimir were arrested.
Personality
Dmitru is Maximov's comic foil, as he often takes his abuse. He was somewhat upset when he found out that when the Old One promised his partner that he would rule the world, he would not rule alongside him.
Gallery

Villains
Movies
Ghostbusters (1984)
Ghostbusters II
Ghostbusters (2016)
Television
The Real Ghostbusters
Extreme Ghostbusters
Comics
Video Games
Community content is available under
CC-BY-SA
unless otherwise noted.