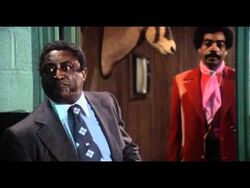 Doc Johnson is a ruthless gangster in Across 110th Street.
He was portrayed by Richard Ward.
Biography
He is first seen when D'Salvio tells Doc that he wants to take care of the ones who killed his men. Infuriated by the thought of him killing blacks, he insults D'Salvio. He reluctantly agrees to find them, but only because of his mob's share of the money, not out of like towards D'Salvio. He then berates D'Salvio for his ranking, being an errand boy. Enraged, D'Salvio goes to hurt Doc but his men hold him back. Next time we see a showdown is when Mattelli visits him. Mattelli, who at this point has changed his attitude toward blacks and actually gives a damn about blacks being killed, he goes to confront Doc about his killings. Infuriated by this, Doc attacks Mattelli, calling him a racist. Mattelli warns Doc to stop the bloodshed. He then tries to convince Pope, reminding him of Mattelli's racist history, to join his team. Pope, having dignity, declines. He then calls Mattelli an "old man," which infuriates Mattelli, and causes him to try to fight him. After this scene, we see a brutal scene in which Doc tries to find the men who robbed their money, including one brutal scene in which Doc tortures a man with a car auto shop machine.