Jurassic World: Dominion Dominates Fandom Wikis - The Loop
Play Sound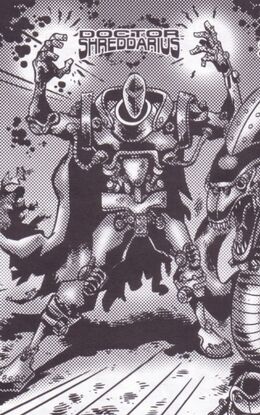 Doctor Shreddarius is the Shredder's counterpart in the world of Super Turtles in the Mirage Comics.  He is the main antagonist of the Super Turtles Arc and the unseen overarching antagonist of the 2003 Teenage Mutant Ninja Turtles episode," Reality Check" since he didn't appear in person but his Terrorkinetics appear in as training hologram, implys they did exist as well as Doctor Shreddarius. He created the army of the terrorkinetics to protect Earth, but ended up double-crossing his partner Lucks. While in his lab, he was gravely injured from experimenting with chemicals. A rat was mutated from licking Shreddarius's chemical wounds. He is named Sliver, and is the counterpart to Master Splinter. Unlike Master Splinter, Sliver is evil because of his loyalty to Shreddarius.
Shreddarius is rebuilt as a cyborg. His friendship with Lucks grows along with their political relationship. Their only goal is to control the world, but their plot is soon revealed by Jonas Case and Neil O'Malley, scientists who once worked for Shreddarius. Jonas and Neil lead a rebellion along with the Super Turtles to stop Lucks, Shreddarius, and Sliver. While the Super Turtles defeat their master, Shreddarius escapes to fight another day. Lucks is now behind bars and the Super Turtles announce that the nations leaders now have control once again of their countries. The Super Turtles do eventually beat Shreddarius and the terrorkinetics.
Trivia
Although Shreddarius doesn't appear in any TMNT, the Shredder from the 2014 film does wear an exoskeleton on his armor similar to what Shreddarius wears while the film have some plot elements similar to the Super Turtles history.
He is similar to Darth Vader from the Star Wars Franchise as both are cyborgs, both are fathers, both wear capes, both created things for their own means and both seeked to turn the heroes to the darkside.
Shreddarius is similar to Emperor Palpatine from the Star Wars Franchise as both are powerful villains, both seek domination over a particular area and both turned a father of the heroes to the darkside.

Villains
Comics
Shredder (Mirage, Archie, IDW, Mirage Comics, Raphael, Doctor Shreddarius & Lady Shredder) | Foot Clan | Foot Elite | Karai | Ch'rell | Baxter Stockman (Archie & IDW) | Krang (Archie & IDW) | Hun | Purple Dragons | Adolf Hitler | Ninjara | Slash | Leatherhead | Triceratons | Commander Mozar | Zanramon | Shredder Clones | Tokka & Rahzar | Alopex | Kitsune | Koya | Bludgeon | Rat King | Agent Bishop | Bebop and Rocksteady | Savanti Romero | Skonk | Darius Dun | Tatsu | Master Sliver | General Tragg | Dragon | Null (IDW Version) | Maligna (IDW Version) | Craniac | Armaggon | Old Hob | Master Traquer | Johnny Lee Raeburn | Punk Frogs | Jasper Barlow
Television
1987 TV series: Shredder | Bebop & Rocksteady | Baxter Stockman | Krang | Rat King | Lord Dregg | Antrax | Barney Stockman | Don Turtelli | General Tragg | Groundchuck & Dirtbag | Krangazoids
1997 TV series: Foot Clan (Shredder) | The Rank (Dragon Lord | Wick | Dr. Quease | Good Dragon | Rank Lieutenant | Clone Turtles) | Simon Bonesteel | Silver | Monkey Thief Mick and Monkey Thief Dick | VamMi | Bing | Chi Chu | Heavy Duke
2003 TV series: Utrom Shredder (Future Self, Tengu Shredder & Cyber Shredder) | Karai | Hun | Baxter Stockman | Agent Bishop | Rat King | Drako | Ultimate Ninja | Darius Dun | Sh'Okanabo | Dark Turtles | Viral | Torbin Zixx | General Blanque | Zanramon | Commander Mozar | Lonae | Dr. Chaplin | Mr. Touch and Mr. Go | Abigail Finn | Parker | Harry Parker | Kluh | Ammag | Levram Wizard | Dragon Face | Johnny | Two Ton | Yukio Mashimi | Moriah | Weasel | Master Sliver | Savanti Romero | Skonk | Triple Threat | Nano | Mephos | Boss Zukko | High Mage | Lord Hebi | The Brotherhood (Councilor) | Garbageman | Necro Monster
2012 TV series: Foot Clan (Shredder, Karai, Tiger Claw, Rahzar, Fishface, Bebop, Rocksteady, Baxter Stockman, Antrax, Shredder Mutants/Mega Shredder, Hattori Tatsu, Chrome Dome & Koga Takuza) | The Kraang (Kraang Prime & Kraang Subprime) | Triceraton Empire (Emperor Zanmoran & Captain Mozar) | Lord Dregg | Armaggon | Savanti Romero | Newtralizer | Slash | Kavaxas | Rat King | Purple Dragons (Hun & Fong) | Don Vizioso | Snakeweed | Spider Bytez | Overmind | Za-Naron | Dracula | Justin | Mutagen Man | Pizza Face | Dream Beavers | Speed Demon | Squirrelanoids | Chimera | Spy-Roach | Maximus Kong | Verminator Rex | Jei | Wyrm
Rise of the TMNT: Baron Draxum | Albearto | Baxter Stockboy | Big Mama | Meat Sweats | Hypno-Potamus | Foot Brute | Foot Lieutenant | Warren Stone | Repo Mantis | Evil League of Mutants | Shredder | Krang (Rise of the TMNT)
Movies
TMNT 1 & 2: Foot Clan (Shredder, Danny Tatsu, Tokka and Rahzar)
TMNT 3: Walker | Lord Norinaga
TMNT (2007): Stone Generals (Aguila, Gato, Mono & Serpiente) | Foot Clan (Karai)
TMNT (2014): Foot Clan (Shredder, Eric Sacks, Karai & Baxter Stockman)
TMNT: Out of the Shadows: Krang | Foot Clan (Shredder, Karai, Baxter Stockman, Bebop and Rocksteady)
Batman vs. TMNT: Foot Clan (Shredder & Baxter Stockman) | League of Assassins (Ra's al Ghul, Ubu & Talia al Ghul) | Joker | Harley Quinn | Scarecrow | Mr. Freeze | Poison Ivy | Bane | Two-Face | Penguin
Video Games
NES Platformer: Shredder | Mechaturtle
TMNT II: The Arcade Game: Shogun | Tora
TMNT 2: Battle Nexus: Utrom Shredder
TMNT 3: Mutant Nightmare: Utrom Shredder
TMNT: Mutants in Manhatten: Krang | Shredder
TMNT: Shredder's Revenge: Foot Clan (Shredder, Bebop and Rocksteady) | Krang | Groundchuck and Dirtbag | Rat King | Tempestra | Tokka and Rahzar | Wingnut | Leatherhead | Triceratons | Baxter Stockman | General Tragg | Chrome Dome | Slash