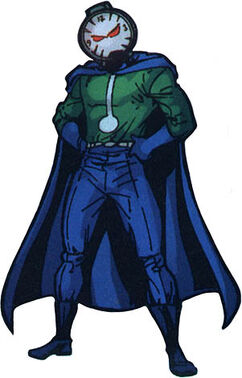 Doctor Tyme is a DC comic book villains and an enemy of the Doom Patrol.
History
Doctor Tyme was once a brilliant, but mad scientist who specializing in the area of temporal manipulation. He mostly confined his acts of villainy to committing random crimes and acts of petty theft. He became an enemy to the Doom Patrol. His first defeated was by the hands of Mento. Even though he was defeated Doctor Tyme manage escape before they could capture him.
Batman the Brave and the Bold
He makes a cameo in the episode "The Last Patrol" in a montage of the Doom Patrol's past battles.
Community content is available under
CC-BY-SA
unless otherwise noted.