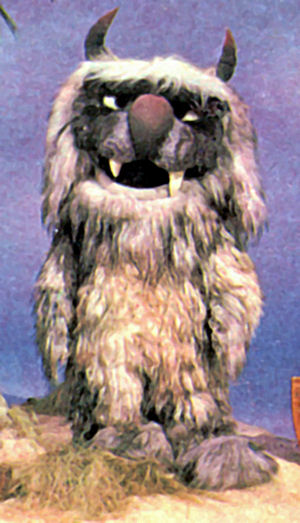 Doglion
is a full-bodied Muppet monster who was featured on "
The Muppet Show
" and more sporadically thereafter. Notable sketches include an interpretation of "Beauty and the Beast" with Lesley Ann Warren, singing with
Sweetums
and Cloris Leachman, and filling the role of destructive monster with Madeline Kahn.
History
He holds the distinction of being the first Muppet to ever grace the silver screen as evidenced in the opening shot of "The Muppet Movie", walking through the backlot as the camera pans down from the World Wide Studios statue.
Apperiance
He also appeared in the 1990 Cosby Show episode "Cliff's Nightmare," alongside a number of other Muppets (mostly from "The Jim Henson Hour").
He appeared in three episodes of "Muppets Tonight". The most notable was in the Sandra Bullock episode. As the punchline to a riff on the famous Mahna Mahna sketch, with Kermit and Sandra Bullock, Doglion manifests when Sandra says "Shave and a haircut" (to add "Two bits").
Doglion has never had a consistent performer. Known puppeteers have included Jerry Nelson (Madeline Kahn episode), Frank Oz (Dom DeLuise episode), Jim Henson (Cloris Leachman episode), Dave Goelz (The Muppet Movie), Kevin Clash (Food episode of "The Jim Henson Hour"), Noel MacNeal (The Cosby Show), and Bill Barretta (Muppets Tonight).
The name "Dog-lion" was previously used in a storyboard for a Wilkins Coffee commercial, drawn by Jim Henson in the late 1950's. This storyboard features Wontkins being eaten by a Wilkins-drinking creature, who is described in Henson's notes as a "monstrous dog-lion-beast."