We're Getting Mutants in the MCU - The Loop
Play Sound

✓
| | |
| --- | --- |
| | This Article Contains Spoilers - WARNING: This article contains major spoilers. If you do not wish to know vital information on plot / character elements in a story, you may not wish to read beyond this warning: We hold no responsibility for any negative effects these facts may have on your enjoyment of said media should you continue. That is all. |
This article's content is marked as Mature
The page Mature contains mature content that may include coarse language, sexual references, and/or graphic violent images which may be disturbing to some. Mature pages are recommended for those who are 18 years of age and older.


If you are 18 years or older or are comfortable with graphic material, you are free to view this page. Otherwise, you should close this page and view another page.
| | | |
| --- | --- | --- |
| " | I can't die here! I have a right to be happy! | " |
| | ~ Donatello Versus | |
Donatello Versus is a minor antagonist in JoJo's Bizarre Adventure: Stone Ocean.
He is one of Dio Brando's illegitimate sons, conceived with Jonathan Joestar's stolen body, along with Ungalo, Rikiel, and Giorno Giovanna. Donatello works as one of Enrico Pucci's minions, and wields the Stand Under World.
In JoJo's Bizarre Adventure: All Star Battle and JoJo's Bizarre Adventure: Eyes of Heaven, he was voiced by Eiji Miyashita.
Biography
Being born from the union of Dio Brando and an unknown woman, Donatello Versus was raised by his mother and stepfather, with Donatello disliking the latter due to his prideful, womanizing ways. Running away as a teenager, he was later arrested after putting on a pair of shoes that Ichiro Suzuki planned to donate under suspicion of stealing them, and as such, he was sentenced to work at a juvenile detention facility for half a year. Although the real culprit of the theft was later caught and Donatello was freed before his full sentence, Donatello remained bitter and weakened by his poor treatment during his sentence.
Eventually, Donatello would meet Enrico Pucci after a failed robbery, meeting his half-brothers and learning of his family's true history and his own powers. Although Donatello had to wait on fighting his foes due to his injuries, he eventually awakens his Stand and soon heads off to fight.
Using the memory of a shot child to lure the heroes into a cavern, Donatello uses the memory of a crashing plane to kill Jolyne, but she manages to both call for help and fend off the Stand's form. Ermes follows suit on being trapped in the plane, lured with a memory of Sports Maxx to explain his ability. After an escaping Jolyne is trapped in a crashing jet fighter for some time before hopping back to where she started, Donatello also swipes Weather's memory disc and creates a memory of Pucci.
After Emporio aids the heroes in finding the two safe seats on the plane even after Under World's attempts to stop them, Stone Free manages to bind Under World to stop it, but not before Donatello has his Stand returns the memory disc to Weather, awakening Heavy Weather. Escaping during the chaos, Donatello uses a memory disc Jolyne had to find and attack Emporio and attempts to use sick or wounded children to block the seats, but soon after, Jolyne and Ermes make a safe landing following their crash, with Ermes and the kids being safe in the memory of survivors while Jolyne hid inside Ermes in string form.
Summoning the Miami Dolphins, Donatello uses the team to attempt to stop Jolyne, but fails at doing so. However, Donatello uses salt to weaken the Heavy Weather-stricken Jolyne enough to steal Jotaro's memory disc, although Donatello himself became infected with Heavy Weather. Captured, Donatello crashes a car he was forced to drive into an ongoing brawl between Weather and Pucci. Using the opportunity, Enrico Pucci uses Whitesnake to disguise Donatello as himself, but this backfires when Joylne smashes Donatello's head in, thinking he is the priest.
Powers and Abilities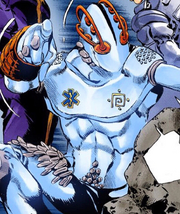 | | | |
| --- | --- | --- |
| " | I am the one who's invincible in here! Anything is possible if I use Under World! | " |
| | ~ Donatello Versus | |
Using Under World, Donatello is able to "excavate" memories of those around him, or at least the memories of those living in Orlando. As long as Under World is able to make a digging motion, Donatello is able to recreate the situations described in said memories, be them people, objects, or events. Those trapped in these memories have some awareness over their situation as well, but victims are able to escape these memories if they manage to survive them. Under World is also able to grant the knowledge of what happened to the past to Donatello, memories can also be used to figure out information of things that have happened in the past, people who survived said memories also won't die during the replay of them, and memories both can cause harm to those even if they are not trapped in the memory and can be seen by people who lack Stands.
Trivia
Donatello Versus' backstory is likely a homage to the backstory of Stanley Yelnats, the protagonist of the novel Holes.