Cobra Kai Season 4 - The Loop
Play Sound



Click to help Cruella!

This scum Dong Myung-Soo is driving Cruella insane!
IT MUST BE REWRITTEN OR ADDED TO!!
So sayeth the great Lord of Darkness Sauron, or he will send Darth Vader to terminate you.

Help improve this article by rewriting, expanding, updating the poorly written text of the article. ✓
Jafar says: Read my lips and come to grips with the reality!


This article is a stub and is in need of expansion. You can help Villains Wiki by expanding it.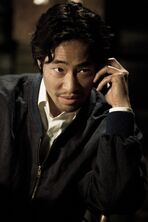 Dong Myung-Soo is the main antagonist of 2013 South Korean action-spy-thriller film The Berlin File. He is the son of a North Korean official and also an assassin who came to Berlin to kill a traitor - Yeon Jung-hee who was wife of agent Pyo Joon-sang.
He is played by Ryu Seung-bum who was younger brother of film's director Ryu Seung-wan
Biography
Myung-soo was sadistic and cruel man who killed many people with poisoned pen or gun and become rouge agent to North Korea along with his father who is higher ranked officer and know Pyo Joon-sang since their training days in North Korea. Myung-soo seems bullied Joon-sang as junior.
He seems lust on Jung-hee despite for begin Joon-sang's wife. Driven by Jung-hee's death angry Joon-sang put poison on Myung-soo's neck and caused him dead
Gallery