Donkey Kong, also know as Donkey Kong Sr., is an antagonist in the Donkey Kong arcade games, serving as the main antagonist of both Donkey Kong I and Donkey Kong III. He later appears as the anti-heroic character Cranky Kong in the Donkey Kong Country series.
History
Donkey Kong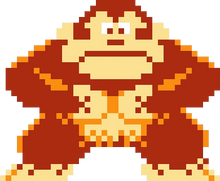 Cranky Kong's first appearance as the original Donkey Kong is in the Arcade game of the same name. After being mistreated by Mario (back then known as "Jumpman"), he kidnaps Mario's girlfriend Pauline to a construction site.
Mario then must climb up to the top of the construction site and save Pauline from the giant ape. Eventually, after Mario reaches the top of the construction site, he causes the bars to fall down, causing DK to fall and crash at the same time.
Donkey Kong Jr.
Donkey Kong was later imprisoned by Mario as punishment for kidnapping Pauline. However, he was saved by his son, Donkey Kong Jr. As punishment, they both punch Mario both imprisoning him and almost killing Junior.
Donkey Kong 3
Donkey Kong attacks the greenhouse of the game's protagonist Stanley the Bugman. He has to be defeated in all three stages.
Donkey Kong Land
Years later when old age hits the original Donkey Kong, he becomes frail and cranky. Eventually, he takes the name "Cranky Kong", while his grandson takes on the name "Donkey Kong". Much of the current DK's time is spent listening to music and spending time with his friends, as he lives in a relatively laid back lifestyle as opposed to the original Donkey Kong. Unlike his grandfather, he is friends with Mario and often visits him in various sporting events. However, a band of Kremlings known as the Kremling Krew form during this time. Their attempts at stealing the banana hoard cause Donkey Kong to guard his banana hoard every night.
In Donkey Kong Land, Cranky Kong becomes an antagonist once again after he becomes jealous of Donkey Kong and Diddy Kong's success over King K. Rool. He then challenges the two in a bet to see if they could prove themselves as heroes by defeating King K. Rool once again. After another long adventure, Donkey Kong and Diddy Kong defeat K. Rool, thus proving themselves to be heroes.
Gallery
Community content is available under
CC-BY-SA
unless otherwise noted.