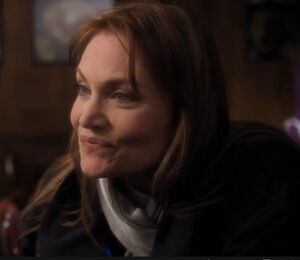 Donna Peyton is the main antagonist from "Out of the Frying Pan", episode 8.18 of NCIS.
She was portrayed by Daphne Ashbrook.
History
Donna Peyton is the wife of retired Marine Col. Yale Peyton and the mother of their only son, Nick. She had been missing (according to Nick) due to being overwhelmed regarding Yale being away on duty and Nick's drug problems; it was revealed that Nick's drug of chose was Donna's medication. Donna and Yale's marriage had been strained, and two weeks prior to the events, the couple fought over Nick, mainly over Donna wanting to see him. Yale stated to his wife that she was not part of Nick's life and has not been for a while, and in response, Donna furiously stuck Yale with a foreign object, killing him instantly.
After seeing her husband dead, the evil Donna grabbed possession of an axe from the house next door and struck Yale's body with the object, doing so to cover up her actions and to make it appear that the owner of the axe, Mark Stafford, had killed him. Stafford ended up interrogated by Gibbs, as he had a proverbial axe to grind as he blamed Yale's lack of discipline to Nick for the death of his teenage daughter (and Nick's girlfriend), Megan, who died of a drug overdose. However, Donna was revealed as the true killer when she met Nick at a cafe. She confessed everything to Nick, stating that she wanted to talk to Yale and that she killed him when he would let her see Nick, and even admitted to using Stafford's axe, doing so because she thought Nick would be blamed and she had to divert attention elsewhere. After Donna's confession, Nick revealed that he was wearing a wire, and after this, Gibbs appeared and arrested Donna for her crimes.
Community content is available under
CC-BY-SA
unless otherwise noted.