Jurassic World: Dominion Dominates Fandom Wikis - The Loop
Play Sound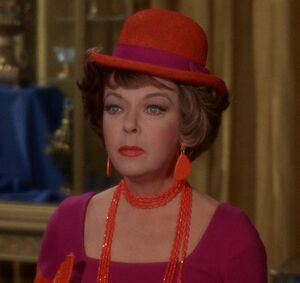 Dr. Cassandra Spellcraft is a villainess and enemy of Batman in the 1960s Batman TV Series.
She was portrayed by the late Ida Lupino.
Cassandra Spellcraft came from a long line of failed female alchemists, right back to her great-grandmother. She was determined to do what her fore-mothers couldn't, and become a success in alchemy. But she ended up following in their footsteps quite neatly, outsmarted by Batman.
Dr. Cassandra Spellcraft was a world famous alchemist and science practitioner who had been given an ancient alchemy that was passed on from her fore-mothers who always failed what they started. She constantly states that she will not fail like they did. Her great grandmother learned how to transmute basemetals into gold, but failed to include certain ingredients resulting in homemade TNT that blew her up (they found pieces of her as far as Londinium). Her grandmother made a universal solvent and fell into it killing her (they buried her in a thimble). Her mother built a pepetual motion machine, but tripped and stumbled into it slicing herself to pieces.
Cassandra made her debut at the Gotham City Alchemical Bank and Trust Company, where she and her husband Cabala swallow her mysterious camouflage pills, which turn them invisible. They make their way through the crowd, defeat the security guards and bank teller, then loot some cash.
Police Commissioner James Gordon and Chief Clancy O'Hara are informed of the robbery but as they attempt to contact Batman and Robin, Dr. Cassandra and Cabala (whom are still invisible) attack the two men. Cassandra contacts Batman and tells him that she will put Gotham in a hypnotic trance, and there is nothing he can do to stop them. Batman and Robin hurry to Police Headquarters and find out that the crooks have already committed crimes three times in the past six hours. Batman is determined to find out how this happening.
Cassandra and Cabala return to their hideout in the basement of the Mortal and Pesel building on Abracadbra Alley, where they take their anti-antidote pills turning them visible again. They had already stolen $600,000 in cash, but the greedy Dr. Cassandra wants more. She also wishes to embark on her most ambitious scheme yet: To free Gotham City's costumed criminals from prison, give them her camouflage pills, and rule an invisible gang of Batman's greatest enemies. She then shows Cabala her latest invention: The Alvino-ray gun, which she plans to use on the Terrific Trio.
Commissioner Gordon receives a call from her saying that she will steal the famous Mope Diamond from Spiffany's jewellery store at precisely two o'clock. Batman is informed and the Caped Crusaders set off straight away. Joined with Batgirl, they find Dr. Cassandra and Cabala at the jewellery store, trying to steal the diamond. She fires her ray gun at them, taking away their 3-Dimensional forms and making them as flat as cardboard picture boards. With the Terrific Trio immobilized. Cassandra and Cabala then steal the diamond and make their escape.
As the final insult, they later slide the flattened Caped Crusaders under the doors of Police Headquarters, where Commissoner Gordon and Chief O'Hara find them. After finding no way of restoring them, they use the Batphone to contact Alfred Pennyworth (the mysterious "voice" on the Batline that sometimes takes calls for Batman), and ask him to help them.
Back at her hideout, Dr. Cassandra takes six camouflage pills and goes on with her plan to free six of Gotham City's worst villains and public enemies. Alfred Pennyworth, dressed in a disguise, picks up the flattened trio of Batman, Robin, and Batgirl at Gotham Post Office and takes them back to the Batcave.
At the state penitentiary, Dr. Cassandra and Cabala (after taking more camouflage pills) break into Warden Crichton's office and threaten him and the guard with him with the Alvino-ray Gun. Dr. Cassandra then makes an announcement on the PA system stating that she is going to release the arch-criminals of Gotham City. Dr. Cassandra also apologizes to the rest of the inmates that she can't do the same for the rest of them as "too many villains spoil the broth." Following a countdown sequence, Dr. Cassandra hits a button which frees Joker, Penguin, Riddler, Catwoman, King Tut, and Egghead (all six were actually portrayed by look-a-likes due to either their original actors not being available or it being too expensive for them to appear as their characters) and instructs them to meet her at the prison gates.
In the Batcave, Alfred puts the Terrific Trio into the Three Dimensional Bat-Restorer and departs, so Batgirl won't recognize him as Bruce Wayne's butler. After they get their 3D forms back, Commissoner Gordon phones them saying that Dr. Cassandra has just freed six of Gotham's most dangerous arch-criminals. Batman, Robin, and Batgirl use the Batcomputer to find out the most probable locations where Cassandra and the villains could be hiding, before setting off.
At her hideout, Dr. Cassandra holds a meeting with the six costumed villains, giving them camouflage pills and a specific place of Gotham to rob. Dr. Cassandra instructs Catwoman to rob the fish market areas, instructs Egghead to rob the poultry farms, instructs Penguin to rob the ponds and parks, instructs King Tut to rob the museums, and instructs Joker and Riddler to rob all the amusement parks. She and Cabala tell them that they get 50% of everything they steal, but in return will keep on giving pills to help in their crimes.
The Caped Crusaders then crash the hideout, and all the crooks in the room swallow the camouflage pills, making the trio unable to see them. Batman, Robin, and Batgirl try to resist but the villains turn the tide against them. The Dynamic Duo and Batgirl decide to destroy the lights, so that the criminals won't be able to see them either. After a wild brawl in the dark, the heroes emerge victorious. Knocked unconscious, the supervillains re-materialize. Dr. Cassandra tries to destroy the trio with her Alvino-ray gun, but Batman tells her that he has installed an Alvino-ray Bat Disintergrator in his Utility belt so she can't do it again. She and Cabala are arrested and taken off to prison with the rest of the criminals.
While entering Minerva's spa, Commissioner Gordon told Chief O'Hara that Warden Crichton gave Dr. Cassandra a special polka-dot cell for her stay in Gotham Penitentiary to render her camouflage pills useless.
Known Associates
Dr. Cassandra had several villains to help in her schemes:

Villains
Comics
2-Face-2 | Abraham Langstrom | Alfred Protocol | Alfred Stryker | Alice | Amanda Waller | Amygdala | Anarky | An Innocent Guy | Ares | Arkham Knight | Arnold John Flass | Azrael | Baby Doll | Bane | Barbatos | Bat-Mite | The Batman Who Laughs | Black Glove | Black Mask | Blockbuster I | Blockbuster II | Brain | Broker | Brother EYE | Calculator | Calendar Man | Castle Bat | Captain Fear | Captain Boomerang | Carmine Falcone | Catman | Catwoman | Cheetah | Cheshire | Circus of Strange | Clayface | Clayface (Matt Hagen) | Claything | Clock King | Clownface | Club of Villains | Cluemaster | Composite Superman | Condiment King | Copperhead | Cornelius Stirk | Court of Owls | Crazy Quilt | Crime Doctor | Curtis Base | Dark Archer | David Cain | David Li | Dark Knights | Deacon Blackfire | Deadshot | Dealer | Deathstroke | Dick Grayson (Frank Miller) | The Dawnbreaker | The Devastator | Dr. Crane | Doctor Death | Doctor Double X | Doctor Phosphorus | Doctor Randolph Porter | Donna Troy | Dr. Silversmith | The Drowned | Electrocutioner | Emperor Penguin | Enigma | Ernie Chubb | Faceless | Falcone Crime Family | Film Freak | Firebug | Firefly | Flamingo | Floronic Man | Gearhead | General Ulysses Armstrong | Gilda Dent | Gorilla Boss | Gotham City Police Department | Gillian B. Loeb | Great White Shark | The Grim Knight | Harley Quinn | Holiday | Holly Robinson | Humpty Dumpty | Hugo Strange | Hush | Instigator | Jack the Ripper | James Gordon, Jr. | Jason Todd | Jeremiah Arkham | Joe Chill | Joker (Earth-22, 2008 Graphic Novel) | Judge of Owls | Joker's Daughter | Key | KGBeast | King of Cats | King Snake | King Tut | Killer Croc | Killer Moth | Kite Man | Lady Shiva | League of Assassins | Leviathan | Lex Luthor | Lock-Up | Lord Death Man | Mad Hatter | Mad Monk | Magpie | Malochia | Man-Bat | Mary Keeny | Maxie Zeus | Maxwell Lord | The Merciless | Merrymaker | Micheal Atkins | Monk | Mr. Bloom | Mr. Freeze | Mrs. Freeze | Mayor Oswald Cobblepot | Mr. Toad | Mr. Whisper | Mutants | Neo Joker | Neron | Nightslayer | Nocturna | Omega | Onomatopoeia | Orca | Outsider | Owlman | Phantasm | Penguin | Penny Plunderer | Phosphorus Rex | Planet Master | Poison Ivy | Polka Dot Man | Professor Arnold Hugo | Professor Pyg | Prometheus | Punchline | Ra's al Ghul | Ragdoll | Ratcatcher | Reaper | Red Death | Reverse-Flash | Riddler | Robin King | Roland Daggett | Roxy Rocket | Royal Flush Gang | Rupert Thorne | Saint Batman | Sal Maroni | Scarecrow | Sensei | Sewer King | Signalman | Simon Hurt | Sinestro | Snowman | Solomon Grundy | Spellbinder | Squid | Steeljacket | Suicide Squad | Talia al Ghul | Talon | Tally Man | Ten Eyed Man | Terrible Trio | Thomas Wayne | Tiger Shark | Timecode | Tony Zucco | Tweedledum and Tweedledee | Two-Face | Ubu | Vandal Savage | Ventriloquist | Ventriloquist II | Ventriloquist III | Vertigo | Victor Zsasz | Whisper A'Daire | White Rabbit | Wrath | The Wonderland Gang | Zebra-Man
Theatrical Movies
Batman (1966): Penguin | Catwoman | Joker | Riddler
Batman (1989): Joker | Joker Goons (Bob Hawkins) | Alicia Hunt | Carl Grissom | Max Eckhardt | Vinnie Ricorso | Joe Chill | Harvey Dent
Batman Returns: Penguin | Red Triangle Circus Gang (Organ Grinder, Poodle Lady, Tattooed Strongman, Stungun Clown, Thin Clown, Fat Clown, Sword Swallower, Knifethrower Dame & Fire Breather) | Max Shreck | Catwoman
Batman: Mask of the Phantasm: Phantasm | Joker | Salvatore Valestra | Arthur Reeves | Chuckie Sol | Buzz Bronski
Batman Forever: Riddler | Two-Face | Sugar | Spice | NygmaTech (Frogmen) | Neon Gang (Neon Gang Leader) | Salvatore Maroni
Batman & Robin: Poison Ivy | Mr. Freeze | Bane | Snowy Cones Thugs | Golums | Jason Woodrue
Batman Begins: Ra's al Ghul | League of Shadows (Ra's Decoy) | Scarecrow | Falcone Crime Family (Carmine Falcone, Victor Zsasz, & Arnold Flass) | Joe Chill
The Dark Knight: Joker | Joker's Thugs (Thomas Schiff, Chuckles, Kilson, Happy, Dopey, Grumpy & Bus Driver) | Two-Face | Sal Maroni | The Chechen | Gambol | Lau | Bank Manager | Michael Wuertz | Burmese Bandit
The Dark Knight Rises: League of Shadows (Bane, Talia al Ghul & Barsad) | Catwoman | John Daggett | Phillip Stryver | Ra's al Ghul | Scarecrow
Batman v Superman: Dawn of Justice: Lex Luthor | Doomsday | Anatoli Knyazev | Mercy Graves | Cesar Santos | Amajagh | Joe Chill | Zod | Joker | Steppenwolf
Suicide Squad: Eyes of the Adversary (Enchantress & Incubus) | Suicide Squad (Deadshot, Harley Quinn, Captain Boomerang, El Diablo, Killer Croc, Slipknot & Amanda Waller) | Joker's Gang (Joker, Jonny Frost, Panda Man & Monster T) | Griggs
The Lego Batman Movie: Joker | Harley Quinn | Phantom Zone Criminals (Zod, Sauron, Kraken, Lord Voldemort, Agent Smith, Jaws, Gremlins, Medusa, Lord Vampyre, Wicked Witch of the West, Flying Monkeys, The Swamp Creature & Daleks) | Catwoman | Poison Ivy | Two-Face | Bane | Riddler | Salvatore Maroni
Joker: Clowns (Joker, Clown & Ambulance Clown) | Penny Fleck | Wall Street Three | Penny Fleck's Boyfriend
The Batman (2022): Riddler | Falcone Crime Syndicate (Carmine Falcone, Penguin, William Kenzie, Vinnie, & The Twins) | Catwoman | Salvatore Maroni | Riddler's Cult | Pete Savage | Gil Colson | Don Mitchell Jr. | Train Gang | Joker
Direct-to-video Movies
Batman & Mr. Freeze: SubZero: Mr. Freeze | Dr. Gregory Belson
Batman Beyond: Return of the Joker: Joker | The Jokerz (Chucko, Dee-Dee, Ghoul, Bonk, & Woof) | Harley Quinn
Batman: Mystery of the Batwoman: Penguin | Bane | Rupert Thorne | Carlton Duquesne
The Batman vs. Dracula: Dracula | Penguin | Joker
Superman/Batman: Public Enemies: Lex Luthor | Major Force | Metallo | Amanda Waller | Toyman | Solomon Grundy | Gorilla Grodd | Killer Frost | Lady Shiva | Giganta | Mongul | Captain Cold
Batman: Under the Red Hood: Jason Todd | Joker | Black Mask | Ra's al Ghul | Riddler | Ms. Li
Superman/Batman: Apocalypse: Darkseid | Female Furies (Granny Goodness, Gilotina, Mad Harriet, Lashina & Stompa) | Doomsday
Batman: Year One: Batman | Gotham City Police Department (Commissioner Loeb, Arnold John Flass, & Howard Branden) | Falcone Crime Family (Carmine Falcone & Johnny Viti) | Catwoman | Joker
Batman: The Dark Knight Returns: Batman | Joker | Mutant Leader | Ellen Yindel | Harvey Dent | Selina Kyle
Son of Batman: Deathstroke | League of Assassins (Ra's al Ghul & Talia al Ghul) | Ubu | Killer Croc | Man-Bats
Batman: Assault on Arkham: Suicide Squad (Amanda Waller, Deadshot, Harley Quinn, Captain Boomerang, Killer Frost, King Shark, Black Spider, KGBeast) | Joker | Riddler | Penguin | Scarecrow | Victor Zsasz | Bane | Two-Face | Poison Ivy
Lego DC Comics: Batman Be-Leaguered: Bat-Mite | Lex Luthor | Joker | Penguin | Man-Bat | Captain Cold | Black Manta
Batman vs. Robin: Court of Owls (Samantha Vanaver, Talon, Owls Lieutenant, & Talon Warriors) | Dollmaker
Batman Unlimited: Animal Instincts: Animalitia (Penguin, Killer Croc, Man-Bat, Cheetah & Silverback)
Batman Unlimited: Monster Mayhem: Joker | Scarecrow | Clayface | Silver Banshee | Solomon Grundy
Batman: Bad Blood: League of Assassins (Talia al Ghul, The Heretic, Onyx, Firefly, Tusk, Mad Hatter, Electrocutioner, Hellhound, Calculator, & Killer Moth) | Black Mask
Batman: The Killing Joke: Joker | Vinnie & Joe | Paris Franz
Batman Unlimited: Mechs vs. Mutants: Penguin | Mr. Freeze | Cheetah | Hush | Mad Hatter | Two-Face | Bane | Chemo | Killer Croc | Clayface | Joker | Dr. Kirk Langstrom
Batman: Return of the Caped Crusaders: Joker | Penguin | Riddler | Catwoman | Archer | Black Widow | Bookworm | Clock King | Egghead | False Face | King Tut | Louie the Lilac | Mad Hatter | Minstrel | Mr. Freeze | Sandman | Shame | Siren
Batman and Harley Quinn: Harley Quinn | Poison Ivy | Floronic Man
Batman vs. Two-Face: Two-Face | Hugo Strange | Catwoman | King Tut | Bookworm | Joker | Penguin | Riddler | Clock King | Egghead | Mr. Freeze | Shame | Harley Quinn
Scooby-Doo! & Batman: The Brave and the Bold: Riddler | Clayface | Joker | Mr. Freeze | Catwoman | Penguin | Harley Quinn | Poison Ivy
Batman: Gotham by Gaslight: Jack the Ripper | Barbara-Eileen Gordon | Selina Kyle | Harvey Dent | Hugo Strange
Batman Ninja: Joker | Harley Quinn | Catwoman | Gorilla Grodd | Bane | Penguin | Poison Ivy | Deathstroke | Two-Face
Batman vs. Teenage Mutant Ninja Turtles: Foot Clan (Shredder & Baxter Stockman) | League of Assassins (Ra's al Ghul & Ubu) | Joker | Penguin | Harley Quinn | Mr. Freeze | Scarecrow | Two-Face | Poison Ivy | Bane
Batman: Hush: Riddler/Hush | Catwoman | Poison Ivy | Bane | Joker | Harley Quinn | Clayface | Scarecrow | Lex Luthor | Lady Shiva | Two-Face | Penguin | Mr. Freeze | Thomas Elliot
Batman: Death in the Family: Jason Todd | Joker | Black Mask | Ra's al Ghul | Riddler | Talia al Ghul | Cheetah | Two-Face
Batman: Soul of the Dragon: Nāga | Kobra (Jeffery Burr, Schlangenfaust, Lady Eve, King Snake & Rip Jagger) | Ben Turner | Shiva | Richard Dragon | Jade
Batman: The Long Halloween: Holiday | Falcone Crime Family (Carmine Falcone, Milos Grapa, Alberto Falcone, Johnny Viti, & Sofia Falcone) | Two-Face | Joker | Solomon Grundy | Salvatore Maroni | Poison Ivy | Penguin | Scarecrow | Mad Hatter | San Ho Hui (Mickey Chen) | Calendar Man | Catwoman

Television
Batman 60s show
Joker | Penguin | Catwoman | Riddler | Mr. Freeze | The Archer | Black Widow | Bookworm | Egghead | Clock King | Queenie Goldstein | Sandman | Dr. Cassandra Spellcraft | Cabala | Minstrel | Shame | False Face | The Siren | Undine | Chandell & Harry | King Tut | Louie the Lilac | Mad Hatter | Cornelia | Baby Jane Towser | Lydia Limpet | Zelda the Great | The Puzzler | Olga, Queen of Cossacks | Marsha, Queen of Diamonds | Lord Marmaduke Ffogg | Lady Penelope Peasoup | Ma Parker | Freddy the Fence | Lola Lasagne | Nora Clavicle | Colonel Gumm | Minerva | Killer Moth | Calamity Jan
1970s Filmation series
Joker | Catwoman | Penguin | Riddler | Clayface | Mr Freese | Sweet Tooth
Batman: The Animated Series and The New Batman Adventures
Joker | Two-Face | Harley Quinn | Penguin | Catwoman | Rupert Thorne | Riddler | Poison Ivy | Scarecrow | Mad Hatter | Killer Croc | Clayface | Ra's al Ghul | Mr. Freeze | Man-Bat | Ventriloquist and Scarface | Roland Daggett | Clock King | Bane | Hugo Strange | Lloyd Ventrix | Kyodai Ken | Baby Doll | Emile Dorian | Red Claw | Boss Biggis | Sewer King | Talia al Ghul | Maxie Zeus | Lock-Up | Professor Milo | Count Vertigo | Daniel Mockridge | Grant Walker | Gil Mason | Arkady Duvall | Ferris Boyle | Arnold Stromwell | Tony Zucco | H.A.R.D.A.C. | Randa Duane | Batman Clone | Calendar Girl
The Batman (2004)
Joker | Penguin | Bane | Catwoman | Mr. Freeze | Ethan Bennett | Killer Croc | Man-Bat | Firefly | Riddler | Punch & Judy | Kabuki Twins | Hugo Strange | Cluemaster | Ragdoll | Temblor | Poison Ivy | Tony Zucco | Count Vertigo | Harley Quinn | Maxie Zeus | Clayface | Gearhead | Francis Grey | Killer Moth | D.A.V.E. | Dracula | Rumor | Toyman | Mirror Master | Lex Luthor | Black Mask | Sinestro | Joker 2.0 | Prank | Killgore Steed | Team Penguin | Julie | Spellbinder | Blaze | The Joining | Cosmo Krank | Marty Slacker | Scorn | Wrath | Metallo | Shadow-Thief
Batman: The Brave and The Bold
Joker | Music Meister | Catwoman | Penguin | Mr. Freeze | Clayface | Riddler | Poison Ivy | Lex Luthor | Flower Children | Harley Quinn | Morgaine Le Fey | Sweet Tooth | Queenie Goldstein | Bane | Kite Man | Black Manta | Gentleman Ghost | Major Force | Mirror Master | Metallo | Brainiac | Flamingo | Mxyzptlk | Toyman | Thinker | Doctor Sivana | Mister Mind | Black Adam
Beware the Batman
Anarky | Ra's al Ghul | Deathstroke | Harvey Dent | Killer Croc | Simon Stagg | Professor Pyg and Mr. Toad | Man-Bat | Cypher | Magpie | Lady Shiva | Tobias Whale | Phosphorus Rex | Lunkhead | Humpty Dumpty | Silver Monkey | Key | Bethany Ravencroft | Daedalus Boch | Junkyard Dog | Sapphire Stagg | Matatoa | Anatol Mykros
Harley Quinn
Harley Quinn | Poison Ivy | Joker | Scarecrow | Queen of Fables | Darkseid | Parademons | Penguin | Mr. Freeze | Bane | Lex Luthor | Killer Croc | Man-Bat | Riddler | Deadshot | Calendar Man | Condiment King | Solomon Grundy | Kite Man | Doctor Psycho | Clayface | King Shark | Nora Fries | Sy Borgman | Doctor Trap | Frank the Plant | Felix Faust | Toyman | Metallo | Livewire | Parasite | Black Adam | Captain Cold | Gorilla Grodd | Black Manta | Cheetah | Giganta | Sinestro | Maxie Zeus | Eris | KGBeast | Two-Face | Catwoman | Nick Quinzel | Sharon Quinzel
Video Games
LEGO Batman
Joker | Penguin | Riddler | Harley Quinn | Catwoman | Two-Face | Bane | Clayface | Killer Croc | Killer Moth | Mad Hatter | Man-Bat | Mr. Freeze | Poison Ivy | Scarecrow | Ra's al Ghul | Hush
Lego Batman 2: DC Super Heroes
Joker | Lex Luthor | Harley Quinn | Riddler | Two-Face | Catwoman | Bane | Penguin | Poison Ivy | Scarecrow | Captain Boomerang | Clayface | Mad Hatter | Ra's al Ghul | Killer Croc | Bane | Killer Moth | Mr. Freeze | Man-Bat | Hush | Zod | Sinestro | Brainiac | Gorilla Grodd | Captain Cold | Black Manta | Black Adam | Bizarro
Lego Batman 3: Beyond Gotham
Brainiac | Joker | Lex Luthor | Cheetah | Solomon Grundy | Firefly | Killer Croc | Sinestro | Atrocitus | Larfleeze | Star Sapphire | Composite Superman | Bane | Arkillo | Condiment King | Music Meister | Captain Cold | Black Adam | Black Manta | Black Hand | Bronze Tiger Cyborg Superman | Deadshot | Deathstroke | Lobo | Dex-Starr | Doomsday | Gorilla Grodd | Harley Quinn | Hush | Kalibak | Killer Moth | Man-Bat | Mad Hatter | Manchester Black | Metallo | Mr. Freeze | Mr. Mxyzptlk | Parasite | Penguin | Poison Ivy | Polka Dot Man | Red Hood | Riddler | Toyman | The Trickster | Ultra-Humanite | Catwoman | Bizarro | Amanda Waller | Captain Boomerang | El Diablo | King Shark | Killer Frost | Plastique | Terra | Zod | Faora | Joker | Two-Face | Ra's al Ghul | Bane | Catwoman | Scarecrow | Blight | Joker | Mr. Freeze | Arrow Deathstroke | Malcolm Merlyn | Darkseid
Injustice
Superman | Wonder Woman | Yellow Lantern | The Flash | Aquaman | Nightwing | Cyborg | Raven | Solomon Grundy | Catwoman | Bane | Black Adam | Deadshot | Poison Ivy | Scarecrow | Joker | Deathstroke
See Also
Arkhamverse Villains | Batgirl Villains | Batman Beyond Villains | Batwoman Villains | Birds of Prey Villains | Catwoman Villains | Gotham Villains | Harley Quinn Villains | Nightwing Villains | Outsiders Villains | Red Hood Villains | Robin Villains | Telltalle Batman Villains