Jafar says: Read my lips and come to grips with the reality!


This article is a stub and is in need of expansion. You can help Villains Wiki by expanding it.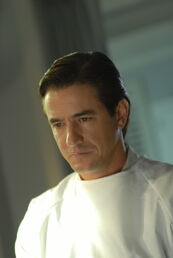 Dr. David Henry is the main antagonist in the book and movie, The Memory Keeper's Daughter. In the movie, he is played by Dermot Mulroney.
History
David Henry takes his wife, Norah, to the hospital, during a snow storm, when she's having a baby. Surprisingly, it was revealed that his wife had twins. But as soon as the second baby came, David saw that she had down syndrome. David looked back to when he had a sister who died for having a hole in her heart, so he entrusted the nurse to take his baby girl to a mental institution. Caroline, however, decided to raise his baby girl as her own, married a man named Al Simpson, and moved to Philadelphia.