Jurassic World: Dominion Dominates Fandom Wikis - The Loop
Play Sound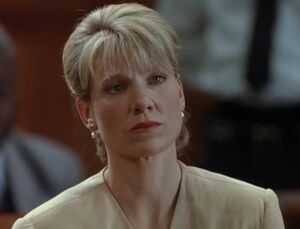 Dr. Diane Meade is the main antagonist in the Law & Order episode "Promises to Keep".
She was played by Lindsay Crouse, who also played Joan Allenby in Columbo, Maggie Walsh in Buffy the Vampire Slayer, and Mary Mays in Criminal Minds.
Biography
Diane Meade was the psychiatrist for couple Dan Garrett and Jenny Gorham; the latter of the couple suggesting seeking therapy for their relationship problems. However, as the sessions continued, Diane began a sexual relationship with Dan, which Dan had documented in his diary.
In private sessions with Dan, Diane convinced him to end his relationship with Jenny by making him realize that Jenny was "controlling" and a "manipulative bitch". The diary's contents revealed that in one session, Diane had Dan curl up to her in a fetal position next to her and call her "Mommy", even saying that if Dan gets rid or Jenny, she "can be his mommy forever". In another, she gave Dan a pillow and told him to pretend that it was Jenny. Diane asked Dan what he would do to "Jenny", and Dan responded by beating the pillow. Every one of their private sessions ended with the pair making love.
Jenny found the diary and forced Dan to end the twisted relationship or she would turn it in. Instead, what was supposed to be a break-up and confrontation became another lovemaking session with Diane, and after Dan confessed to the tryst, he killed Jenny. When asked by Dets. Lennie Briscoe and Mike Logan about Jenny, Diane continued to make Jenny look bad by making claims that she had been drinking on the night of her murder. After Dan was arrested for killing Jenny, he conversed with Diane, and it was there that they were caught on video confirming their relationship. As soon as Diane left, she was arrested by Logan. After trial proceedings, Diane accepted a plea deal and was convicted of criminally negligent homicide, and was sentenced to five years probation, while surrendering her license.