Jurassic World: Dominion Dominates Fandom Wikis - The Loop
Play Sound
Jafar says: Read my lips and come to grips with the reality!


This article is a stub and is in need of expansion. You can help Villains Wiki by expanding it.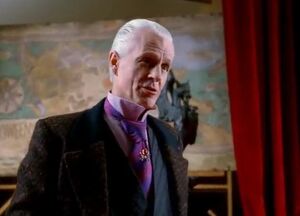 | | | |
| --- | --- | --- |
| " | Something appears to be missing. The words, perhaps. | " |
| | ~ Dr. Grogg looking at Marnie's test paper hexed by the Sinister Sisters. | |

Dr. Ichabod Grogg, also called Professor Grogg, is one of the two secondary antagonists (alongside Chancellor Goodwin) of the 2006 live-action Disney film Return to Halloweentown, the fourth and final installment of the Halloweentown film series.
He was a stuffy and cranky old professor at Witch University. He teaches History both Magic and Mortal. He is also another high-ranking member of The Dominion alongside Chancellor Goodwin and Mr. Silas Sinister.
He prefers to be addressed as "Sir" or "Dr. Grogg" and hates being called, "Grogg", "Dr. G", "G Dawg", or "G Unit".
He was portrayed by Scott Stevensen.
Biography
He is first seen telling Marnie and her brother, Dylan on the consequences of violating the new rule that outlaws magic at the University.
He is then seen on the first day of Marnie's history class. While each student is writing, Scarlett Sinister hexes Marnie's paper. Once Marnie turns it in, Grogg demands she explain herself. Marnie knows that her paper was hexed. Grogg sees that it indeed was and warns Marnie that there will be an investigation and consequences. Fortunately, Marnie does not get in trouble.
He later appears at the university dig site, where the box saying "S. Cromwell" (Splendora "Agatha" Cromwell, Marnie's grandmother). Grogg is shocked at the sight of the box and is eager to have it opened, but there is no key.
Later, at a Dominion meeting, when the Sinister Sisters ask their father to open the box, Grogg reveals his affiliation with by removing his hood, yelling at them that only a Cromwell can unleash the power of the Gift, but is calmed by Silas.
Grogg and Goodwin manipulate Marnie, telling her that she must find the key to the box and embrace the gift so that Halloweentown will continue to exist in peace.
At Midnight on Halloween, Grogg, Goodwin and Silas undo the dog spell on Dylan so that Marnie will cooperate. He and the other Dominion members are arrested and stripped of their powers by Agent Persimmon Periwinkle.
Gallery

Villains