Jurassic World: Dominion Dominates Fandom Wikis - The Loop
Play Sound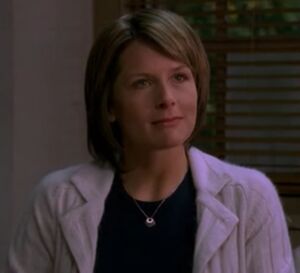 Dr. Katrina Pynchon is the main villainess from "Scared Crazy", episode 5.09 of Law & Order:  Criminal Intent.
She was portrayed by Jennifer Van Dyck.
Biography
Dr. Katrina Pynchon served in the U.S. Army and worked under the SERE program at Fort Bragg, where she was training soldiers in how to resist torture and interrogation. After this, however, Pynchon was transferred to Guantanamo Bay, where she—ironically—trained people to engage in harsh and tortuous interrogation techniques. Such practice was due to the fact that this was right after the attacks on 9/11, and it caused Pynchon to question her morals and what was more important:  her oath or her country.
In the episode, Pynchon was using her evil methods on computer programmer Robbie Boatman, a patient of hers. She locked him inside a room for two weeks; a room that was barely lit and had house music playing nonstop. As a result of his experience, Robbie grew to hate house music; in fact, it was after hearing the music that he eventually murdered co-worker Aidan Grant, doing so by crushing him with a vending machine. When encountered by Goren and Eames, Pynchon doesn't cooperate, only spotting holes in Goren's attempt to deceive her.
Pynchon's reveal came when Goren and Eames place Robbie in the interrogation room, and turn off the lights and play house music. Eames informed Pynchon about the nightmares she had been having, as well as the guilt she felt over what she did at Guantanamo Bay. She used the methods on Robbie in an attempt to forgive herself, hoping to realize that what she did wasn't evil, and she broke down when she revealed that Robbie had phoned her regarding the murder. After Pynchon's confession, Goren opens the blinds and reveals that Robbie wasn't in the conditions they described, as they set it up to get a confession. Pynchon is later arrested, but not before she expressed relief that Robbie was OK.