Dr. Light is a powerful Mad Scientist who appears in several episodes of Teen Titans, once more a comical foe, but still not one to be taken lightly. His archenemy in this version is Raven, who regularly trounces him with the darkness she contains, and who on occasion can defeat him just by showing up and glaring, so searing are the memories of his beat-downs. His biggest scheme involved the young hero Kole, who could become living crystal and who Light wanted to use as an amplifier. He still lost. His final appearance was at the end of Titans Together, the show's near-finale. Uninvolved with the schemes of The Brain, he was seen robbing a bank. With both the regular team and over twenty reserve Titans on hand, Raven predicted that Light would freak out as never before.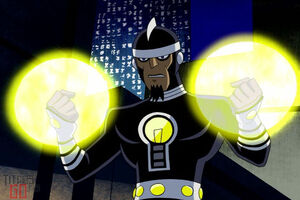 Personality
Doctor Light is a villain who likes to talk big, and he thinks of himself as the most accomplished, clever and mightiest bad guy around. He is enjoys teasing his opponents with puns relating to light. However, he usually fails to live up to his boasts because of his overconfidence and a sheer lack of common sense. He is also scared by Raven since she went temporary crazy along with demonic and dragged him into her cloak in Nevermore. Doctor Light might be afraid of bats as seen in Birthmark but that's not confirmed.
Light appears to be your stereotypical comical mad scientist. His inventions are brilliant, and his technology is great, but he lacks the brightness to create a master plan, making him easy to outsmart. He's powerful enough to take all of the Teen Titans with relative ease, however, his fear of the dark is the only real thing that leads to his defeat.

Villains
Comics
Andre LeBlanc | Anti-Monitor | Arsenal | Blackfire | Blizzard | Brother Blood | Brotherhood of Evil (Brain, Monsieur Mallah, Madame Rouge & General Immortus) | Brutale | Calculator | Cheshire | Clock King | Damien Darhk | Deathstroke | Deuce & Charger | Deathwing | Ding Dong Daddy | Doctor Light | Doctor Polaris | Duela Dent | Electrocutioner | Gentleman Ghost | Gizmo | Holocaust | Ice Kate | Jericho | Jinx | Kid Kold | Kwiz Kid | Legion of Doom (Superboy-Prime, Sun Girl, Headcase, Inertia, Indigo, Persuader, Zookeeper) | Mammoth | Mantis | Mister Twister | Neron | Neutron | Ocean Master | Phobia | Prometheus | Psimon | Puppeteer | Pylon | Ravager | Royal Flush Gang | Shimmer | Sunburst | Terra | Terror Titans | Trident | Trigon | Twister | Two-Face | Veil | Ultra-Humanite | Warp | Wildebeest | Wintergreen
Television
Teen Titans (2003)
Slade | Terra | Trigon | Blackfire | H.I.V.E. Five (Jinx, Gizmo, Mammoth, Billy Numerous, See-More, & Kyd Wykkyd) | Dr. Light | Cinderblock | Brother Blood | Brotherhood of Evil (Brain, Monsieur Mallah, Madame Rouge & General Immortus) | Control Freak | Puppet King | Killer Moth | Mad Mod | Mother Mae-Eye | Mumbo Jumbo | Plasmus | Overload | Nega Cyborg | Nega Starfire | Nega Beast Boy | Fang | Kitten | Angel | Adonis | Johnny Rancid | Malchior | Master of Games | Ternion | Glgrdsklechhh | The Source | Guard | Kardiak | White Monster | Thunder & Lighting | Atlas | XL Terrestrial | H.I.V.E. Academy | Private H.I.V.E. | Krall | Radiation Creature | I.N.S.T.I.G.A.T.O.R. | Professor Chang | Sammy & Cash | Steamroller | Wrestling Star | Baron Ryang | Punk Rocket | Soto | Space Monster | Katarou | Red X | Trogaar
Teen Titans Go!
Trigon | Terra | Slade | Cinderblock | Plasmus | H.I.V.E. Five (Gizmo, Jinx, Mammoth, See-More & Billy Numerous) | Brother Blood | Dr. Light | Control Freak | Mumbo Jumbo | Mad Moe | Killer Moth | Kitten | Mother Mae-Eye | Punk Rocket | Brain | Monsieur Mallah | Madame Rouge | Rose Wilson | Blackfire | Darkseid | Doomsday | Pain Bot | Sandwich Guardians | Ed | Flex | Muscle | Magic God | Vegetor | Twin Destroyers of Azarath | Slime Monster | Scary Teri | Pinocchio | The Invisible Man | Benjamin Franklin | Pelicans | Perfect Sandwich | Death | Honk | Perry | Giant Robotic Alien | Klatak | Legion of Doom | Santa Claus | Tooth Fairy | Halloween Spirit | Hurt Bot | The Whisper | Money Mummy | Dr. Otto Von Death | Lumino | Piglets | Evil Dragon | The Lumberjack | Dr. Military | Toy Master | Richard Nixon | Muscleor | Book Wizard | Punk Crabs | Ultralak
Titans (2018)
Trigon | Dr. Adamson | Nuclear Family (Nuclear Dad, Nuclear Stepdad, Nuclear Mom, Nuclear Sis & Nuclear Biff) | Angela Azarath | Deathstroke | Cadmus Laboratories (Mercy Graves & Walter Hawn) | Dr. Light | Wintergreen | Shimmer | Blackfire
Video Games
Injustice: Superman | Damian Wayne | Cyborg | Raven | Deathstroke
Movies
Teen Titans: Trouble in Tokyo: Uehara Daizo | Brushogun | Saico-Tek | Nya-Nya | Deka-Mido | Timoko | Mecha-Boi | Scarface
Justice League vs. Teen Titans: Trigon | Legion of Doom (Lex Luthor, Cheetah, Solomon Grundy, Toymaster, & Weather Wizard) | Atomic Skull | Ra's al Ghul
Teen Titans: The Judas Contract: H.I.V.E./Church of Blood (Brother Blood, Mother Mayhem, Deathstroke & Terra)
Teen Titans Go! To the Movies: Slade | Balloon Man
Teen Titans Go! vs. Teen Titans: Hexagon (Trigon (Teen Titans Go!) & Trigon (Teen Titans)) | Master of Games | Gentleman Ghost | Megan Claus | Raven's Demon