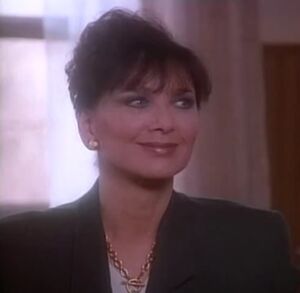 Dr. Rachel Walters is the main antagonist from the 1993 TV film A Twist of the Knife. She served as one of the precursors to the long running series Diagnosis Murder.
She was portrayed by the late Suzanne Pleshette, who later played Zira in Disney's The Lion King II: Simba's Pride, and Yubaba in Spirited Away.
Backstory
Dr. Rachel Walters is a renowned surgeon and an old flame of Mark Sloan. After their relationship ended, Rachel became involved with District Attorney Dennis Chapin, who was married at the time. She became pregnant with his child, a girl, and envisioned being together with Dennis as a family. Knowing that it was not to be, Rachel gave her daughter, named Katherine, up for adoption. Years later, Katherine and her adoptive parents were the victims of a hit and run caused by Senator Cabot, who was driving drunk. The accident killed Katherine's adoptive parents and placed her in a coma. After learning that the accident was covered up, Rachel sought revenge on Cabot.
Events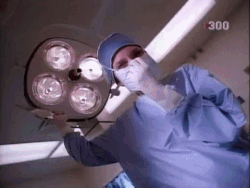 The film began with Rachel dreaming about killing Cabot, as she was shown in the sequence as a maniacal villainess wielding a butcher knife at Cabot during surgery. When she learned that Cabot would be operated on at Community General Hospital, Rachel took the opportunity to head there to perform the operation, with the true intent on killing him. On the night before the procedure occurred, Rachel snuck in to the hospital and injected blood from a deceased person, after reading that the patient died of a staph infection. During the operation, Rachel contaminated the catheter with the infected blood and placed it into Cabot, which resulted in Cabot's death.
Rachel confessed to Mark about the murder after he walked in on her visiting Katherine. She stated to Mark that she couldn't prove anything, which was true at that time. Later on, Rachel encountered Mark's patient, Bernie McNeil, who actually witnessed Rachel at the hospital that night. Once Bernie recognized her, the evil Rachel decided to kill him, beginning with preparing him for surgery. Mark managed to get through to Rachel during the procedure, and with Bernie flatlining, Rachel helped revive him. After the surgery, Mark confronted Rachel with evidence of her murderous act; video of Rachel hiding the contaminated blood in her surgical gloves. After this, Rachel was arrested for killing Cabot.
Gallery
Community content is available under
CC-BY-SA
unless otherwise noted.