Jurassic World: Dominion Dominates Fandom Wikis - The Loop
Play Sound

✓
This Villain was proposed and approved by Villains Wiki's Pure Evil Proposals Thread. Any act of removing this villain from the category without a Removal Proposal shall be considered vandalism (or a futile "heroic" attempt of redemption) and the user will have high chances of being terminated blocked. You cannot make said Removal Proposal without permission from an admin first.
Additional Notice: This template is meant for admin maintenance only. Users who misuse the template will be blocked for a week minimum.

NOTE: This article is about the Archie Comics villain - you can find information on the mainstream version in Dr. Ivo "Eggman" Robotnik. For the modern version of Dr. Ivo Robotnik from Archie Comics see Dr. Eggman (Archie Comics).
"
Dr. Robotnik: I have a responsibility to restore order from chaos! --and with the aid of my greatest discovery, I have the means necessary to carry out my plans! Behold my roboticizer--able to transform any living creature into a programmed metal automaton--free to obey my orders only! Look at them! Lining up in assembly-line fashion! --Emerging as the ultimate product of my new world order!
King Acorn: This is monstrous!
Dr. Robotnik: That depends on your point of view! In my version, you are the enemy-- and must be eliminated for the good of all!
"
~ Robotnik to King Acorn, shortly before sending him to the Zone of Silence.
Dr. Ivo Robotnik, born Julian Kintobor of the House of Ivo and also known as Robotnik Prime, was the archenemy of Sonic the Hedgehog and the Freedom-Fighters for a long period of time and the main antagonist for the first few sagas of Archie's Sonic the Hedgehog comics, and a posthumous antagonist for the remainder of the series.
Eventually, Robotnik Prime was killed and replaced with an alternate version of Dr. Ivo Robotnik under the nickname of Robo-Robotnik, who later took an alias Dr. Eggman.
Personality
| | | |
| --- | --- | --- |
| " | Sonic the Hedgehog has indeed betrayed you! But despite what you're all thinking, King Acorn has not! For this is anything but your beloved sovereign... [King Acorn is revealed to be a robot as Robotnik destroys it] How easily you were fooled by a robot duplicate of the King! [Some of the Freedom Fighters scream and insult Robotnik] Silence! Before I have you all vaporized! Ah, but that would be too easy! I'd much rather see you perish along with the rest of the repulsive non-robotic residents of this planet! And so, I'll allow you miscreants to live--for a short while... Until my latest and most powerful weapon of destruction is fully functional! Then every living being on Mobius will be annihilated including your precious monarch, who's being attended to as I speak... | " |
| | ~ Robotnik to the captured Freedom Fighters. | |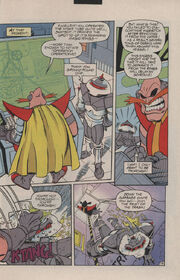 Archie Comics introduced Dr. Robotnik as a near-omnipotent tyrant of colossal might. He was very much a successful and dangerous mastermind in his reality and almost succeeded in conquering all of Mobius, however, he was also very arrogant and cruel - two traits that ensured his downfall as Robotnik would often underestimate his opponents and would fall prey to hubris as he liked to toy with enemies rather than destroy them when he had the chance (though not to the same extent as Eggman would later).
He was also abusive towards his right-hand minion and nephew, Snively, this was another trait of the dictator that would prove his downfall as he underestimated Snively's own potential for villainy and thus didn't view him as a threat at all (when in reality Snively was much smarter and traitorous than Robotnik could have imagined).
Like his counterpart from "Sonic the Hedgehog" cartoon series, Archie's Robotnik was a surprisingly dark and heartless monster, vastly differing from his in-game counterpart. However, he would occasionally take part in humorous plots, inheriting some "laughable" traits from a version of Robotnik from the Adventures of Sonic the Hedgehog cartoon series (as evidenced in the creation of Scratch and Grounder). He would also team up with Sonic if another villain was able to overpower them both.
Biography
Archie's Robotnik was an Overlander who during the Great War was persecuted for conducting unethic experiments. Saved by the Mobians during his escape, he became their military leader and helped them win the war. Eventually, he used his position and Charles the Hedgehog's invention, the Roboticizer, to gain power via usurping the royal House of Acorn. This coup drove Princess Sally into hiding alongside many others in Knothole, and they would become known as the Freedom Fighters. Robotnik also mastered the art of roboticization, which he used to transform anyone foolish enough to oppose him into robotic slaves starting with the city of Mobotropolis.
This process was once thought to be irreversible and Robotnik often used it to inspire terror in the hearts of his enemies but it was later revealed that the process could be reversed. It was also possible for beings to become partially roboticized, such as Bunny, who was saved from her fate by Sonic and the Freedom Fighters.
With his last plan, Operation: EndGame, in the end it came down to Sonic and Robotnik battling it out after the doctor's most powerful weapon, the Ultimate Annihilator, had destroyed Knothole. Unbeknownst to Robotnik, his right-hand had sabotaged the Ultimate Annihilator to only target his DNA, and it ended up consuming the tyrant, displacing his molecules.
Much later, following the arrival of his alternate universe counterpart Robo-Robotnik, now known as Dr. Eggman, this new incarnation used a device to rearrange Dr. Robotnik's molecules, bringing him back from the dead. His return was shortlived, as the machine used to bring him back was destroyed by the Freedom Fighters.
Gallery
Trivia
The Archie version of Robotnik is also the only version of Robotnik to have officially been killed, although he was later replaced by Archie's version of Dr. Eggman who is also very different from Robotnik's video game incarnation. After the Super Genesis Wave reshaped reality, he was either erased from history altogether or fused with his alternate counterpart, making them one in the same.
Unlike most media, where the character is a human, this incarnation belongs to a species known as "

Overlanders

".
External Links

verse Villains
Archie & Riverdale
Aliens | Betsy | Coach Clyde | Chuck Orgle | Dr. Arachnid | Dorsa Finn | Glebo | Maladonia Demon | Medlock | Maria Naut | Mr. Avericci | Mustang | Nilnewz | Paul Boucher | Potato Aliens | Prad and Whitney | Queen Cockroach | Riverdale Reaper | Scarlet Helsing | Stanley 9000 | The Genie | The Great Potato | Vampronica | Vinnie Wells | Alice Cooper | Archie Andrews | Andre | Arthur Adams | Black Hood | Blossom Family | Bret Weston Wallis | Cassidy Bullock | Chad Gekko | Charles Smith | Chic Cooper | Chuck Clayton | Claudius Blossom | Clifford Blossom | Darla Dickenson | Dodger Dickenson | Donna Sweett | Dreyfus Starkweather | Edgar Evernever | Elio Grande | Evelyn Evernever | FP Jones | Francis DuPont | Gargoyle Gang | Gargoyle King | Geraldine Grundy | Ghoulies | Gladys Jones | Hermione Lodge | Hermosa Lodge | Hiram Lodge | Holden Honey | Joan Berkeley | Jonathan | Kurtz | Malachai | Marty Mantle | Michael Matthews | Mustang | Nick St. Clair | Paul Boucher | Penny Peabody | Penelope Blossom | Percival Pickens | Reggie Mantle | Rose Blossom | Sheriff Michael Minetta | Sister Woodhouse | Small Fry Boucher | Southside Serpents | Sugarman | Sweet Pea | Tall Boy | Trash Bag Killer | Warden Norton
Sabrina the Teenage Witch & Chilling Adventures of Sabrina
Satan | Father Blackwood | Madame Satan | Weird Sisters (Prudence Blackwood, Agatha Night) | Batibat | Dorian Gray | Bartel | Plague Kings (Beelzebub, Asmodeus, Purson) | Jerathmiel | Mehitable | The Pagans (Pan, Circe, Nagaina) | Caliban | Jimmy Platt | Green Man | Katrina Spellman | Anirbas | Libby Chessler | Jezebelda Spellman | Drell | Irma Spellman | Brad Alcero | Tim the Witchsmeller | Gem Stone | Cassandra | Wish Spirit | Enchantra Yagami | Shinji Yagami | Spella Yagami

Sonic the Hedgehog
Dr. Eggman | Dr. Robotnik | Snively | Metal Sonic | Mecha Knuckles | Tails Doll | Eggman Empire | Team Dark (Shadow the Hedgehog, Rouge the Bat, E-123 Omega) | Hooligans (Fang the Sniper, Bean the Dynamite, Bark the Polarbear) | Babylon Rogues (Jet the Hawk, Wave the Swallow, Storm the Albatross) | A.D.A.M. | Agunus | Anti-Geoffrey St. John | Auto Automaton | Auto-Fiona | Benedict | Black Death | Boomer Walrus | Brass Knuckles | Breezie the Hedgehog | Brutus Kintobor | Bzzzz | CD-ROM Ram | Captain Claw | Captain Metal Claws | Colin Kintobor | Combot | Comic Book Bots | Commander Brutus | Crocbot | Croctobot | D.R.A.T. | DYNAMAC | Dimitri | Doctor Finitevus | Downtown Ebony Hare | Drago Wolf | Dr. Finitevus | E.V.E | Eel Capone | Egg Sweeper | Emperor Metallix | Enerjak | Evil One | Ferron | Fiona Fox | Flame Legion | Flying Frog | Foxxy | French Frirus | Frost Legion | General Helmut Von Stryker | Grand Chief Whip | Grimer Wormtongue | Hired Mussels | Hunter | Iron Dominion | Iron King | Iron Queen | Ivanna Robotina | Ivo Robughnik | Johnny Snively | Kage Von Stryker | Kid Cruel | King Gong | Kodos | Kragok | Krudzu | Lien-Da | Lightning Lynx | Luger the Echidna | Mammoth Mogul | Marxio Brothers | Mathais Poe | Mecha Sally | Mechanaut | Menniker | Metal Scourge | Metal Sonic Troopers | Metallix | Miles "Tails" Prower | Misty-Re | Moritori Rex | Mr. Beta | Mr. Delta | Mr. Gamma | Ms. Alpha | Nusgau | Octobot | Order of Ixis | Overlord | Patch | Plasma | Proker Metallix | Predator Hawk | Princess Alicia Acorn | Professor Egg | Pseudo Sonic | Rabbot-Zilla | Raiju Clan | Rendfield T. Rodent | Robolactus | Rosy the Rascal | Rykor | Sallactor | Scourge the Hedgehog | Sergeant Simian | Serpentius | Shadowbots | Silver Snively | Sub-Boss | Suguna | Super Scourge | Super Sonic | Syntar | Termite-Nator | The Enchantress | Trogg | Universalamander | Wing Dingo | Xenin | Xorda | Yagyu Ninja | Zan