Doctor Strange in The Multiverse o Madness - The Loop
Play Sound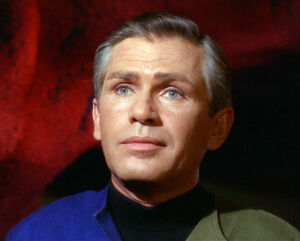 | | | |
| --- | --- | --- |
| " | What would your first duty be upon return to your vessel? Report! Do you realize the number of discoveries lost because of superstition, of ignorance, of a layman's inability to comprehend? | " |
| | ~ Korby, to Kirk | |
Dr. Roger Korby is a one-shot character who appears in the Star Trek franchise, serving as the main antagonist of the Star Trek: The Original Series episode "What Are Little Girls Made Of?".
He was portrayed by the late Michael Strong.
Early History
Korby was a Federation archaeologist, renowned as the "Pasteur of archaeological medicine," whose translations of medical records found in Orion ruins reformed immunological techniques which became required reading at Starfleet Academy. He was also a professor, and began a relationship with one of his students, Christine Chapel, who later became his fiancée.
Around 2261, Korby led an archaeological expedition to Exo III, where he was critically injured by the planet's inhospitable cold, losing both legs. He then found a primordial civilization of androids and used their highly-advanced technology to build for himself an android body into which he transferred his consciousness, in the process losing all the qualities that made him human.
"What Are Little Girls Made Of?"
In 2266, when the USS Enterprise (NCC-1701) arrives to find any evidence that he or his team survived, Korby asks that Captain James T. Kirk beam down to Exo III alone, though he happily allows Kirk to bring Christine along with him once he learns that his former fiancée is aboard the starship. Once Kirk and Chapel beam down and meet with him and what's left of his expedition team, Korby makes unusual requests that eventually lead to Kirk being detained by the hulking android known as Ruk.
Sometime after Kirk's capture, Korby shows Chapel a machine that can create android duplicates of humans. With help from his android assistant Andrea, he uses the device to create a duplicate of Kirk before revealing his plan to replace humans with androids that do not have to worry about human limitations such as hunger, disease and death.
Korby is eventually revealed to be an android himself, much to Chapel's horror. He insists that he is still Roger Korby, but comes to recognize the flaw in his plan. When Andrea professes her love for Korby and kisses him, Korby pulls the trigger on her phaser to kill both himself and Andrea.
Quotes
| | | |
| --- | --- | --- |
| " | I've a rather unusual request, Captain Kirk. Beam down alone, just yourself. We've made discoveries of such a nature they may require an extraordinary decision from you. | " |
| | ~ Korby's message to the Enterprise | |
| | | |
| --- | --- | --- |
| " | In android form, a human being can have practical immortality. Can you understand what I'm offering mankind? [...] Can you understand that a human converted to an android can be programmed for the better? Can you imagine how life could be improved if we could do away with jealousy, greed, hate? [...] No one need ever die again. No disease, no deformities. Why, even fear can be programmed away, replaced with joy. I'm offering you a practical heaven, a new paradise, and all I need is your help. | " |
| | ~ Korby, to Kirk | |
| | | |
| --- | --- | --- |
| " | It's still me, Christine. Roger. I'm in here. You can't imagine how it was. I was frozen, dying. My legs were gone. I was, I had only my brain between life and death. This can be repaired easier than another man can set a broken finger. I'm still the same as I was before, Christine, perhaps even better. | " |
| | ~ Korby, after being revealed as an android | |
| | | |
| --- | --- | --- |
| " | I'm the same! A direct transfer. All of me, human, rational, and without a flaw. [...] I'm not a computer. Test me. Ask me to solve any, equate, transmit. Christine, Christine, let me prove myself. Does this make such a difference? [...] I AM ROGER KORBY! | " |
| | ~ Korby | |
| | | |
| --- | --- | --- |
| " | No. You cannot love. You're not human. | " |
| | ~ Korby's last words to Andrea, before killing himself and her | |

Villains
Movies
Star Trek: The Motion Picture: V'Ger: Klingons ( Barak )
Star Trek II: The Wrath of Khan: Augments (Khan & Joachim)
Star Trek III: The Search for Spock: Klingons (Kruge, Torg, Maltz) | Valkris
Star Trek IV: The Voyage Home: Whale Probe | Kamarag
Star Trek V: The Final Frontier: The One | Klingons (Klaa & Vixis) | Sybok
Star Trek VI: The Undiscovered Country: Khitomer Conspiracy (General Chang, Nanclus, Valeris, Admiral Cartwright, Patrick West, Harlan Burke, Thomas Samno)
Star Trek Generations: Tolian Soran | Klingons (Lursa & B'Etor)
Star Trek: First Contact: The Borg (Borg Queen)
Star Trek: Insurrection: Son'a (Ahdar Ru'afo & Gallatin) | Matthew Dougherty
Star Trek: Nemesis: Remans (Shinzon, Viceroy, Tal'aura, Suran & Donatra)
Star Trek (2009): Romulans (Nero & Ayel)
Star Trek Into Darkness: Khan | Alexander Marcus
Star Trek Beyond: Krall | Manas | Kalara
Television
Adam Soong | Ah-Kel | Alixus | Anan 7 | Apollo | Arctus Baran | Ardra | Arik Soong | Armus | Arne Darvin | Arthur Coleman | Augris | Automated Unit 3947 | Khan | Ba'ul | Balok | Banean Doctor | Basso Tromac | Ben Finney | Benjamin Maxwell | Beta XII-A entity | Bok | The Borg | Bothan | Bractor | Broca | Brunt | Cardassian Union (Dukat, Damar & Cardassians) | Charlie Evans | Chu'lak | Claudius Marcus | Clown | Colonel Grat | Colonel Phillip Green | Crell Moset | Crystalline Entity | Culluh | Cyrus Redblock | D'Ghor | D'Nesh | Damrus | Danby Connor (MU) | Devinoni Ral | Denevan parasites | Dereth | Dexter Remmick | Doctor Chaotica | Dolim | Dr. Janice Lester | Dular Garos | Duras | Ekosian SS (Melakon) | Elim Garak (Mirror Universe) | Ellen Landry | Equinox EMH | Erik Pressman | Evil Kirk | Fallit Kot | Gabriel Lorca (MU) | Garth of Izar | Gary Mitchell | Gorgan | Gorn | Female Changeling | Gowron | Grebnedlog | Hagath | Harry Mudd | Henoch | Hikaru Sulu (MU) | Hoshi Sato (Mirror Universe) | House of Duras | Ibudan | Ilon Tandro | Imperial Starfleet | Ira Graves | J'Dan | Jabin | James Leyton | James T. Kirk | Jaro Essa | Jem'Hadar | Jev | John Frederick Paxton | John Gill | Jonathan Archer (Mirror Universe) | Joran Dax | Julian Bashir (Changeling) | J'Vini | Karnas | Kathryn Janeway (Kyrian Recreation) | Kar Kantar | Kazon | Kell | Kennelly | Keyla | Kieran MacDuff | Kila Marr | Kira Nerys (Mirror Universe) | Kivas Fajo | Kodos the Executioner | Kol | Kol-Sha | Koloth | Konmel | Kor | Korok | Korris | Kras | Krax | Kunivas | L'Rell | Landru | Lazarus | Leland | Lenore Karidian | Letek | Locutus | Locutus | Lon Suder | Lore | Lurin | Lutan | Luther Sloan | M-113 Creature | Maab | Madred | Malcolm Reed (MU) | Malon | Maras | Marla McGivers | Martok (Changeling) | Martus Mazur | Matthew Harris | Matthew Ryan | Maxwell Burke | Mazarites | Michael Eddington | Michael Jonas | Miles O'Brien (Changeling) | Morag (Klingon) | Na'kuhl | Nagilum | Navaar | Neela | Neral | Neural Parasites | Nomad | Norah Satie | Nyota Uhura | Oracle of the People | Patar | Paul Stamets (MU) | Pavel Chekov (Mirror) | Pe'Nar Makull | Philippa Georgiou (MU) | Professor Moriarty | Q | Rao Vantika | Razik | Redjac | Regent of Palamar | Dr. Roger Korby | Romulan Commander (Balance of Terror) | Ron Tracey | Rota Sevrin | Rudolph Ransom | Ruon Tarka | Sabin Genestra | Sela | Seska | Seven of Nine (KR) | Sharat | Shran | Silaran Prin | Silik | Sobi | Spawnmother (2364) | Sphere-Builders | Spock (Mirror Universe) | Sulan | Surata IV Vine | Sylvia Tilly | Sylvia (Ornithoid) | T'Kuvma | T'Paal | Tahna Los | Talosian Keeper | Talosians | Tarah | Tarr | Tedran | Terra Prime | The Albino | The Doctor (Kyrian Recreation) | Thot Gor | Thot Pran | Tomalak | Toral | Toran | Trabe | Traeg | Travis Mayweather (MU) | Trekal Darhe'el | Trelane | Tret | Tristan Adams | Ulis | Ux-Mal Entity | V'Las | V'latak | Vaal | Vaatrik Pallra | Valdore | Verad Kalon | Ves Alkar | Voq | Wesley Crusher | Weyoun | William Ross | Winn Adami | Worf (Mirror Universe) | Yuta | Zorn
Comic Books
Alfred Bleikoff | Enab
Novels
B'orel | Darok | Dralath | Dovraku | Kazanak | Korak | Krit | Lokog | Mettus | Romulan Praetor (2280s) | Spawnmother (2376) | Tron | True Sons of Antar | Valak | Zakal