Click To Help DIO!

DIO has declared that this article has stopped in time, and any and all information on it may be outdated.
Help improve this article by checking and updating it's info wherever necessary
And now time resumes!

✓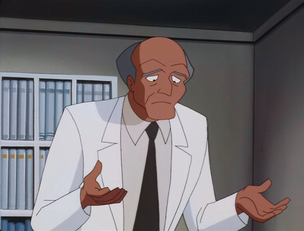 Dr. Vale is a corrupt doctor who works for Lex Luthor in Superman: The Animated Series.
He works in Corben's prison to make John Corben a powerful friend of Lex. Vale secretly put a rare and deadly virus which has no cure into Corben's food and later gets him out of prison. After that incident, he earned tons of money from Luthor and never returned to prison. Later on, Lex sent a henchman to kill Dr. Vale off screen, a fact that he shared with Superman.

Villains
Comics
Alex Luthor | Amanda Waller | Amazo | Anti-Monitor | Atlas | Atomic Skull | Barbatos | Bernadeth | Bizarro | Black Adam | Black Banshee | Black Zero | Blanque | Blackrock | Bloodsport | Brainiac | Bruno Mannheim | Bug-Eyed Bandit | Captain Boomerang | Captain Cold | Cheetah | Chemo | Circe | Coldcast | Cyborg Superman | Dabney Donovan | Dark Knights | Darkseid | Deathstroke | Dev-Em | The Devastator | Doctor Manhattan | Doctor Polaris | Doomsday | Eclipso | Equus | Eradicator | Faora Hu-Ul | Funky Flashman | General Zod | Gorilla Grodd | Heat Wave | Hector Hammond | Hellgrammite | Imperiex | Intergang | Jax-Ur | Joker | Karkull | King Shark | Lex Luthor | Livewire | Lobo | Major Disaster | Manchester Black | Masters of Disaster | Maxwell Lord | Mercy Graves | Metallo | Mongul | Morgaine Le Fey | Morgan Edge | Mxyzptlk | Neron | Neutron | Nick O' Teen | Parasite | Phantom Zoners | Plasmus | Plastique | Prankster | Preus | Prometheon | Prometheus | Preserver | Queen of Fables | Rampage | Reverse-Flash | Royal Flush Gang | Secret Society of Super Villains | Shockwaver | Silver Banshee | Sinestro | Solomon Grundy | Subjekt-17 | Suicide Squad | Superboy-Prime | Superman Revenge Squad | Spellbinder | Talia al Ghul | Thaddeus Killgrave | Titano | Toyman | Ultra-Humanite | Ultraman | Weather Wizard | William Dunn
Theatrical Movies
Superman: Lex Luthor | Otis | Eve Teschmacher | General Zod | Non | Ursa
Superman II: General Zod | Non | Ursa | Lex Luthor | Otis | Eve Teschmacher | Rocky
Superman III: Ross Webster | Corrupted Superman | Vera Webster | Lorelei Ambrosia
Superman IV: The Quest for Peace: Lex Luthor | Nuclear Man
Superman Returns: Lex Luthor
Man of Steel: Sword of Rao (Dru-Zod, Faora-Ul, Nam-Ek, Jax-Ur, Tor-An, Car-Vex, Nadira, & Dev-Em II)
Batman v Superman: Dawn of Justice: Lex Luthor | Doomsday | Anatoli Knyazev | Mercy Graves | Cesar Santos | Amajagh | Joe Chill | Zod | Steppenwolf
Direct-to-video Movies
Superman: Brainiac Attacks: Brainiac | Lex Luthor | Mercy Graves | Mister Mxyzptlk
Superman: Doomsday: Lex Luthor | Superman Clone | Doomsday | Toyman | Mercy Graves
Superman/Batman: Public Enemies: Lex Luthor | Major Force | Metallo | Amanda Waller | Toyman | Solomon Grundy | Gorilla Grodd | Killer Frost | Lady Shiva | Giganta | Mongul | Captain Cold
Superman/Batman: Apocalypse: Darkseid | Female Furies (Granny Goodness, Gilotina, Mad Harriet, Lashina & Stompa) | Doomsday
All-Star Superman: Lex Luthor | Solaris | Parasite | Bar-El & Lilo-El
Superman vs. The Elite: The Elite (Manchester Black, Coldcast, Menagerie & Hat) | Atomic Skull
Superman: Unbound: Brainiac
The Death Of Superman: Doomsday | Lex Luthor | Intergang (Bruno Mannheim) | Mercy Graves | Cyborg Superman
Reign Of The Supermen: Cyborg Superman | Darkseid | Parademons | Lex Luthor | Mercy Graves
Superman: Red Son: Superman | Brainiac | Lex Luthor | Batman | Superior Man
Superman: Man of Tomorrow: Parasite | Lobo | Lex Luthor
Television
Superman: The Animated Series: Lex Luthor | Brainiac | Darkseid | Mercy Graves | Mister Mxyzptlk | Prometheon | Bizarro | Jax-Ur | Metallo | Kalibak | Desaad | Steppenwolf | Female Furies (Granny Goodness, Stompa, Mad Harriet, & Lashina) | Livewire | Parademons | Intergang (Bruno Mannheim & Spider Spinelli) | Kanto | Lobo | Joker | Harley Quinn | Volcana | Toyman | Parasite | Earl Garver | Maxima | Weather Wizard | Sinestro | Karkull | Titano | Penguin | Riddler | Bane | Mad Hatter | Preserver | Roxy Rocket | Society of Shadows (Ra's al Ghul, Talia al Ghul, & Ubu) | Unity | Reverend Amos Howell | Luminus | Superman (Brave New Metropolis) | Lex Luthor (Brave New Metropolis) | Corey Mills | Dr. Vale | De'Cine | Kurt Bowman | General Hardcastle | Joey | Kurt
Superman & Lois: Tal-Rho | Leslie Larr | John Henry Irons | Zeta-Rho | Reno Rosetti | David Fuglestad | Intergang (Thaddeus Killgrave) | Atom-Man | Zod
Video Games
Superman Arcade: Emperor Zaas
Injustice: Superman | Brainiac | Doomsday | Aquaman | Black Adam | Sinestro | Lex Luthor | Joker | Darkseid