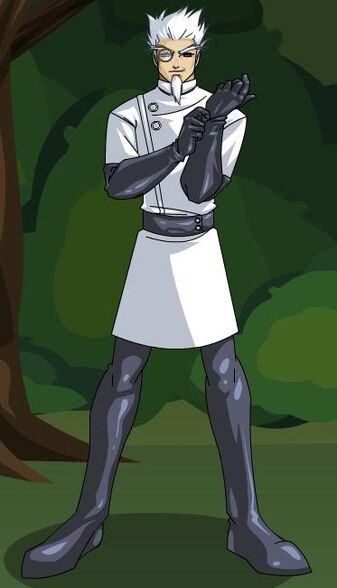 Doctor Voltabolt is a character in DragonFable and AdventureQuest Worlds online games.
Story
DragonFable
A technomancer/dentist who wants to destroy Falconreach (and every other town that "zupportz the evilz of magic"). The Hero can get some pets from Item Farming "Dr. Voltabolt's Challenge".
Not much is known about this odd technomancer/dentist, but he dislikes magic and magic users heavily and he seems to have some problems when saying s (z) and w (v). He was met first, when he screwed up some of his creations, they have gone rogue. 
AdventureQuest Worlds
Doctor Voltabolt is a mad scientist and dentist that creates the Moglinsters with sugar-free candy to fight tooth decay. He led a trail of candy to the Cauldron Sister's Candy Shop where they overrun it. After the player defeated the Dental Driller, the player sets Doctor Voltabolt straight stating that dentists are supposed to treat tooth decay and that any new patients should make him rich.
When Doctor Voltabolt finally realizes this, he tells his Moglinsterbots to pack up and head for his home. Before he leaves, Doctor Voltabolt wishes the player a Happy Mogloween.
Some of Doctor Voltabolt's monster creations include Moglinsterbot, Nightmare Dentist Chair, and Dental Driller.
Trivia
The seasonal NPC of MechQuest (as Willhelm Voltabolt) and DragonFable.
Dental Driller looks like his mecha in MechQuest.
Most quest items and drops in this area are dentist-related because of him.
Voltabolt is one of the staff members in AE. Voltabolt's Character Page.
In The 2013 Mogloween event his role can be compared to Dr. Victor Frankenstein as he is a mad scientist that created Frankenwerepyre a creature based off of Frankenstein's Monster.
Community content is available under
CC-BY-SA
unless otherwise noted.