Doctor Strange in The Multiverse o Madness - The Loop
Play Sound

✓
This Villain was proposed and approved by Villains Wiki's Pure Evil Proposals Thread. Any act of removing this villain from the category without a Removal Proposal shall be considered vandalism (or a futile "heroic" attempt of redemption) and the user will have high chances of being terminated blocked. You cannot make said Removal Proposal without permission from an admin first.
Additional Notice: This template is meant for admin maintenance only. Users who misuse the template will be blocked for a week minimum.

| | | |
| --- | --- | --- |
| " | "Dragon master"? I alone control the dragons! | " |
| | ~ Drago Bludvist boasting to Astrid of his control over dragons. | |
| | | |
| --- | --- | --- |
| " | STOP ALL PREPARATIONS! We must attack the dragon riders nest at once! We will take down their alpha! Then we will take Berk! | " |
| | ~ Drago Bludvist tells his men that after defeating Valka's alpha, they will go and destroy Berk. | |
| | | |
| --- | --- | --- |
| " | You see, I know what it is to live in fear! To see my village burnt, my family taken. But even as a boy, left with nothing, I vowed to rise above the fear of dragons, and liberate the people of this world. | " |
| | ~ Drago telling Hiccup about his "tragic" background. | |

Drago Bludvist is the main antagonist of the How to Train Your Dragon franchise.
He is a cruel, vindictive, and megalomaniacal warlord who seeks to amass a massive army dragons by enslaving them with his Bewilderbeast, and uses his domineering traits to convince entire tribes of chieftains to follow him before proceeding to dominate humankind in a reign of terror (cementing his position as a dire threat). He is Krogan, Eret, the Warlords and the Northern Alliance's former leader, his Bewilderbeast's former master, the archenemy of House Haddock, and the murderer of Stoick the Vast.
He was voiced by Djimon Hounsou in How to Train Your Dragon 2 and the Race to the Edge final episode "King of Dragons, Part 2", who also played Korath the Pursuer in the 2014 Guardians of the Galaxy film, and Mose Jakande in Fast & Furious 7. In the Race to the Edge episode "Wings of War, Part 1", he was voiced by Hakeem Kae-Kazim, who also played his second-in-command Krogan in the series as well as Benatu Eshu in Vixen, Waraabe in Call of Duty: Modern Warfare 3, Richard Gladwell in Gotham and Georges Rutaganda in Hotel Rwanda.
Roles
Drago Bludvist serves as the overarching antagonist of the Dragons: Race to the Edge TV Series, the unseen overarching antagonist of its video game Dragons: Rise of Berk, an unseen antagonist in How to Train Your Dragon, the main antagonist of How to Train Your Dragon 2, the posthumous overarching antagonist of How to Train Your Dragon: The Hidden World and a posthumous antagonist in How to Train Your Dragon: Homecoming.
Biography
Revenge on Dragons
| | | |
| --- | --- | --- |
| " | Years ago, there was a great gathering of chieftains that discussed the dragon scourge we all faced. Into our midst came a stranger from a strange land, covered in scars and draped in a cloak of dragon skin. He carried no weapon, and spoke softly, saying that he, Drago Bludvist, was a man of the people, devoted to freeing mankind from the tyranny of dragons. He claimed that he alone can control the dragons and he alone can keep us safe, if… we chose to bow down, and followed him. …Aye, we laughed, too, until he wrapped himself in his cloak and cried out, "Then see how well you do without me!" The rooftops suddenly burst into flames, and from it, armored dragons descended, burning the hall to the ground. I… was the only one to escape. | " |
| | ~ Stoick telling Hiccup his experience with Drago. | |
When Drago Bludvist was little, his village was attacked by dragons, and his family was killed. He managed to escape but not before losing his left arm. From that point onward, he lived in fear of another dragon assault until he vowed to himself to rise above his fear and conquer the beasts that had hurt him, becoming a power-hungry and tyrannical warlord. Drago grew up learning how to control dragons with brute force and gathered an army of loyal humans under the guise of a "Dragon God", one who had absolute control of dragons. During one of his earliest conquests, Drago found a Bewilderbeast hatchling and then tortured it until it grew to an adult, thus making the beast completely subservient to him out of fear of Drago.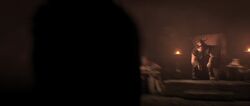 Years before the events of the first movie, Drago visited a then dragon-terrorized Berk in an attempt to sway more people to his cause. He entered the Great Hall where an assembly of chiefs was present, promising them peace and freedom from the threat of dragons, but only if they chose to bow down and follow him. The chiefs took this as a joke and rejected his offer by laughing at him.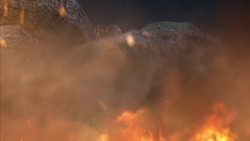 Fueled with ire and revenge by the abuse, Drago left the hall calling back to the chiefs, "Then see how well you'll do without me!". Moments later, two of Drago's armored dragons descended into the hall through the roof and burned it to the ground, killing all of the chiefs except for Stoick, who narrowly managed to escape with his life. Stoick then saw Drago with his right-hand, Krogan, before they left the scene.
Expanding His Armada
"
Krogan: Wait, Drago, please. I will not fail you again.
Drago: No one fails me twice.
"
~ Drago to Krogan shortly before having the latter be executed.
In spite of his failed attempt to recruit Stoick and his fellow chiefs as his followers, however, Drago ultimately went to gain the trust of Ragnar the Rock, Griselda the Grievous, and Chaghatai Khan, three ruthless warlords from Glacier Island who opted to follow him, so they could control all dragons and conquer the world with them. Eventually, Drago met Eret, and made him one of his dragon trappers.
Drago was aware Johann was after the Bewilderbeast. He then became the mysterious customer of the Dragon Hunters, which Johann was part of as a leader. In order to make them succeed, he sends Krogan to help them find it so he can capture it and bring it to him, or to buy it from the Dragon Hunters.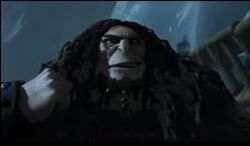 Krogan eventually fails to bring Drago a Bewilderbeast. Krogan asks an impatient Drago to wait some more time until he finds a Bewilderbeast, promising to not fail him again. However, Drago determines that no one fails him twice and has Krogan executed. He then claims that he will find a Bewilderbeast himself, despite having already captured one in the past, this is likely a continuity error.
Hearing about the "Dragon Master"
A year or two later, Drago appears after Eret captures some dragons and most of the Dragon Riders. During the confrontation, Snotlout's dragon, Hookfang, was awake and Drago tells his men who try to hold him to let go and shield himself from Hookfang's flames and yells to control as he heavily places his foot on Hookfang's snout.
After hearing that there are more dragons, Drago chokes Eret as he asks how many are there, while Astrid tells that Berk has a lot of dragons, as she says that he will be tracked down and that there is another person, who is Hiccup, who can control the dragons.
As he throws Eret due to leading him to them, he announces that he will take over Berk, as well as ordering Eret to be dead, but is protected by Stormfly, who ends up being shot by a dart.
Battle of the Bewilderbeasts
| | | |
| --- | --- | --- |
| " | No dragon can resist the Alpha's command. So, he who controls the alpha controls them all. | " |
| | ~ Drago Bludvist over his dragon, the Muddy Bewilderbeast. | |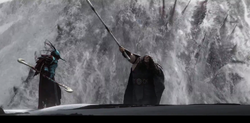 After hearing about this, Drago immediately orders the Northern Alliance to invade the nearest dragon nest and take down its alpha. Here, the dragon riders of Berk interfere, destroying many of the Alliance's traps and weapons all while the alpha Bewilderbeast of the dragon nest emerges. In smug retaliation, Drago unleashes his own Bewilderbeast and allows the two to fight for supremacy while he dueled with Stoick.
Then, Drago meets Hiccup in the heat of battle, with the latter imploring Drago to stop his evil, saying that dragons are not just monsters as well as pointing out the senselessness of the warlord's actions. Drago rejects Hiccup's pleas and instead has the Bewilderbeast (who managed to kill the alpha Bewilderbeast) possess Toothless before giving the order to kill Hiccup.
As a result, Stoick gets killed in an attempt to save Hiccup from being blasted by the possessed Toothless, something that delights Drago. Hiccup, in a fit of despair, briefly disowns Toothless. Toothless and all of the adult dragons present at the time of the attack under the influence of Drago's Bewilderbeast, are captured by Drago. He then rides Toothless and his massive army to Berk.
Final Battle with Hiccup and Toothless
| | | |
| --- | --- | --- |
| " | Never! Come on! | " |
| | ~ Drago ordering his Bewilderbeast to fight. | |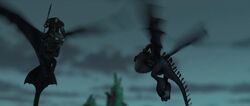 Upon arrival at Berk, Drago announces to the villagers that their chief had perished and proceeds to annihilate the village with his Bewilderbeast by attempting to freeze it. Hiccup intervenes not long after and Drago gives him a "chance" to try and win back Toothless' loyalty with the expectation that Hiccup would fail.
To his surprise, Hiccup succeeds, and Toothless breaks free of the Bewilderbeast's psychic grip. He then whacks Toothless with his melee weapon in an attempt to get him back under the Bewilderbeast's influence, but he fails and is dismounted by Toothless. He lands on his Bewilderbeast, where he orders it to kill Hiccup and Toothless, encasing the pair in a large tomb of ice, seemingly killing them.
Drago soaks in his victory before an explosion shatters the ice, revealing both Hiccup and Toothless to be unharmed. Toothless, now with enhanced powers and immunity to the Bewilderbeast's control, challenges the latter for the position of the alpha dragon, repeatedly pummeling the Bewilderbeast with shots. This distracts the Bewilderbeast enough to free the other dragons from its control, and they unleash a massive volley of fireballs, forcing Drago to take cover, but not before several blasts knock off his prosthetic arm, exposing the stump where his real arm used to be. Toothless fires one last huge shot, taking off one of the Bewilderbeast's tusks.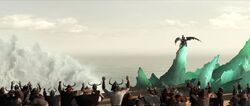 Drago and his Bewilderbeast are defeated, and the latter retreats into the ocean with Drago still on it. It is heavily implied that Drago drowned, as the Bewilderbeast could swim underwater whereas Drago could not, and without his prosthetic arm, he was likely rendered unable to swim, that too with the third film taking place a year after Drago's defeat, he would've surely resurfaced if he survived, thus seemingly confirming his death. His Bewilderbeast, on the other hand, albeit offscreen, goes to live in peace to the Hidden World, finally free from his control.
Drago's Impact
A year after his demise, the Northern Alliance ends up being hired by his other followers (after Krogan's execution). The Warlords try to succeed on his plans of world domination, but get constantly foiled by the Dragon Riders, so they hire Grimmel the Grisly, the dragon hunter who hunted almost all Night Furies to extinction. However, Grimmel ends up betraying the trio by taking Toothless and the Light Fury, something Drago would do after his goal succeeded, leaving the dragons they captured to be leaderless. However, Hiccup saves both the dragons and Grimmel falls to his death, leaving Drago's surviving men useless and purposeless once all dragons retreat into the Hidden World. With Grimmel gone for good, dragons are safe until humankind can coexist peacefully with them. Until then, only the Berkians will guard their secret.
Even a decade after his death, his actions still have an impact since he indirectly murdered Stoick the Vast. With dragons losing their previous reputation of Berk as their greatest allies following them being separated thanks to Grimmel's actions, Stoick the Vast also became quickly forgotten with kids disrespecting his legacy. In order to fix these two problems, Chief Hiccup has a play organized to retell the exact moments how humans and dragons befriended in order to make the kids vie dragons as friends and respect the legacy of Stoick the Vast. However, unfortunately for Hiccup, the play deviated too much from history in which it was Stoick that befriended Toothless. Luckily, this has done its job perfectly as Stoick the Vast became respected and dragons were viewed as allies.
Appearance
Drago is a 50-year-old, 6'10, 300 lb, and well-built man matching his intimidating and dangerous personality. He wears a prosthetic arm from when his original was cut off by a dragon attack and wears his hair and beard in thick dreadlocks.
Multiple scars run over Drago's face and body, evidence of his past encounters with dragons. His attire consists of a sleeveless shirt, a thick waist belt, and a huge black cape made from dragon skin. Attached to his belt, he wears a loincloth, blue trousers, and boots covered in fur.
According to The Art of How to Train Your Dragon 2, Drago was designed to look as racially ambiguous as possible and from a land far from the Vikings of Berk. His appearance had several influences from different countries and cultures. His clothing was based on Slavic origin, while his actual physical appearance was based on people from the Mediterranean and northern Africa.
Personality
| | | |
| --- | --- | --- |
| " | Men who kill without reason cannot be reasoned with. | " |
| | ~ Stoick describing Drago. | |
Authoritarian, erratic, cantankerous, two-faced, and cold-blooded, Drago is a murderous, narcissistic, and obstreperous warlord who considers anyone who disagrees with him a threat to his position of power and subsequently needs to be eliminated. Stoick and Valka understood only too well that reasoning with him was a futile endeavor. When he encountered Hiccup and saw his mastery of dragons, he attempted to win Hiccup's loyalty over and justify his own actions, claiming he was a man of the people who would free mankind from the fear of dragons.
However, much of his behavior was on the contrary, as while he oppressed and enslaved dragons through fear, his treatment of humans was not better by much, if at all. He also responds to ridicule from the chieftains by burning them alive. However, he allows Astrid and the other Berkian hostages to ridicule him since he could get answers from them. He hides his prosthetic left arm with his cape from everyone because of his narcissistic need to appear invincible.
While he was almost as effective at dragon training as Hiccup, his approach was radically different. As opposed to Hiccup's compassionate and reward-based training style, Drago utilized psychological spirit-breaking and learned helplessness to totally quell any remotely rebellious impulses and render his dragons totally subdued in his presence. Hiccup and Toothless had a warm relationship based on trust and mutual respect, Drago had a toxic and manipulative relationship with all his dragons.
Drago often utilized his tragic story of his family being killed and having his village burned as a child. He also defends his choice to subjugate dragons due to one removing his arm albeit in unspecific circumstances and at an unspecific time. Despite his claims of wanting to liberate humans from dragons, in actuality, he seeks to form a pyramid with him at the pinnacle, dragons below him, and humans at the very bottom.
Despite his obvious madness, Drago possesses complete mastery over dragons. Even the most fearsome of creatures were completely helpless and afraid in his presence. However, his greatest weakness was that he could not respect or even understand the love or bond between a dragon and a person. Drago's ultimate undoing was his inability to understand dragons being peaceful, nonviolent, and elegant creatures that Hiccup spoke about; in his eyes, they were nothing but warmongering and obstreperous monsters, which led to him being utterly dumbfounded when Hiccup was able to get Toothless to break the connection between him and the Alpha out of sheer loyalty for one another. Overall, Drago proves Stoick's point that some men are so evil and destructive that they are not able to be reasoned with.
Powers and Abilities
Strength and Fighting Skills: Despite the disadvantage of his missing arm, Drago is a formidable fighter and opponent to both humans and dragons, being able to defeat Valka with relative ease and hold his own very well against Stoick the Vast. However, despite his combat skills, he rarely uses them himself unless necessary, preferring to rely on his dragons and henchmen to do his dirty work.
Controlling Dragons: Unlike Hiccup, Valka, and the rest of the dragon riders, Drago enslaves his dragons with brute force and intimidation, and is able to use his Bewilderbeast to brainwash any who refused to follow him.
Strategy: Drago is an outstanding strategist and tactician, he is able to conquer enemy positions easily. However Drago prefers brute force, he believes that it's more effective than strategy, cunning and tactic.
Leadership: Drago is more than capable of leading his vast and enormous army of Dragon Hunters and of dragons in armor.
Quotes
| | | |
| --- | --- | --- |
| " | Then see how well you can do without me! | " |
| | ~ Drago leaves the Hall and sends some dragons he enslaved to burn it down. | |
| | | |
| --- | --- | --- |
| " | I don't want excuses! I want the King of Dragons! | " |
| | ~ Drago asking his minion, Krogan, where the Bewilderbeast is. | |
| | | |
| --- | --- | --- |
| " | Get to the point! | " |
| | ~ Drago ordering Krogan to say what happened to the Bewilderbeast. | |
| | | |
| --- | --- | --- |
| " | No one fails me twice. | " |
| | ~ Drago neglects Krogan's favor of forgiveness. | |
| | | |
| --- | --- | --- |
| " | I'll find another King of Dragons myself. | " |
| | ~ Drago realizes that he has to find another Bewilderbeast now. | |
| | | |
| --- | --- | --- |
| " | You belong to me now! | " |
| | ~ Drago to Hookfang. | |
| | | |
| --- | --- | --- |
| " | First there was one rider and now all of Berk?! You led them to ME! | " |
| | ~ Drago to Eret. | |
| | | |
| --- | --- | --- |
| " | Whatever comes, keep hitting the mountain. We need to draw the alpha out! | " |
| | ~ Drago ordering his men to fire at the mountain | |
| | | |
| --- | --- | --- |
| " | The alpha! Now we have a fight! | " |
| | ~ Drago during the first showdown between him and Hiccup and after the male Alpha has released. | |
| | | |
| --- | --- | --- |
| " | I've waited a long time for this! | " |
| | ~ Drago to Valka during their fight. | |
| | | |
| --- | --- | --- |
| " | You? I watched you burn! | " |
| | ~ Drago to Stoick during their fight. | |
| | | |
| --- | --- | --- |
| " | We've won! Now… finish her! | " |
| | ~ Drago ordering his Bewilderbeast to kill Valka. | |
| | | |
| --- | --- | --- |
| " | This is the great dragon master? The son of Stoick the Vast? What shame he must feel. | " |
| | ~ Drago meets Hiccup for the first time. | |
| | | |
| --- | --- | --- |
| " | Well, you need dragons to conquer other dragons. | " |
| | ~ Drago to Hiccup. | |
| | | |
| --- | --- | --- |
| " | NO! Let me show you! | " |
| | ~ Drago shows Hiccup the great power of his Bewilderbeast. | |
| | | |
| --- | --- | --- |
| " | Witness true strength! The strength of will over others! | " |
| | ~ Drago Bludvist. | |
| | | |
| --- | --- | --- |
| " | Your chief is dead! No one can protect you now! | " |
| | ~ Drago Bludvist seizing power over Berk. | |
| | | |
| --- | --- | --- |
| " | You certainly are hard to get rid of, I'll say that. | " |
| | ~ Drago to Hiccup. | |
| | | |
| --- | --- | --- |
| " | He's not yours anymore. He belongs to the Alpha! But please, oh great Dragon Master, try to take him. He will not miss a second time. | " |
| | ~ Drago to Hiccup. | |
"
Drago: Take control of it!
Hiccup: Shut it out, Toothless!
Drago: Stop them!
"
~ Drago ordering his Bewilderbeast to take control of Toothless.
| | | |
| --- | --- | --- |
| " | Fight! | " |
| | ~ Drago ordering his Bewilderbeast to fight, his breakdown, and also his last words. | |
Trivia
Drago is the only villain in the HTTYD franchise who appears in a film and TV series.
He appears to have a cape made of dragon hide that can withstand the fire of a Monstrous Nightmare. The cape appears to be made of Night Fury skin, meaning he may have been allies once with Grimmel the Grisly, the overarching antagonist in the franchise and main antagonist in the third film, the latter of which has hunted down the Night Furies to near-extinction.
Drago is the second most foremost antagonist of the How to Train Your Dragon franchise, behind Grimmel, as he was the main person behind Krogan's part of Dragons: Race to the Edge, where he allies himself with Johann to help him find the King of Dragons and bring the Bewilderbeast to him or buy it from the Dragon Hunters, and his death had posthumously set the events of the third film since he indirectly killed Stoick, which made Hiccup chief and makes a dragon-human utopia, and his death led to the Warlords to be in command, who then hire Grimmel to capture all of Berk's dragons. However, Grimmel is proven to be arguably more dangerous and cruel as Drago enslaved dragons to his will due to being driven by revenge while Grimmel hunted them out of pure sadism and delusions, and a desire for fame.
He shares various facial characteristics with his enslaved Bewilderbeast: Dreadlocks, wrinkles, broad chin, darker-than-usual skin tones, well-built physique, and so on. This point contrasts with Valka's mask.
One of Drago's dragon-capturing machines is called the Scrambler. It makes a screeching noise that paralyzes a dragon into submission, and then Drago can bend the animal to his will. It is possible that Drago may have seen a Screaming Death, and had been unable to capture it. However, he could have figured out that the scream it emits temporarily disorients dragons and possibly based Scrambler's design on this concept.
His last name is pronounced "Blood-fist" by many fans. This may be a pun on "bloody fist". However, one may argue that he may have been named after Blud, a fairy from Slavic mythology known for causing disorientation and leading people to wander aimlessly round and round.
Despite being the main antagonist of the second film, Drago only appears in the second half of the movie.
Director Dean DeBlois originally stated in his teasers that Drago would appear in How to Train Your Dragon: The Hidden World, saying "You have to wait until the third film to actually see where Drago's character goes. He is a lot more complex than he's presented in this second installment". Drago was even going to be redeemed by the end of the film after his defeat.

However, halfway through the production of the film, Drago was scrapped from production as Steven Spielberg warned DeBlois that Drago's redemption story required much more screen time than they could provide. This likely means that Drago drowned when his Bewilderbeast retreated into the ocean.

His character model would later be used as the basis for another DreamWorks sequel villain, Kai in Kung Fu Panda 3, both of which are quite similar.
Ryker Grimborn's appearance is similar to early concept art of Drago Bludvist, originally known back then as "Darko".
External Links
Villains
Animated Features
Lizard Leader | Blue | Ralph & Al | Aban-Khan | Blackwolf | King Koo Koo | Gazooks | The Greedy | Lord Nekron | Queen Juliana | Sub-humans | Hexxus | Lou the Goanna | Waggs | Mr. Hyde | Moby Dick | Captain Ahab | Long John Silver | Pirates | Queen of Hearts | Dragon | Rasputin | Bartok | Boss | Mac | Ludmilla | Postman | Drej Queen Susquehana | Drej | Preed | Joseph Korso | Kokomon | Diaboromon | Mrs. Tweedy | Mr. Tweedy | Soto | Soto's Pack (Zeke, Lenny & Oscar) | Carl & Frank | Dab | Zeebad | Soldier Sam | Skeleton Guards | Madame Gasket | Phineas T. Ratchet | Robotic Blacksmiths | Cretaceous & Maelstrom | Mini-sloths | Fast Tony | Napoleon Cross | Lefty Maginnis | EPA | Russ Cargill | Mr. Burns | Waylon Smithers | Lindsey Naegle | Fat Tony | Don Vittorio D'Maggio | Agnes Skinner | Nelson Muntz | Dolph Starbeam | Patty & Selma Bouvier | Snake Jailbird | Baby Gerald | Itchy | MomCorp | Carol Miller | Walt, Larry and Igner | Bender Bending Rodríguez | Zapp Brannigan | Donbot | Nudar | The Dark One | Yivo | Sour Kangaroo | Vlad Vladikoff | The Wickersham Brothers | Zartog | Black Wolf | Black Wolf's Pack (Smiley) | Rudy | Scratte | Lucius | Boggis, Bunce and Bean | Rat | Nigel | Marcel | Armando and Tipa | Marmosets (Mauro) | Captain Gutt | Gutt's Pirate Crew (Squint, Flynn, Gupta, Raz, Dobson & Silas) | Rats | Sirens | White Wolf | Eagles | Chunky | Mandrake | Dagda | Bufo | Guy Gagné | Gorgon | Scowler | Gorgon's Pack | Ms. Grunion | Ay | Big Boss | Gabi | Loggers | Charlie | Drago Bludvist | Northern Alliance (Drago's Bewilderbeast & Eret) | Chakal | Xibalba | Chato | Dave | Octopi | Captain Smek | The Boov (Officer Kyle) | Red Baron | Kai the Collector | Gavin | Gertie | Roger | Chef | Creek | King Gristle Sr. | Francis E. Francis | Eugene Francis | Professor Poopypants | Benjamin Krupp | Melvin Sneedly | Turbo Toilet 2000 | Tara Ribble | Talking Toilets | Bank Robbers | El Primero | Mayor Kobayashi | Major-Domo | Broly | Paragus | Lord Piggot-Dunceby | Willard Stenk | Mr. Collick | Willard Stenk's Accomplices | The Yeti Elder | Yeti Soldiers | Killian | Katsu Kimura | M9 Assassins | Andrew Morris
Live-Action Films
Mr. Smith | Beauty Smith | Hans Zeller | Rolf Gruber | Karl | Franz | Von Schreiber | Dr. Zaius | General Ursus | Albina | Ongaro | Adiposo | Dr. Otto Hasslein | Governor Breck | General Aldo | Governor Kolp | Mendez I | Dr. Frank-N-Furter | Riff Raff | Magenta | Damien Thorn | Grand Moff Tarkin | Darth Vader | Greedo | Ben Childress | Nostromo Drone | Ash | Emperor Sheev Palpatine | Boba Fett | Malcolm Bart | Alistair Becket | Farley Flavors | Melvin Moody | Mike | Curly | Moss | The Entity | Jabba the Hutt | Bib Fortuna | Salacious B. Crumb | Lord of Darkness | Blix | Blunder | Meg Mucklebones | First Acheron Queen | Xenomorphs (Xenomorph Warriors) | Weyland-Yutani (Carter J. Burke) | Brundlefly | Jungle Hunter | Prince Humperdinck | Count Rugen | Vizzini | The Albino | Hans Gruber | Karl Vreski | Theo | Tony Vreski | Gordon Gekko | Anton Bartok | Carter Hayes | City Hunter | Yautja | King Willie | Jim | Screwface | Lothos | Harry Lime and Marv Merchants | The Dragon | Henry Evans | Karl Hochman | Howard Payne | Salim Abu Aziz | Juno Skinner | Mr. Hyde | Moby Dick | Captain Ahab | Long John Silver | Pirates | Queen of Hearts | Dragon | Lord Rutledge | Elena Dubrow | Buck LaFarge | Vic Deakins | Kelly | Pritchett | Novacek | Max | Johnson | Shepherd | Frakes | Brandt | Baker | Harvest Commander | Harvesters | Myron Larabee | Ted Maltin | Crooked Santas | Kibosh | Snivel | Bill Case | Brock Lee | Danny | Leon | Cal Hockley | Spicer Lovejoy | Ruth DeWitt Bukater | The Cloned Queen | Lead Alien | Newborn | Mason Wren | John Geiger | Petr Beaupre | International Criminals (Alice Ribbons, Earl Unger & Burton Jernigan) | Mob Boss | Patrick Healy | Desmond Spellman | Darth Maul | Lester Vesco | Dickie Thurman | Super Hot Giant Alien | Tommy | Monkeybone | General Thade | Attar | Limbo | Sir William Gull | Mark McKinney | Count Dooku | Jango Fett | Lamar Burgess | James Moriarty | Dorian Gray | Dante | Sanderson Reed | Edward Hyde | Happy Chapman | Wendell | VIKI | Antarctic Queen Xenomorph | Grid | Chopper Predator | Celtic Predator | Scar | Zerbino | Saladin | Vanessa | Lead Teen | Lead Teen's Crew | Reggie and Arthur | Guy of Lusignan | Raynald of Châtillon | General Grievous | Jimmy Murtaugh | Durza | Galbatorix | Shruikan | Lord Dargis | Rommel | Cecil Fredericks | Gus & Reginald | Ian Hawke | Gunnison Predalien | Marko Hoxha | Patrice Saint-Clair | King Piccolo | Mai | Oozaru | Kahmunrah | Al Capone | Ivan the Terrible | Napoleon Bonaparte | Skip | Razor and Tazer | Zirkonians | Jennifer Check | Nikolai Wolf | Miles Quaritch | RDA (Parker Selfridge) | Luke Castellan | Hades | Medusa | Mrs. Dodds | Gabe Ugliano | Charon | Lotus Eaters | Lotus Land Bellhop | Hydra | Minotaur | Bosco | Agent Lynch | Brock Pike | Russell Morrison | Berserker Predator | Tracker Predator | Falconer Predator | Edwin | Stans | General Edward Edwardian | Blefuscians | Nat Jones | August Rosenbluth | Steven Jacobs | Dodge Landon | Douglas Hunsiker | Jason | Aliens | Andrew Detmer | Richard Detmer | Adam | Zoe | David 8 | Peter Weyland | Engineers | Deacon | Murad Hoxha | The Cook | Kronos | Chris Rodriguez | Polyphemus | Cyclopes | Manticore | Colchis Bull | Charybdis | Sir Lancelot | Xiangliu | Dmitri Desgoffe-und-Taxis | J.G. Jopling | Koba | Dreyfus | Carver | Valentine Corporation (Richmond Valentine, Gazelle, Charlie Hesketh, Chester King & Morten Lindström) | South Glade Mission Church (Church Leader) | Dean Baker | Rottweiler | Poodle | Pharaoh Rameses II | James Suggs | Harvester Queen | Mr. Barron | Alan Rikkin | Neomorphs | Praetomorphs | Colonel McCullough | Alpha-Omega (Red & Preacher) | Winter | Golden Circle (Poppy Adams, Bennie and Jet, Beauty-Bot, Clara Von Gluckfberg, Angel & Charles) | United States President | Agent Whiskey | Redneck Bar Patrons | Stuart St. John | Colonel Richard Strickland | Ultimate Predator | Will Traeger | Morgana | Vector | Grewishka | Chiren | Nova | Zapan | H. Clifford McBride | Rev-9 | Legion | Cthulhu | Hal | Spitz | The Dognapper | The Man in the Red Sweater | Antwan Hovachelik | Dude | Jets (Riff, Ice, Action, A-Rab, Baby John, Snowboy, & Tiger) | Sharks (Bernardo & Chino) | The Flock (Captain Morton, Grigori Rasputin, Erik Jan Hanussen, Mata Hari, Gavrilo Princip, Vladimir Lenin, Adolf Hitler & Alfred Dupont) | Kaiser Wilhelm II
Live-Action TV
Ida Kenzel | Molly Merchants | Marv Merchants | Vera Murchins | Sinclair | Hughes | Jessica
See Also
24 Villains | Alien vs Predator Villains | Alvin and the Chipmunks Villains | Amblin Entertainment Villains | American Dad! Villains | American Horror Story Villains | Archer Villains | Blue Sky Villains | Buena Vista International Villains | Buffyverse Vilains | Casper the Friendly Ghost Villains | Daredevil Villains | Deadpool Villains | Die Hard Villains | Disney Villains | DreamWorks Villains | Dr. Seuss Villains | Elektra Villains | Family Guy Villains | Fantastic Four Villains | Futurama Villains | Garfield Villains | Home Alone Villains | Ice Age Villains | Jack London Villains | Kingsman Villains | Lucasfilm Villains | Metro-Goldwyn-Mayer Villains | Narnia Villains | New Mutants Villains | Night at the Museum Villains | Planet of the Apes Villains | Rick Riordan Villains | Rio Villains | Searchlight Pictures Villains | Silver Surfer Villains | Star Wars Villains | Syfy Villains | Taken Villains | Terminator Villains | The Cleveland Show Villains | The Simpsons Villains | Tim Burton Villains | Wolverine Villains | X-Files Villains | X-Men Movie Villains | X-Men Villains

Villains
Animated Features
General Mandible | Colonel Cutter | Pharaoh Rameses | Hotep and Huy | Baka | Pharaoh Seti I | Tzekel-Kan | Hernán Cortés | Mrs. Tweedy | Mr. Tweedy | Lord Farquaad | Thelonious | Captain of the Duloc Guards | Merry Men (Monsieur Hood) | Unidentified Witch | George Armstrong Custer | The Colonel's Cavalry | Roy, Bill, Jake, Pete and Joe | Eris | Cetus | Roc | Fairy Godmother | Prince Charming | Arm Guards | Elves (Jerome) | Pirates (Captain Hook) | Cyclops | Headless Horseman | Steve and Ed | Witches | Gnomes | Don Lino | Lola | Sharks (Frankie) | Luca | Fossas | Nana | Victor Quartermaine | Philip | Vincent | Gladys Sharp | Dwayne LaFontant | The Toad | Le Frog | Spike & Whitey | Thimblenose Ted | Fat Barry | Ladykiller | Henchfrogs | Rapunzel | Evil Queen | Stromboli | Mabel | Black Knights | Layton T. Montgomery | Ken | Tai Lung | Criminals | Makunga | Teetsi | Tour Guide | Poachers | Gallaxhar | Robot Probes | Red Death | Rumpelstiltskin | Griselda | Baba | Pied Piper | Megamind | Minion | Tighten | Lord Shen | Lord Shen's Wolf Army (Boss Wolf) | Jack and Jill | Humpty Alexander Dumpty | Chantel DuBois | DuBois' Men | Pitch Black | Nightmares | Chunky | Guy Gagné | Ms. Grunion | Maximilien de Robespierre | Ay | Drago Bludvist | Northern Alliance (Drago's Bewilderbeast & Eret) | Dave | Octopi | Captain Smek | The Boov (Officer Kyle) | Kai the Collector | Chef | Creek | King Gristle Sr. | Francis E. Francis | Eugene Francis | Professor Poopypants | Benjamin Krupp | Melvin Sneedly | Turbo Toilet 2000 | Tara Ribble | Talking Toilets | Bank Robbers | Grimmel the Grisly | Deathgrippers | Warlords | Dr. Zara | Burnish | Goon Leader | Queen Barb | Rock Trolls | The K-Pop Gang | Reggaeton Trolls | Spiny Mandrilla | Punch Monkeys | Hendricks | Dr. Erwin Armstrong | Bellroc | Skrael | Zong-Shi | Professor Marmalade | Cuddles
Live-Action Films
The Mouse | Dr. Reingold | Benny | Ruby | Major Chip Hazard | Commando Elite (Butch Meathook, Nick Nitro, Brick Bazooka, Link Static, Kip Killigan, & Gwendy Dolls) | Gil Mars | General Roth'h'ar Sarris | Commodus | Genus | General Russell Woodman | Lamar Burgess | Connor Rooney | Harlen Maguire | Dietrich Banning | Sadako Yamamura | Ocean Entity | Dean Gordon Pritchard | Larry Quinn | Count Olaf | Hook-Handed Man | Henchperson of Indeterminate Gender | Bald Man | White-Faced Women | Chris Wilton | Martians | Dr. Bernard Merrick | Jackson Rippner | Norbit's Parents | Rasputia Latimore | Big Black Jack Latimore | Blue Latimore | Earl Latimore | Deion Hughes | Buster Perkin | Robert Turner | Assef | Megatron | Decepticons (Starscream, Barricade, Frenzy, Blackout, Scorponok, Bonecrusher, Brawl & Dispensor) | Sweeney Todd | Nellie Lovett | Judge Turpin | Beadle Bamford | Jonas Fogg | Adolfo Pirelli | ARIIA | The Fallen | Decepticons (Soundwave, Sideways, Grindor, Ravage, Alice & Scalpel) | Constructicons/Devastator (Demolishor, Rampage, Long Haul, Mixmaster, Scrapper & Scavenger) | Theodore Galloway | Hilly Holbrook | Jerry Dandridge | Evil Ed | Julian Assange | Dino Brewster
Animated Television
Fearless Leader | Boris Badenov | Natasha Fatale | Snidely Whiplash | Dr. Blowhole | Coverton | Sta'abi | Johann | Dragon Flyers (Krogan, Mr. Murderous Pile of Yak Dung & Flyer Leader) | Dragon Hunters (Viggo Grimborn, Ryker Grimborn, Cleve, Ingar Ingerman, Dragon Hunter Commander & Fight Master) | Dagur the Deranged | Amos | Gruffnut Thorston | Slitherwings | Firecomb Crasher | Hookfang's Nemesis | D-Structs | Skrap-It | Splitter | Blayde | Pounder | D-Stroy | Goldtrux | Emperor Zarkon | Galra Empire (Prince Lotor, Haggar, Sendak & Lotor's Generals) | Morgana | Gunmar | Angor Rot | Bular | Stricklander | Nomura | NotEnrique | Queen Usurna | Dictatious Maximus Galadrigal | Zoe | Stu | Maria | Patty Pupé | Bloodwolf | The Splotch | Socktopus | Theodore Murdsly | Smartsy Fartsy | Melvinborg | Teachertrons | Croco-bats | Butt-erflies | Dr. Disgruntled | Bootsy Calico | Wendi McCraken | Frederic Estes | Turtleneck Superstar | Happy Sedengry | Odlulu | Hordak | The Horde (Catra, Shadow Weaver, Scorpia, Double Trouble & Entrapta) | Horde Prime | Galactic Horde | Light Hope | First Ones | General Morando | Zeron Alpha | Colonel Kubritz | Gaylen | Cleve Kelso | SH1FT3R (Shashi Dhar & Layla Gray) | Rafaela Moreno | Mitsuo Mori | Moray | General Dudley | DANN | Dominic Toretto | Scarlemagne | Mod Frogs (Jamack & Mrs. Satori) | Newton Wolves (Bad Billions and Good Billions) | Scooter Skunks | Humming Bombers | Tad Mulholand | Fun Gus | Human Resistance (Dr. Emilia, Greta & Zane) | King Arthur | Mantah Corp (Daniel Kon & Kash D. Langford) | Henry Wu | Indominus rex | Eddie | Mitch & Tiff | Hawkes | Reed | Eli Mills | OCB | Pyg And Tam | Maria Maria | M-M-R-T-B | Bug The Pug
Video Games
King Fossa | Arachne | Doom Syndicate (Psycho Delic)
Shorts
Mr. Chew | Tour Guide | Boneknapper | Wu Sisters | Le Chuchoteur
See Also
20th Century Studios Villains | Aardman Villains | Amblin Entertainment Villains | Buena Vista International Villains | Fast and the Furious Villains | Fright Night Villains | How to Train Your Dragon Villains | Jurassic Park Villains | Kung Fu Panda Villains | Madagascar Villains | Netflix Villains | Norbit Villains | Paramount Villains | She-Ra 2018 Villains | Shrek Villains | Small Soldiers Villains | Sweeney Todd Villains | Tales of Arcadia Villains | The Boss Baby Villains | Turbo Villains | Transformers Cinematic Universe Villains | Universal Studios Villains | VeggieTales Villains | Wallace and Gromit Villains

Villains
Animated Features
The Businessman | The Conceited Man | Academy Teacher | Omar | Banzou the Cat | Beauty Smith | Curtis | Jim Hall | Ned | The Lynx | Ares | Mr. Dupette | Ed Bighead | Zim | Evil GIR | Mini Moose | Gaz Membrane | Almighty Tallests | Irken Empire | Mrs. Krum | Mr. Ellingboe | Olaf | Pumpkin | The Krum Clan | The Ellingboe Clan | Agent Red | Mugg-1N5 | The Hazmats | Father and Mother | Cat Mask Seller | Horatio P. Huntington | Zucchini | Samson | Stabby | El Diablo | Connor Mandrake | Arlo Woodstock | Dr. Arcannis | Spleech | King Poseidon | El Diablo | Plankton | Karen Plankton | Mr. Krabs | Prince Johan | Reggie | Rose Ross | Ilvira | Gingerbread guards | Baba Yaga | Kolobok | Don | Tiki the Statue | Ruff and Stucky | PAL Labs (PAL, PAL Max, Glaxxon 5000 & PAL Max Prime) | Pockets | Mr. Wong | Mr. Miller | Benedict Arnold | King James | Bellroc | Skrael | Zong-Shi | Lutador | Morag | Aggie | Sprout Cloverleaf | Clarance | Chaz | Chazzie | Bikers | Grimes | Mr. Van Schoonbeek | The Odd Couple
Live-Action Films
The Commandant | Frank Stockburn | Cicero | The Man | Heather Fishman | The apparitions | Alex Green | Mirando Corporation (Nancy Mirando, Lucy Mirando, Frank Dawson & Johnny Wilcox) | Holly Viola | Vicky | Cody Favors | Light Turner | Mia Sutton | L | Ryuk | Antony Skomal | James Brode | Kenny Doyle | Reverend Gospel | Lucas | Miss Shaylock | Satan | Moonlight Man | Gerald Burlingame | Tom | Bee | Max | Allison | John | Sonya | Satanic Cult | Wilfred James | The Shimmer | Canker Man | Syd Weld | Titus Weld | Rott | Cajun Captain | The Dogcatcher | Thomas Alexander Upton | Anders Behring Breivik | Lola Lola | Vincent | Vincent's Goons | Charlie Plummer | Shere Khan | Tabaqui | Bandar Log | Creatures | Gary | Stefan Butler | Pax | Jerome F. Davies | Peter Butler | Dr. Haynes | Mr. Blut | Vivian | A-Team | Mother | Jason | Garrett | Jason's Friends | The Higher Being | Bonnie and Clyde | Brody | Logan | Spencer | Garvin Cross | Vesps | The Hushed (Reverend) | Grace Ballard | Juan Carlos Rivera | Ryan Gaerity | Ross Humboldt | Eli Miller | Dr. Isabella Horn | Paul Miller | The Woman | Billy | Frank Sheeran | Jimmy Hoffa | Tony Provenzano | Russell Bufalino | Tony Salerno | Joe Gallo | Sally Bugs | Whispers DiTullio | Greg Harper | Alec | Rovach Alimov | Four Horsemen | Baasha Zia | A.I. | The Twins | Priest | Amir Asif | Farhad | Colonel Bajlur Rashid | Saju Rav | Gaspar | Ovi Mahajan Sr. | Shadek | Steven Merrick | Booker | Copley | Wayno | Kezza | Dr. Stern | Elmar Mund/Electro Man | Melanie | Jimmy and Diego | Satan | Mrs. Dubois | Hal | Diane Sherman | Grand Guignol | Peggy Drood | Toadies | Shadow creature | Cap | Dana & Rocko | Monsters | Gerold Röckl | Mrs. Röckl | Don Juan Diego | Gustafson | Belsnickel | Speck | Jola the Yule Cat | Land Barons | Ojo | Ms. Granada | The Plague Doctor | Evgeny Strelkov | Kirill Grechkin | Bank Robbers | Zeus | Martin | Zombie Queen | Bly Tanaka | Burt Cummings | Zombies | Nick Goode | Skull Mask | Camp Nightwing Killer | Ruby Lane | Billy Barker | The Milkman | Pastor Miller | The Shame Killer | Goode Family (Solomon Goode) | Satan | Sheila | Professor Nichcha | Dr. Hans Miller | Helena Jung | Kate | Natacha | The Shredder | The Witch | Zach Sandford | Adas Adamiec | Zosia Wolska | Wanessa Kowalczyk | Delacroix | Brad Cage | Rolph | John Hartley | Nolan Booth | Sarah Black | Sotto Voce | Wan | Phong | Paew | Fame | Janie Orlean | Peter Isherwell | Jason Orlean | Brie Evantee | Leatherface | Madea | Maya Sorian | Christos | Hal | Lance | Beck
Animated Television
Hardcase | Dirtbeard's Crew (Dirtbeard) | Hayaku | Clip and Clap | Queen Invicta | S.E.C.R.E.T. | Chef Lombardo | Wendell | Ace Gecko | Breakneck | Cajun Cliche | Dean Cuizeen | F.A.J.I.T.A | Broaches | Baron Von Schwarzhosen | Gigundus | Barth | Crowzilla | Guy Gagné | Bloodwolf | Duchess | Scimitar | El Moco | Beast | Evil Dulcinea | Johann | Dragon Flyers (Krogan, Mr. Murderous Pile of Yak Dung & Flyer Leader) | Dragon Hunters (Viggo Grimborn, Ryker Grimborn, Cleve, Ingar Ingerman, Dragon Hunter Commander & Fight Master) | Dagur the Deranged | Amos | Gruffnut Thorston | Slitherwings | Firecomb Crasher | Hookfang's Nemesis | Drago Bludvist | D-Structs | Skrap-It | Splitter | Blayde | Pounder | D-Stroy | Goldtrux | Barbarossa | Falan | Memphis | Shaka | Zayzafon | Rotter | Gyokuen Ren | Matal Mogamett | Emperor Zarkon | Lotor | Haggar | Kaos | Kaossandra | Strykore | Dark Spyro | Malefor | Doom Raiders (Golden Queen, Wolfgang, Chompy Mage, Chef Pepper Jack, Dreamcatcher, Broccoli Guy) | Fire Viper | Conquertron | Fisticuffs | Bomb Shell | Greebles | Morgana | Gunmar | Angor Rot | Bular | Stricklander | Nomura | NotEnrique | Queen Usurna | Dictatious Maximus Galadrigal | Yumeko Jabami | Mary Saotome | Hyakkaou Private Academy Student Council (Kirari Momobami, Vice-president, Itsuki Sumeragi, Yuriko Nishinotouin, Midari Ikishima, Yumemi Yumemite, Kaede Manyuda, Runa Yomozuki & Sayaka Igarashi) | Dracula | Isaac | Hector | Blue Fangs | Carmilla | Death | Bishop | Prior Sala | Visitor | Saint Germain | Ryo Asuka/Satan | Demons (Zennon, Psycho Jenny, Sirene, Medoc, Kaim, Vegard & Jinmen) | Moyuru Koda | Babo | Hie | Angels | God | Gilbert Ross | Market Maker (Minatsuki, Laica, Kamui, Quinn, Izanami, Takeru & Kukuri) | Red | Blue | Yellow | Richard Crouse | Henry Crouse | Julian Crouse | Dead Kyle | Kirisame | Asagiri | Yukikaze | Kazan | The Prince | The King | Poppy Reardon | Tammy | Whittaker Reardon | Gloria Vaughan | Cameron Vaughan | Mr. Pearlman | Vladimir Borislav | Zoe | Stu | Maria | Patty Pupé | Kelly | Trevor | Melvin Sneedly | Benjamin Krupp | The Splotch | Socktopus | Theodore Murdsly | Smartsy Fartsy | Melvinborg | Teachertrons | Croco-bats | Butt-erflies | Dr. Disgruntled | Horde Prime | Hordak | The Horde (Catra, Shadow Weaver, Scorpia, Double Trouble, Entrapta, Imp, Super Pal Trio, Horde Robots, Horde Soldiers & The Horde Trio) | Galactic Horde | Clone Army | Light Hope | First Ones | Infected Robots | General Morando | Zeron Alpha | Colonel Kubritz | Gaylen | Professor Maelstrom | Coach Brunt | Countess Cleo | Dr. Sarah Bellum | V.I.L.E. (The Cleaners, Roundabout, Cookie Booker, Tigress, Le Chevre, El Topo, Paper Star, Mime Bomb, Neal the Eel, The Mechanic, The Driver, Lady Dokuso, Otter Man and Moose Boy, Spinkick and Flytrap, The Troll, Madame Goldlove & Dash Haber) | Baris | DeeBees | Detective Briggs | Dicko | Dracula | Governor | Life Hutch Maintenance Robot | Tall Grass Monsters | Vacuubot | Werewolves | El Balde | El Balde's Jefes | Alejandra | Master Lo | Magnus Finke | Slinkwing Trio (Lurke) | Waldondo del Mundo | Erik the Wretched | Svetlana the Sly | Hervnick Z. Snerz | Goat | Yes-Man | The Dooka of Yookia | The Dookess of Zookia | Philip Trousers | Marilyn Blouse | Cleve Kelso | SH1FT3R (Shashi Dhar & Layla Gray) | Rafaela Moreno | Mitsuo Mori | Moray | General Dudley | DANN | Dominic Toretto | Human Resistance (Dr. Emilia, Greta & Zane) | Scarlemagne | Mod Frogs (Jamack & Mrs. Satori) | Newton Wolves (Bad Billions and Good Billions) | Scooter Skunks | Humming Bombers | Tad Mulholand | Fun Gus | King Arthur | Hera | Seraphim | Danny Nedermeyer | Sinjin Prescott | Computer Interface | Indominus Twins | Dianne | Mantah Corp (Daniel Kon & Kash D. Langford) | Henry Wu | Indominus rex | Eddie | Mitch & Tiff | Hawkes | Reed | Eli Mills | Fantos the Amassor | Stuck Chuck | Biker in Black | Krosh | Erodious the Planet Killer | Fast Frankie | Beanie The Kid | Secretary Wilson | Jason | Zombies | The Nowhere King | Minotaurs | The General | The Bog Lady | Mictlan | Xtabay | Cipactil and Cabrakan | Acat | Hura and Can | Chivo | Bone and Skull | The Widow Queen's Father | Cognito, Inc. (Rand Ridley, J.R. Scheimpough & ROBOTUS) | Bear-O | Robo Reagan | Reptoids | Flat Earth Society (Harold) | Rafe Masters | Buzz Aldrin | Shadow Board | Jinx | Silco | Singed | Sevika | Marcus | Deckard | Kira | Captain Happy | E.d | The Devil | Henchman | Baby Bottle | Ribby and Croaks | Ghosts | The Root Pack | King Dice | Rocky | ZaZa Royale | Merchin | The Monsters | The Orc King | Angel Royale
Live-Action TV
Carlton Bloom | Iain Rannoch | Victoria Skillane | White Bear Visitors | Baxter | Waldo | Matthew Trent | Joe Potter | Jennifer | Saito Geimu | Kenny | Hector | The Hackers | Arquette | Garrett Scholes | Robert Daly | Marie | Trick | Mia Nolan | Dogs | Rolo Haynes | Catherine Ortiz | Dr. Munk | Frank Underwood | Claire Underwood | Doug Stamper | Piper Chapman | Linda Ferguson | Pornstache | Natalie Figueroa | Desi Piscatella | Thomas Humphrey | Artesian McCullough | Aydin Bayat | Pennsatucky | Yvonne Parker | Stella Carlin | Maria Ruiz | Denning Sisters | Madison Murphy | Dayanara Diaz | Carlos Litvak | Kubra Balik | Saul Goodman | Mike Ehrmantraut | Charles McGill | Juárez Cartel (Hector Salamanca, Lalo Salamanca, Nacho Varga, Tuco Salamanca, Marco and Leonel Salamanca, Juan Bolsa, Krazy-8, Arturo Colon, Gonzo & Don Eladio) | Los Pollos Hermanos (Gustavo Fring, Victor, Tyrus Kitt, Lydia Rodarte-Quayle & Gale Boetticher) | Huell Babineoux | Ed Galbraith | Colombian Gang | Ghostface (Piper Shaw, Kieran Wilcox, Third Killer, Beth & Jamal Elliot) | Brandon James | Haley Meyers | Tom Martin | Becca | Tommy Jenkins | Luther Thompson | Avery Collins | Nina Patterson | Mind Flayer | Billy Hargrove | Demogorgon | Martin Brenner | Connie Frazier | Lonnie Byers | Troy and James | Tommy H. and Carol | D'Artagnan | Neil Hargrove | Grigori | Larry Kline | General Ozerov | Heather Holloway | Tom Holloway | Bruce Lowe | Hospital Creature | Shawn | Michael | Trevor | Count Olaf | Esmé Squalor | Hook-Handed Man | Henchperson of Indeterminate Gender | White-Faced Women | Bald Man | Carmelita Spats | Hugo, Colette & Kevin | The Man With a Beard But No Hair | The Woman With Hair But No Beard | Dr. Georgina Orwell | Sir | Vice Principal Nero | Ernest Denouement | Ishmael | Bombinating Beast | The Professor | Berlin | Arturo Roman | Alicia Sierra | Cesar Gandia | Palermo | Sic Mundus (Adam & Noah) | Eva | Luis Miguel | Luisito Rey | Tito | Matilde Sánchez | Cynthia Casas | Patricio Robles | José Pérez | Carla Rosón | Lucrecia Montesinos | Polo Benavent | Nano García | Cayetana Grajera | Teo Rosón | Begoña Benavent | Andrea Villada | Armando | Benjamín Blanco | Father Blackwood | Madame Satan | Weird Sisters (Prudence Blackwood & Agatha Night) | Batibat | Plague Kings (Beelzebub, Asmodeus & Purson) | The Pagans (Pan, Circe & Nagaina) | Green Man | Caliban | Jimmy Platt | Dorian Gray | Bartel | Jerathmiel | Mehitable | Satan | Michael Groff | Adam Groff | Hope Haddon | Olivia Hanan | Man on the Bus | Sean Wiley | Peter Groff | Groff's Father | Thornton Pavey | Garvin Cross | Brody | Spencer | Logan | Craig | Jutul Industries (Vidar Jutul & Fjor Jutul) | Ran Jutul | Saxa Jutul | Laurits Seier | Crooked Energy | Pat Rollins | Brayden Mills | Mr. Campbell | David Marsh | Dodge | Sam Lesser | Randy Lesser | Brinker Martin | Shadow Demons (Eden Hawkins - Frederick Gideon - Javi - Jackie Veda - Daniel Mutuku) | Erin Voss | Chad Garland | Raúl León | Pablo García | Natalia Alexander | Gerry Granda | Darío & Ernesto | Bruno | Alex | Roberto de León | Gerry's Father | Darío Guerra | Esteban Solares | Lys Antoine | Security Guard | Monsters (Starving Monster - Blind Monster - Spider Monster - Tongue Monster - Eyeball Monster - Protein Monster - Reach Monster - Speed Monster) | Outlaws | Ui-myeong | Hubert Pellegrini | Leonard Kone | Ravy | Frederick Gideon | Redcoats (Howe) | Spider | Oh Il-nam | Front Man | The VIPs | The Salesman | Masked Men (Masked Managers, Masked Soldiers & Masked Workers (Number 28)) | Cho Sang-woo | Jang Deok-su | Byeong-gi | Player 278 | Player 040 | Player 303 | Loan Sharks | Ji-yeong's Father | Yoon Gwi-nam | Son Myeong-hwan | Park Chang-hoon | Kim Hyeon-ju | Min Eun-ji | Lee Na-yeon | Lee Byeong-chan | The Principal | Zombies (All of Us Are Dead) | Hwang Jang-Soo | Ryu Lee-kang | Jo Seok-bong
See Also
13 Reasons Why Villains | Aardman Villains | Angry Birds Villains | Archieverse Villains | B: The Beginning Villains | Barbie Villains | Beastars Villains | Benji Villains | Big Mouth Villains | Black Lightning Villains | Black Mirror Villains | Bleach Villains | Blumhouse Productions Villains | BoJack Horseman Villains | Breaking Bad Villains | Castlevania Villains | Cuphead Villains | Daredevil Villains | Death Note 2017 Villains | Defenders Villains | Disenchantment Villains | DreamWorks Villains | Dr. Seuss Villains | Fast and the Furious Villains | Final Space Villains | Fullmetal Alchemist Villains | Godzilla Villains | Hilda Villains | How To Train Your Dragon Villains | Invader Zim Villains | Iron Fist Villains | Jack London Villains | Jessica Jones Villains | JoJo's Bizarre Adventure Villains | Jurassic Park Villains | Kakegurui Villains | League of Legends Villains | Legendary Entertainment Villains | Lemony Snicket Villains | Locke & Key Villains | Lucifer Villains | Luke Cage Villains | Magi Villains | Marvel Cinematic Universe Villains | My Little Pony Villains | Nickelodeon Movies Villains | Orange Is The New Black Villains | Paradise P.D. Villains | Paramount Villains | Punisher Villains | Resident Evil Villains | Scream Villains | She-Ra 2018 Villains | Shrek Villains | Skylanders Villains | Sonic Villains | Sony Pictures Villains | Spongebob Villains | Squid Game Villains | Stephen King Villains | Stranger Things Villains | Studiocanal Villains | Studio Trigger Villains | Summit Entertainment Villains | Sweet Home Villains | Tales of Arcadia Villains | Teen Titans Villains | Texas Chainsaw Massacre Villains | The Boss Baby Villains | The Grudge Villains | The Jungle Book Villains | The Seven Deadly Sins Villains | The Umbrella Academy Villains | TMNT Villains | Turbo Villains | Universal Studios Villains | Usagi Yojimbo Villains | Warner Bros. Villains | Witcher Villains
Villains