Wiki Targeted (Entertainment)
Play Sound
The Dragons are (former) supporting antagonists in the series My Little Pony: Friendship is Magic. Though not particularly evil, they are known to be greedy and traitorous, so they terrify the ponies. At least some of them are also territorial and aggressive, and may violently attack intruders in their lair. There are 42 known dragons.
Notable Members
Red Dragon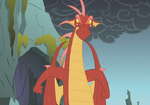 In Episode 7 "Dragonshy", a threat is created by an adult red dragon who takes a nap in a cave at the top of a mountain, emitting a large cloud of thick, black smoke that threatens to engulf Ponyville. The ponies are given the task of asking him to relocate, which they successfully accomplish thanks to Fluttershy. At first the other ponies try different approaches, from persuasion to violence, but eventually Fluttershy scolds the dragon into submission. Although it never breathes fire, it otherwise resembles a typical European dragon of reddish color. The red dragon has a large hoard of gold, gems, and other valuables which he uses as bedding.
Green Dragon
The green dragon is featured in episode 24 "Owl's Well That Ends Well", living in a cave within the Everfree Forest. Spike enters the dragon's cave and eats some of its hoard of gold and gems, before the dragon finds him, questions his doings, and attacks him. The dragon has extensible claws and tail spikes, wings, and it breathes fire which slightly singes Spike. Twilight Sparkle and Owlowiscious come to Spike's rescue, and the dragon chases them through the forest, but eventually gives up on his pursuit.
Dragon Teens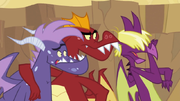 Both the red and the green dragon designs are reused in the episode "Dragon Quest", appearing briefly during the Dragon Migration, as well as two other dragons, one with a white body and green scales, and another with a black body and purple scales. The episode prominently features a number of dragons Spike refers to as "teenage dragons" - consisting of a purple dragon named Fume, a brown dragon named Clump, a gray dragon named Charcoal, a violet dragon named Backdraft, and a white dragon named Fizzle - led by a red dragon named Garble; they are not as tall as the grown dragons previously seen in the show, but taller than Spike. Unlike the adult dragons seen in the background, they vary wildly in appearance regarding their color schemes, the length and shape of tails, the shape of their mouths, and the presence and shape of horns, fins, and hair. All but one of them have wings, and most walk on two legs.
Sergio
A conceited dragon whom Queen Chrysalis tricks into releasing her and her changelings from imprisonment inside a volcano.
Gallery
Villains