Jurassic World: Dominion Dominates Fandom Wikis - The Loop
Play Sound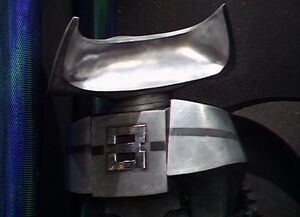 Drathro is the main antagonist of "The Mysterious Planet", the opening segment of the Doctor Who story "The Trial of a Time Lord".
He was voiced by Roger Brierley.
History
Drathro was a robot created by a group of Sleepers from Andromeda, who set up base on Earth after stealing secrets from the Time Lord Matrix. The Time Lords attempted to destroy the secrets by devastating Earth with a fire storm and moving it light years out of position, where it became known as Ravalox. Drathro was instructed to guard the secrets and maintain an underground shelter to await rescue. He populated the shelter with human work units, selecting the most technically gifted as his assistants. He was worshipped by the humans as "the Immortal".
However, the retrieval team failed to locate Earth, meaning Drathro was left alone for centuries. During this time, the surface became inhabitable again and free tribes began to live a primitive existence there. However, staying strictly to the letter of his programming, Drathro continued to effectively keep his work units prisoner in the underground habitat, even culling their population because of the scarcity of food and water despite their being plenty above ground.
When the Doctor arrived in the habitat, Drathro enlisted his help to repair his ailing systems. However, the Doctor quickly realised things were beyond repair, especially since the black light antenna which collected Drathro's powers had recently been destroyed by criminals Glitz and Dibber. In order to prevent a massive black light explosion which would destroy half the galaxy, the Doctor needed to shut down the power systems, but this would cause Drathro to cease to function and he refused to allow it, believing there was no reason for anything else to exist if he did not.
The Doctor escaped and Drathro sent his L1 robot after him. It was destroyed by the tribespeople who, mistakenly believing they had killed the Immortal, stormed the habitat. Drathro casually killed their queen, Katryca, and her assistant Broken Tooth, causing the others to retreat. The Doctor confronted Drathro and made another failed attempt to reason with him. Glitz and Dibber took another approach, convincing Drathro they had black light to repower him on their ship so he should accompany them there with the secrets. With Drathro out of the way, the Doctor managed to shut down the power systems, causing Drathro to explode, destroying the secrets.
Trivia
Roger Brierley was originally hired as both the body and voice of Drathro, but found the costume claustrophobic. It was agreed that he would provide the voice while the costume was operated uncredited by visual effects assistant Paul McGuinness.