Jurassic World: Dominion Dominates Fandom Wikis - The Loop
Play Sound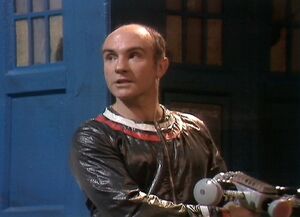 Drax is a minor antagonist-turned-ally in the Doctor Who story "The Armageddon Factor".
On screen, he was portrayed by the late Barry Jackson, who also played Ascaris in "The Romans". For Big Finish's audio plays, various incarnations of Drax were voiced by Ray Brooks, John Challis, Hugh Fraser, John Leeson and Miranda Raison (who also played Angèle Blanche in Poirot).
Biography
Drax was a Time Lord contemporary of the Doctor, who he knew as Theta Sigma. Drax left Gallifrey and set himself up as a TARDIS mechanic. At one point, he ended up in prison in Brixton after stealing parts to repair his TARDIS, picking up a Cockney accent and idiom. Some time later, he came into the employ of the Shadow, who had him build the computer Mentalis to conduct the Zeon war effort against the planet Atrios, fitted with an armageddon programme that would destroy both planets if it ever looked like losing.
The Shadow, an agent of the Black Guardian, instructed Drax to help him obtain the Key to Time. When the Fourth Doctor arrived on the Shadow's planet with five of the six segments, Drax told him he was being held prisoner by the Shadow. The Doctor quickly realised Drax could have escaped whenever he wanted and was aiming to steal the Key. He convinced Drax to switch sides and together they were able to infiltrate the Shadow's inner sanctum by miniaturising themselves and hiding inside K9, obtaining the six segments of the Key. Drax helped the Doctor and Romana disable Mentalis, saving both planets. He decided to stay on Atrios and convince the Marshal to set up a war salvage business with him.
In the audio play The Trouble With Drax, the Doctor and Romana encounter a later incarnation of Drax, who blackmailed the Doctor into helping him raid a legendary planet. They eventually learned that nearly everyone they had encountered, including the police officers who appeared to arrest Drax, was a future incarnation of him.
In the game book Search for the Doctor, Drax enlists the help of the reader, along with K9, to rescue the Sixth Doctor from Omega.