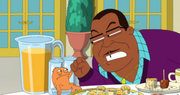 Johnnie B. "Dusty" Baker Jr. (born June 15, 1949) is an American former Major League Baseball manager and retired player. He had a 19-year career, primarily with the Atlanta Braves and Los Angeles Dodgers. He helped the Dodgers to pennants in 1977 and 1978 and to the World Series championship in 1981. He then had a 20-year career as a manager with the San Francisco Giants, Chicago Cubs, Cincinnati Reds, and Washington Nationals, leading all of them to the playoffs.  He is parodied in the American Dad episode One Woman Swole as the main antagonist.
Role
On October 2, 1977, Glenn Burke ran onto the field to congratulate his Dodgers teammate Dusty Baker after Baker hit his 30th home run in the last game of the regular season. Burke raised his hand over his head as Baker jogged home from third base. Not knowing what to do about the upraised hand, Baker slapped it and they were credited with inventing the high five.
While watching a documentary on IFC about the invention of the high five in "One-Woman Swole", Klaus becomes incensed, claiming to have invented the high five after passing a drug test at the 1974 Junior Olympics. He decides to confront Dusty Baker at a Washington Nationals baseball game where he is invited over for drinks. Dusty at first proves to be a gracious host, but admits that he stole the high five from Klaus. Rubbing his fame in Klaus' face, he proceeds to steal other things from Klaus' personality and even puts on a fish costume to swim in a giant bowl. But when he attempts to breathe underwater like a fish, he ends up drowning.
Community content is available under
CC-BY-SA
unless otherwise noted.