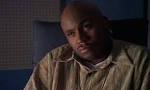 Dwayne Gittens or surnamed God as the main antagonist of film In Too Deep.
He was portrayed by LL Cool J.
History
The police from Cole's police officer to infiltrate the Dwayne Gittens band nicknamed God a drug dealer he works for family benefits but turns out ruthless and cold.
Cole slips into the band under the name of J. Reid.
Dwayne understood his plan and gave the job to two henchmen to kill him but they failed.
Cole is concerned about his change because he felt criminally and after seeing dwayne having beaten a father and a mother in front of his son and took a pool stick and slipped it into the hole by killing him, Cole became J. Reid able to be accepted in group.
After the police arrest Dwayne and the baita but Cole rebelled and bargained to shoot a married policeman to recover and land Dwayne.