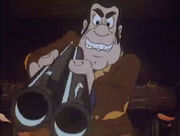 Eban Jones is a Farmer, the husband of Sera Jones and the main Antagonist of Siriol's three animated shorts called A Winter Story (1986)/Siôn Blewyn Coch (1986), Easter Egg (1987)/Yr Ŵy Pasg (1987) and Turkey Love (1988)/Cariad Cyntaf (1988), He is voiced by Wynford Ellis Owen in the Welsh Version, But in the English Version, He is voiced by Mark Kingston.
Personality
He is a farmer, who is very kind to his Chickens and his niece Bethan, He is Shy, Nervous and Bumbling towards his wife Sera and he is trying to please her, But he had failed and then he got yelled by her, He tried to get Gobble Gobble The Turkey for Christmas dinner with his wife, He also tried to get the chocolate Easter egg for his wife's Easter present, but he got the Ostrich egg instead, He hates foxes, He believes they would go after his chickens.
Community content is available under
CC-BY-SA
unless otherwise noted.