Obi-Wan Finale - The Loop
Play Sound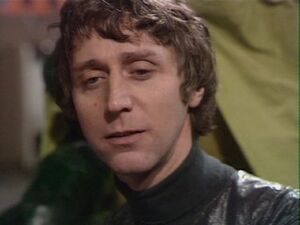 Eckersley is one of the two main antagonists in the Doctor Who story "The Monster of Peladon", the other being Azaxyr.
He was portrayed by the late Donald Gee.
Biography
Eckersley was one of the Federation engineers sent to Peladon to mine trisilicate for the Federation's war efforts against Galaxy Five. In reality, he was a traitor working for Galaxy Five, in collaboration with a group of renegade Ice Warriors led by Commander Azaxyr. While his allies hid in the Federation refinery, Eckersley worked to undermine the Federation's relationship with Peladon. To this end, he used a projector and a directional heat ray to fake appearances by the spirit of Aggedor, Peladon's Royal Beast, apparently striking down anyone who worked with the Federation's mining methods. In this manner, he killed several Peladonian engineers, along with his fellow Federation engineer Vega Nexos.
Eckersley continued to play the part of a disinterested bystander as tensions rose between all parties on Peladon, while casually suggesting to Federation ambassador Alpha Centauri that he call in Federation troops to bring things under control. This allowed Azaxyr to emerge in answer to the call and declare martial law, forcing the workers to mine the trisilicate which he and Eckersley would then ship to Galaxy Five. Eckersley had been promised he would be made ruler of Earth once the Federation was defeated.
The Doctor and his allies eventually learned the truth of Eckersley's duplicity and the Doctor gained control of the Aggedor projector and used it to attack the Ice Warriors, inspiring the Peladonians to strike back at them. Eckersley activated the refinery's security system, a brain-destroying assault that apparently killed the Doctor, although not before the Ice Warriors had been defeated and Azaxyr killed. Now the only Galaxy Five agent left on the planet, Eckersley killed a miner who tried to arrest him and took Queen Thalira hostage, aiming to use her to reach an escape ship he had hidden on the other side of the mines. The Doctor, who had survived the assault, released the real Aggedor to track Eckersley through the mines, then released the beast on him. Eckersley was savaged to death by Aggedor, although he managed to fatally shoot the beast as they struggled.