This article's content is marked as Mature
The page Mature contains mature content that may include coarse language, sexual references, and/or graphic violent images which may be disturbing to some. Mature pages are recommended for those who are 18 years of age and older.


If you are 18 years or older or are comfortable with graphic material, you are free to view this page. Otherwise, you should close this page and view another page.
Eden is an superorgan and the secondary antagonist in Date A Live: Rinne Utopia. It is the main Angel who serve the Spirit Rinne Sonogami.
Biography
Eden just appears at the end of the game. Despite the giant power of Eden, it was destroyed by the other Spirits that were sealed by Shido Itsuka. However, when Rinne was sealed by Shido, Eden was defeated too, the life of Sonogami also is already reaching the end, the fact that Spirits need their angels within themselves to keep alive and intact in reality. When Eden was destroyed, Rinne also lost her life, destroying her dreams to rediscover the love of her life and leaving Shido crying while Rinne disappeared from reality.
Eden in Theology
Official Overview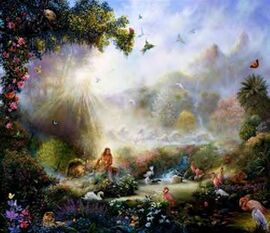 The Garden of Eden (Hebrew גַּן עֵדֶן, Gan ʿEdhen) is the biblical "garden of God", described most notably in the Book of Genesis chapters 2 and 3, and also in the Book of Ezekiel. The "garden of God", not called Eden, is mentioned in Genesis 14, and the "trees of the garden" are mentioned in Ezekiel 31. The Book of Zechariah and the Book of Psalms also refer to trees and water in relation to the temple without explicitly mentioning Eden.
The story of Eden echoes the Mesopotamian myth of a king, as a primordial man, who is placed in a divine garden to guard the tree of life. In the Hebrew Bible, Adam and Eve are depicted as walking around the Garden of Eden naked due to their innocence. Eden and its rivers may signify the real Jerusalem, the Temple of Solomon, or the Promised Land. It may also represent the divine garden on Zion, and the mountain of God, which was also Jerusalem. The imagery of the Garden, with its serpent and cherubs, has been compared to the images of the Solomonic Temple with its copper serpent, the nehushtan, and guardian cherubs.
Gallery