Doctor Strange in The Multiverse o Madness - The Loop
Play Sound

✓
This Villain was Headlined on March, 2010.
| | | |
| --- | --- | --- |
| " | O my poor old Henry Jekyll, if ever I read Satan's signature upon a face, it is on that of your new friend. | " |
| | ~ John Utterson trying to describe Hyde's appearance in the original novella. | |
| | | |
| --- | --- | --- |
| " | I feel I'll live on forever! With Satan himself by my side! And I'll show the world that tonight and forever, the name to remember's the name Edward Hyde! | " |
| | ~ Mr. Edward Hyde singing "Alive" in the musical adaptation. | |
Dr. Henry Jekyll, also known as Edward Hyde, is the eponymous main antagonist of the 1886 gothic novella Strange Case Of Dr. Jekyll and Mr. Hyde by the late Robert Louis Stevenson. Hyde is the dark side of Henry Jekyll, unleashed by use of a potion. Over the course of the novel, Jekyll transforms into Hyde in order to keep his good and evil personalities separate, only to find himself addicted to the potion as Hyde slowly overtakes him. He has been the subject of many films, and was prominently featured in the first two volumes of The League of Extraordinary Gentleman, a graphic novel by Alan Moore and Kevin O'Neill.
Biography
Original
In the original novella, Hyde is described as "pale and dwarfish", and has rough, corded hands. Everyone who sees him describes him as giving an impression of ugliness, although he is not physically deformed. Hyde was created out of an experiment by Dr. Henry Jekyll, who wanted to live a wild and carefree existence without losing his respectability, so he decided to unleash his darker side. He created a potion, which allowed this to happen, and he named his new face Edward Hyde. Hyde was shorter than Jekyll because he had yet to exercise the evil in his soul.
For a time after this, Jekyll is the respectable doctor by day, then uses the potion to become Hyde and live a life of debauchery and excess by night. However, the more Jekyll used the formula, the more difficult it was to control Hyde's actions. One night, he trampled a small child who had bumped into him in the street. About a year after that, something worse occurred: Hyde, without provocation, savagely beat an old Member of Parliament named Sir Danvers Carew to death with his cane and feet. After this incident, Jekyll determined never to use the potion again. However, Jekyll began to transform without even taking the potion, and he had to brew more antidotes to change back into himself.
When Jekyll ran out of his first batch of ingredients, he tried procured more to brew the antidote again, but he couldn't reproduce it exactly. For several weeks, Jekyll had to live in seclusion in his laboratory, since he was stuck as Edward Hyde, a wanted criminal. Unable to go on, he wrote a letter confessing his double life as Hyde and the murder of Danvers Carew. Afterward, he brewed a bottle of poison and swallowed it.
Skills & Abilities
Hyde is said to be much stronger than Jekyll, as the formula used to induce him was originally supposed to be a vitamin tonic. The limits of his strength are ambiguous but he can very easily throw other people of the same hight and weight aside without slowing down and in a rage he can casually break furniture. Hyde is said to be in his mid-20s, which is substantially younger than Jekyll who is over 50 - Jekyll's explanation for this is that Hyde is a part of himself he has only had to start repressing for about 20 years, but that the vitamins in the formula might have something to do with it as well. Hyde is spry and capable of moderate acrobatics like hoping off walls to climb up alley-ways. Hyde has an uncanny aura about him, at first it seems he is ugly, but upon trying to recount his appearance onlookers find they can not recall any actual details of his face. Gabriel Utterson, in trying to ambush and examin Hyde finds he too is for some reason entirely unable to recall Hyde's face, only that it filled him with dread. Simply seeing him induces fear and/or disgust in Hyde; It is implied this is not a physical change of the formula, but rather an innate perception of him as Hyde is an embodiment of all the things those in polite society shun, and so as a manifestation of those traits, Hyde passively exudes a sort of aura of malice directed towards him. In addition to his physical traits, Hyde has access to Jekyll's accounts, making him wealthy enough to indulge in creature comforts, pay-off victims of his crimes to not report him and afford exotic ingredients to replenish his formula.
Personality
Unlike in many other adaptations, Hyde is originally portrayed as just an extension of Henry Jekyll. Jekyll is largely aware of his actions as Hyde, and Hyde is merely Jekyll relieved of consequence and responsibility and thus acting out compulsively after years of repression in a high-society life. Jekyll alludes to having to repress certain base desires all his life, and so as Hyde - no longer being bound to them he acts on even his slightest whims as a form of ego cleansing/stress-relief. Because of Jekyll's repressed life, what he is repressing has often been debated among academics and has ranged from toxic masculinity, to homosexuality, to deep-seeded psychosis; The actual text is ambiguous, only stating Jekyll has some in-born preferences he knew he could never act on. Whatever Jekyll's issues, he has been repressing them so long, Hyde almost seems like another person to him who he can live an escapist life through. Hyde is anti-social, dislikes children, has a short-temper, and is prone to sadism. The final days of his life are not Hyde trying to assert himself over Jekyll but rather Jekyll becoming so prone to indulging himself through Hyde he can no long subconsciously form a distinction between himself and his alter-ego. The point of the book is that despite someone like Jekyll's best efforts, Hyde could never be an alternate personality, just his true self coming out more and more once indulged until Jekyll suffers a major identity crisis in losing the veneer of respectability Hyde hid behind.
Film Adaptations
The first film adaptation was a silent film released in March 28, 1920. Jekyll and Hyde were both portrayed by the late John Barrymore. His Hyde had a pointed head, a hunched over stance, and long fingernails. In this version, Jekyll creates Hyde after facing pressure from Carew, his future father-in-law, to live a wild life before his marriage. Hyde's murder of Carew is done out of anger at this behavior.
The next adaptation was released in December 31, 1931. It starred the late Fredric March as Jekyll and Hyde. This Hyde was clearly more bestial in appearance than his predecessors. Its creators designed him to look like current reconstructions of the Neanderthal man. They gave Hyde flared nostrils, a heavy brow ridge, and fangs. As the film progresses, Hyde grows more apelike. In the film, Jekyll transforms himself after Carew insists he wait to marry his daughter for eight months. Hyde obsesses over Ivy Pierson, a prostitute whom Jekyll had previously encountered. He murders her after she goes to Jekyll for help.
The last major film version was released in August 12, 1941 and starred the late Spencer Tracy as the doctor and his alter ego, the late Ingrid Bergman as Ivy Pearson, and the late Lana Turner as Bea Emery. The film followed the same basic screenplay as the 1932 version, but this version of Hyde had a different design, looking more human than March did. However, Hyde's appearance still deteriorated throughout the film.
In the 1973 TV film, he was portrayed by the late Kirk Douglas.
In Other Media
Alan Moore's Portrayal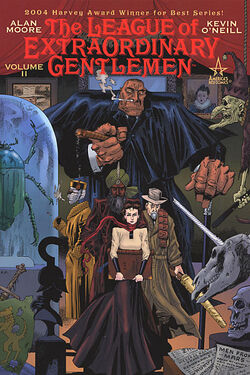 In their graphic novel The League of Extraordinary Gentlemen, Alan Moore and Kevin O'Neill picked up Hyde's story after his alleged death in the original story. In this version, Jekyll faked his suicide and relocated to Paris, where Hyde began murdering the prostitutes he brought back to their apartment. He was found and captured by Alan Quatermain and Mina Murray, sent to Paris by the British Secret Service to recruit him for a special team. This version of Hyde is far taller than Jekyll, who plays a far smaller part in this story. Hyde explains this in the second volume, stating that as Jekyll lost any assertiveness, Hyde lost all restraints.
In the second volume of the story, Hyde even exhibits certain noble characteristics. He forms a bond with Mina, and when Hawley Griffin, better known as the Invisible Man, betrayed the team and humanity itself to the Martians and assaulted and nearly killed her, Hyde sought violent revenge. Hyde could actually see Griffin through the use of infrared vision (which he cleverly kept a secret), and he beat, raped, and murdered him (ironic, as Hawley had used his powers to rape numerous people before). When the Martian tripods where about to enter London, Hyde distracted them just long enough in order for the secret germ weapon to arrive. The Martians incinerated Hyde, but he kept them distracted just long enough to save London.
Abbot and Costello
Main article: Mr. Hyde (Abbott and Costello)
The Pagemaster
Main article: Mr. Hyde (The Pagemaster)
Jekyll & Hyde
Main article:

Robert Jekyll (Jekyll and Hyde)
Van Helsing
Main article: Mr. Hyde (Van Helsing)
Once Upon a Time
Main article: Mr. Hyde (Once Upon a Time)
Dark Universe
Main article: Mr. Hyde (Dark Universe)
Gallery
Images
Videos
Trivia
While most adaptations and reinterpretations portray Edward Hyde as Jekyll's alternate personality, in the original novella, Hyde is truly an alter-ego of Henry Jekyll who was fully aware of his actions at all times and still identified himself as Jekyll after drinking the Hyde formula.
Along with the Professor Moriarty and Dorian Gray, Mr. Hyde had a large role in the creation of the concept of supervillains.

The Batman creator Bob Kane used the story of Jekyll and Hyde as a basis for the villain Two-Face.

According to Stevenson, Henry Jekyll's last name is pronounced "Jeekel", with the Y used as a vowel to make the E sound long, but popular culture tends to refer to him as "Jehkel", with the E sounding short by default.
Originally Hyde is meant to show the dangers of Victorian values - repressing one's base human urges until the primal side of someone like even the respectable Dr. Jekyll is nothing but a shell used in polite society while Hyde is a true-self that can no-longer be ignored once indulged.
Villains