Jurassic World: Dominion Dominates Fandom Wikis - The Loop
Play Sound
Edward Teague is a recurring antagonist appearing in the WB/CW series Smallville seventh season and was mentioned in the fourth.
He was a powerful lawyer, member of Veritas and disciple of Virgil Swann. He was the husband of Genevieve Teague and the father of Jason Teague.
He was portrayed by Rick Ravanello in a flashback, and by Robert Picardo in the present, who also portrayed Wayne Whittaker in Supernatural, Amazo in Justice League animated series, Shadowman in Call of Duty: Black Ops III, Sebastian Krueger in the same game, one of the pirates in The Pagemaster, Eddie Quist in The Howling, Sylvester Smirch in Beethoven's Christmas Adventure, Meg Mucklebones in Legend, Equinox EMH and The Doctor in Star Trek: Voyager.
Biography
Early life
Edward and Genevieve Teague were part of Veritas, an elite group dedicated to locating the fabled Traveler. Edward and his wife also searched for the mythic Stones of Power since they believed it held information on the Traveler and because of Genevieve's connection to her ancestor Duchess Gertrude.
The other members of Veritas knew about their expeditions around the world looking for the stones and the group were unsure whether to trust them or not.
Edward cut his son Jason off after he refused to study law and become a lawyer at Merrian, Teague and Wiseman. He and Jason were estranged for years by the time he transferred from Metropolis University to attend Central Kansas A&M.
After his wife and son died, Edward went into hiding in Montreal, Canada, and became a priest at the St. Christopher's Cathedral.
Season Seven
After years of waiting, Edward learned that Clark Kent was the Traveler and started to carefully study him. Edward sent an assassin after Lex where he left a clue for Clark to discover by carving a Kryptonian symbol into Lex's chest. Clark went to the cathedral and found Kryptonian symbols inscribed on the basin.
They direct him to other symbols underneath, but as Clark turns, he finds a mysterious hooded figure who has been expecting him. The man identifies himself as Edward Teague, the last surviving member of Veritas, and now he wishes to serve the Traveler.
He warns that outside forces were too close to finding Swann's secret for controlling Clark. Swann's secret was scattered across the globe, and one clue is in the cathedral.
Teague had his man carve the symbols into the chest so Clark would see them and reveal himself. Teague wonders why Clark hasn't taken care of Lex Luthor and realizes Clark doesn't want to fulfill his destiny.
Edward felt Clark was weak and should be destroyed before he could be used by Lex for personal gain and subdued Clark with a piece of kryptonite hidden in his cane. He says no one can be allowed to control Clark, despite the cost.
Edward strapped the weakened Clark to an altar surrounded by liquid kryptonite and prepares an ancient Kryptonian ritual, that was meant to sacrifice a warrior, believing Clark can be turned into a destroyer as easily as a savior. He then carved the Mark of El on Clark's chest.
Lex arrived at the cathedral and found a five-sided key that appears from a hidden compartment. Teague arrives and is impressed that Lex has risen to become the Traveler's nemesis, then insists that without a Traveler, there can be no Destroyer.
Edward later had to fight Lex Luthor after he found the missing piece of the Orb in a clock. As the two men fight while below, Chloe arrived and drains the liquid kryptonite, allowing Clark to heal and break free.
He super-speeds up and stops Lex from killing Teague at super-speed, pinning Lex and Teague to the floor and destroying the clock in the process, then sped away before Lex can see him.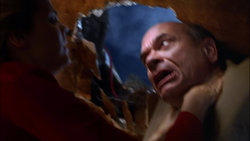 Edward then fled to South America on a private jet since he was resentful over what he did to Clark and for failing to keep the Orb's missing piece from landing into the hands of Lex Luthor.
Brainiac, posing a Kara, begins to question him about Veritas and a device. He avoids her questions and she attacked Edward forcing him to talk about where the Orb was.
She grabs him by the neck and punches a hole in the side of the plane. She threatens to throw him out, until he admits that Lex Luthor probably has the information she seeks. Brainiac then left Edward to die after getting the information he needed from him. He was the last member of Veritas to die.
Notes
In an alternate universe, he and his family were killed by Clark Luthor.
Edward Teague is the only Veritas member to be killed by an alien, Brainiac.

Villains
Protagonists