Jafar says: Read my lips and come to grips with the reality!


This article is a stub and is in need of expansion. You can help Villains Wiki by expanding it.                       



Click To Help DIO!

DIO has declared that this article has stopped in time, and any and all information on it may be outdated.
Help improve this article by checking and updating it's info wherever necessary
And now time resumes!

✓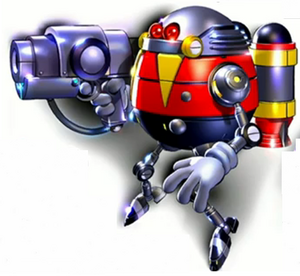 An EggRobo is an egg-shaped robot that first appeared in the video game Sonic & Knuckles. It is designed in the likeness of the infamous Dr. Ivo "Eggman" Robotnik.
History
Sonic & Knuckles
An EggRobo mainly acted as the primary antagonist of Knuckles' single player campaign and is fought in place of Robotnik at the end of most stages. Multiple EggRobos also appear in Sonic's single player campaign as common enemies.
Sonic Generations
The EggRobos reappered in Sky Sanctuary Zone as enemies of Classic Sonic.
Super Smash Bros. for Nintendo 3DS
EggRobos appear in this game as enemies in the Smash Run campaign.
Other Media
Archie Sonic the Hedgehog
In the Archie Comics, EggRobos were originally created by Snively who designed them as a mockery of his uncle Dr. Robotnik. Although Snively claimed they were built as mining robots, he secretly used them to do his dastardly bidding. However, they were eventually destroyed by his enemies. The history of EggRobos were forever changed from the aftermath of the Super Genesis Wave. In this continuity, their history is similar to their video game counterparts.
Powers and Abilities
EggRobo can fly with the aid of a jet-pack and can launch missiles at his enemies - as a boss he also operated some of the war-machines usually associated with Robotnik.
Community content is available under
CC-BY-SA
unless otherwise noted.