She-Hulk Trailer Dropped - The Loop
Play Sound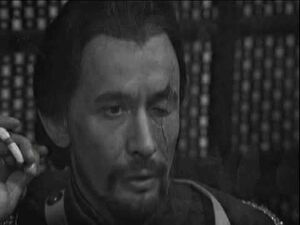 El Akir is the main antagonist of the Doctor Who story "The Crusade".
He was played by the late Walter Randall, who later played Harry Slocum in "Inferno".
Biography
El Akir was a Saracen emir. He was nominally in the service of Saladin but was a law unto himself in his own lands and had a reputation as a cruel ruler. He had desired Maimuma, the older daughter of a wealthy merchant, Haroun ed Diin. When Haroun refused to let El Akir take her, El Akir had his house burned to the ground and his wife and son killed. Maimuma was taken to El Akir's harem. When she threatened to commit suicide rather than dishonour her family, El Akir lied that her father and sister were dead, causing her to give herself to him in despair.
El Akir sought to gain favour with Saladin by capturing King Richard the Lionheart. He ambushed Richard's hunting party, killing or wounding many of his companions and also wounding Richard himself. The Doctor and his companions were caught up in the ambush, resulting in Barbara being captured. One of Richard's knights, Sir William des Preaux, halted the attack by claiming to be the King. El Akir took him and Barbara away, with Sir William adding to the subterfuge by claiming Barbara was Richard's sister Joanna.
However, when El Akir presented his two captives to Saladin, their true identities were soon revealed. El Akir was humiliated, and his attempt to regain control of the situation by offering to have Barbara die a slow and entertaining death for the sultan was also rejected. He made her the target for his revenge and made a deal with an Italian merchant, Luigi Ferrigo, arranging an audience with Saladin for him in return for luring Barbara to the stable so El Akir could capture her.
El Akir took Barbara back to his home city of Lydda, where she managed to escape into the streets but was eventually recaptured and taken to his palace. However, she then escaped again and was hidden by his harem. One of them betrayed Barbara in return for money and El Akir prepared to kill Maimuma for going against him, only to be stabbed in the back and killed by Haroun, who had come to rescue his daughter.