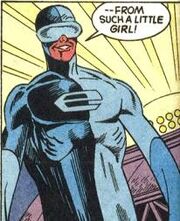 Elasti-Man is one of the names of the evil counterpart of Plastic Man in the DC Universe media.
Origin
History of character is unknown.
Parallel Eath Plastic Man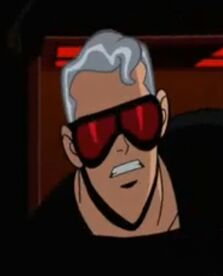 An evil Injustice Syndicate version of Plastic Man with white hair and a black costume (similar to the old Plastic Man in The Dark Knight Strikes Again). Even though his name is not revealed in the show, the toy released him under the name Elastic Man.
Extruded Man
Intrigued by the flexibility of the human body, a man went on a strange quest to investigate various contortionists around the world. His search ended when J'edd J'arkus recruited him to be one of his Made Men. He empowered him with a special drink that gave him the power of elasticity. As Extruded Man, he was later associated with Owlman after J'arkus' untimely death. On a mission to find the stolen Quantum Trigger, Extruded Man was attacked by the Flash who stretched him out through the Justice League base. Taken past his extruding limits, he was passed out from the physical stress.
Community content is available under
CC-BY-SA
unless otherwise noted.