We're Getting Mutants in the MCU - The Loop
Play Sound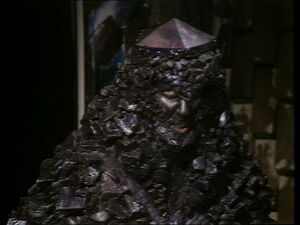 Eldrad is the main antagonist of the Doctor Who story "The Hand of Fear".
He was portrayed by the late Stephen Thorne, who also portrayed Azal and Omega, as well as voicing the character for Big Finish. His female form was portrayed by Judith Paris.
Biography
Eldrad was a Kastrian scientist. With his planet becoming inhospitable because of solar winds, he designed spatial barriers to protect the surface, as well as designing silicon-based bodies for his people and the ability to regenerate using their genetic code. However, Eldrad dreamed of leading his people in conquest. When they refused to follow him, he destroyed the spatial barriers, forcing the Kastrians to retreat to shelters beneath the surface. Eldrad was sentenced to execution, placed in a capsule that was sent into space and then detonated.
However, Eldrad's hand survived the explosion and ended up on Earth, where it was found millions of years later by the Fourth Doctor and Sarah. Eldrad gained mental control over Sarah and had her take the hand to a nuclear power station, using the radiation to begin to regenerate itself, to the point the hand could move of its own accord. The hand later took control of a senior technician, Driscoll, and forced him to carry it into the nuclear reactor, using the energy from that and a nuclear attack to construct a full physical form, a female body loosely modelled after Sarah.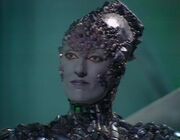 Eldrad convinced the Doctor and Sarah to take her to Kastria in the TARDIS, claiming her execution, as well as the destruction of the spatial barriers, had been the result of treachery by a group of alien invaders. Eldrad was struck by a poison booby trap but made it to the regeneration chamber, where he regenerated into his true form. He also revealed the truth to the Doctor and Sarah and planned to take control of Kastria and its people, only to learn they had all died millions of years earlier, choosing extinction rather than being forced to live underground and destroying their race bank. Proclaimed "King of Nothing" by a recording from his old enemy King Rokon, Eldrad planned to take control of Earth instead. Pursuing the Doctor and Sarah, he was tripped by them and fell into a chasm. However, the Doctor expressed doubt that he was dead, noting silicon lifeforms were hard to kill.
The audio play "Eldrad Must Die" saw the Fifth Doctor, Tegan, Nyssa and Turlough discovering Eldrad's eye had also ended up on Earth and possessed a human, Charlie Gibbs, aiming to create an army of crystallised humans. They again returned to Kastria and encountered the previous Eldrad, driven mad by isolation. This Eldrad killed the new one before himself being killed by the Kastrian assassin Mulkris.