Dr. Elise Fine is the mother of Abigail Fine and a former cosmetic surgeon.
She appeared in the Fourth Season of the WB television series Smallville as the main antagonist in the episode "Facade".
She was portrayed by Julianne Christie.
Biography
Early life
When Elise Fine was young she was considered "ordinary looking" and was teased for it. After graduating, Elise underwent some cosmetic surgeries to perfect herself.
Elise had a daughter, Abigail, who was teased because of a severe case of acne and she was mercilessly teased by the popular kids for her appearance. She was called Scabby Abby as a result.
Facade
Becoming a cosmetic surgeon herself, Elise developed an experimental cosmetic treatment, that she used on her daughter, to give Abigail a perfect body. She wanted her daughter to have the perfect senior year and Abby underwent a procedure using meteor rocks.
Dr. Fine turned on some machinery and a network of green glowing tubes and needles descend on Abby and pierced her skin.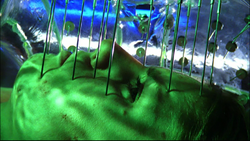 The procedure drastically changed her appearance and in addition to clearing up her acne, Abby dyed her hair and got breast implants. However, Abby soon learned of a devastating side-effect to her treatments; a lethal kiss that caused people to hallucinate that their faces were melting.
Lana Lang visited Dr. Fine for a consultation about getting her tattoo removed, but Dr. Fine informed her that the tattoo is not ink — it was branded underneath her skin. She tells her that Lana will probably need a complete skin graft if she wants it removed.
She recognizes Lana as one of Abby's classmates. Abby arrives and when Lana asks about her and Brett, Abby said she doesn't know what she was talking about.
Unnerved, Lana exits quickly. Abby was upset and demands to know what her mother did to her. Dr. Fine says Brett deserved it anyway and they will have to get Lana out of the way since she saw the two of them together.
Dr. Fine instead manipulated Abby into helping get rid of evidence and witnesses, forcing Abby to deliver a deadly kiss to Lana Lang as well or her treatments would stop and she would become "Scabby Abby" again.
Abby reluctantly obeyed her mother and delivered a deadly kiss to Lana which landed her in the hospital. Lois Lane later did research on Dr. Fine and her clinic which was located in the Beechwood Medical Center.
Lois states that Dr. Fine had developed a medication to keep serotonin levels in check. Clark and Chloe decide to go to the facility so she can treat Lana and Brett.
Lois had other ideas and paid a visit to Dr. Fine pretending to be interested in plastic surgery and scheduled an appointment for the same procedure that Abby had while secretly tape-recorded the conversation.
Lois then revealed her true intent and declared that she would put Dr. Fine in prison. Dr Fine however pulled Lois back by her hair, injects her, and rendered her unconscious.
Dr. Fine then attacked Lois and prepared to destroy Lois' beauty with her treatment. Lois awakes as needles and tubes descend on her, realizing she's stripped to her underwear and pinned in the plastic surgery machine. Dr. Fine tells her that she will destroy her beauty so she will learn what Abby had been through. Lois is terrified and tries in vain to get out.
Clark bursts into the lab to save her, but when he pulls the machinery off, green gas starts to fill the room. Clark is incapacitated and Dr. Fine knocks him to the ground. She was thwarted by Lois' accomplished self-defense moves.
However, Lois kicked her away, frees herself from the machine, and winds up helping Clark from the room. Dr. Fine was taken into custody and sent to a psych ward while her daughter received treatment for her condition.

Villains
Protagonists