Jurassic World: Dominion Dominates Fandom Wikis - The Loop
Play Sound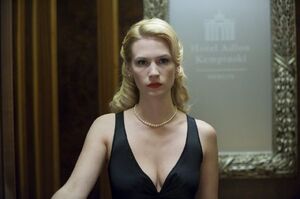 Elizabeth "Liz" Harris is a major antagonist of the 2011 British-German-French psychological thriller action film Unknown.
She was portrayed by January Jones, who also portrayed Emma Frost in the X-Men film franchise.
Biography
Liz is an assassin who works for Dr. Rodney Cole who poses as the wife of Dr. Martin Harris, both part of a terrorist plot to murder Professor Leo Bressler in Berlin, as his death would allow Section 15 and the other assassins involved to steal his research and gain a fortune.
After Martin (Neeson) suffers a car accident in a taxi that makes him actually believe he is Dr. Martin Harris he goes to the hotel where a biotechnology summit is going to take place and Dr. Bressler and Prince Shada will be as part of a negotiation to end world hunger, but when he arrives he finds out Liz doesn't know who he is and that another man has stolen his identitiy (Martin B).
Along the film Martin Harris tries to proves he is the real Martin but Martin B has the same proves, also assassins are trying to kill Martin (Neeson), helped by Gina the Bosnian illegal immigrant who was the taxi driver the day he lost his memory, finds out that the one he thought was his friend and colleague Dr. Rodney Cole is actually a representative of the assassin group "Section 15", after Cole reveals Martin is a trained assassin working for him sent to activate a bomb at the hotel, both he and an assassin known only as Jones are killed by Gina, then Martin and Gina try to warn the hotel security staff that there's a bomb in the hotel, Martin then realizes the bomb was set to kill both Prince Shada and Bressler to make it look like Shada was the target when is actually Bressler, while this is happening Liz and Martin B hack into Bressler's computer to steal his research but Martin proves Herr Strauss (chief of hotel security) that there's a bomb so he orders to evacuate the hotel, Liz refuses to go as she wants to stop the bomb because she doesn't want to be linked to an unnecessary explosion, Martin B agrees but when he tries to kill Bressler by his own he is stopped by Martin Harris, meanwhile Liz breaks the room wall where the bomb is and tries to reach it but is too late and the bomb goes off killing her.
After this Martin Harris manages to kill Martin B in the remains of the hotel.

Villains
Animated Features
Yubaba | No-Face | Yu-Bird | Madame Suliman | Witch of the Waste | Max Mordon | Kopponen | Odysseus Inc. | Daniel | Anthony Trumper | The Pigs | Bull | Sir Claude | Lord Nooth | Violet | Team Tropolis | Agent Red | Mugg-1N5 | The Hazmats | M.A.D.
Live-Action Films
Daleks | Robomen | Vilos Cohaagen | Mars Colony Security Force (Carl Hauser, Richter, Lori, Helm, Everett, Benny & Harry) | Dr. Edgemar | T-800 | T-1000 | Douglas | Skynet | Fence Shooter | Catherine Tramell | Roxanne 'Roxy' Hardy | Luc Deveraux | Andrew Scott | Colonel Perry | GR86 | GR55 | GR76 | Wagner | William Strannix | Krill | Daumer | William Foster | Nick the Neo-Nazi | Eric Qualen | Richard Travers | Kynette | Delmar | Kristel | Ryan | Heldon | Mike | Ray | Dial | Wade | Ra | Dawg Brown | Boris Balkan | Liana Telfer | Harry Goldfarb | Tyrone C. Love | Big Tim | Uncle Hank | Drug Lord Physician | Sheriff Cooley | Diane Selwyn | David Carlton | Le Tenia | Pascal Sauvage | Dieter Klein | Klaus Vendetta | David | Pete | Zombies | The Hood | Transom | Mullion | Edmund Zuwanie | Nils Lud | Jean Gamba | Selma Quickly | Great Aunt Adelaide | The Flight 93 Hijackers | The Phantom | Georgia Skyes | Sharice Watters | Buddy "Aces" Israel | Frank Butterman | Neighbourhood Watch Alliance (Simon Skinner, Tom Weaver, Michael Armstrong, Reverend Philip Shooter, Robin Hatcher, Joyce Cooper, Amanda Paver, Annette Roper, James Reaper, Roy and Mary Porter, Leslie Tiller, Mr. Treacher, Greg and Sheree Fowler & Somerfield Employees) | Carson Clay | Harriet Bentley | Miss Gribben | Di Radfield | Uncle Phil | Miss Topsey | Miss Turvey | Abalam | Rodney Cole | Martin B | Elizabeth Harris | Aliens | Hi Hatz | Bill Haydon | Vortex (Simon Ambrose, Killer Cleaner, Slater, Madeleine, Titus Fisher, Artem Karlenko, Ling & Susan) | Chi Han Ly | Matov | The Network | Blanks (Oliver Chamberlin, Guy Shepherd, Shane Hawkins, The Marmalade Sandwich, The Twins & Peter Page) | Tom Bowen | Zack White | Jack Hammond | Mike Lucas | Millicent Clyde | Terry Cox | Felix Marti | George Cornell | Macbeth | Lady Macbeth | Wyrd Sisters | Phoenix Buchanan | Joanna | Jason Volta | Xander
Live-Action TV
Hannibal Lecter | Alana Bloom | Garret Jacob Hobbs | Abigail Hobbs | Abel Gideon | Tobias Budge | Randall Tier | Eva | Clark Ingram | Eldon Stammets | Elliot Buddish | Lawrence Wells | Kade Prurnell | Mason Verger | Rinaldo Pazzi | Matteo Deogracias | Tommaso | Francis Dolarhyde
See Also
Aardman Villains | Cornetto Trilogy Villains | Doctor Who Villains | Hereditary Villains | Hannibal Villains | James Cameron Villains | Johnny English Villains | Lionsgate Villains | Miramax Villains | Netflix Villains | Requiem for a Dream Villains | Ridley Scott Villains | Shakespeare Villains | Studio Ghibli Villains | Universal Soldier Villains | Wallace and Gromit Villains
Villains