Wiki Targeted (Entertainment)
Play Sound
Jafar says: Read my lips and come to grips with the reality!


This article is a stub and is in need of expansion. You can help Villains Wiki by expanding it.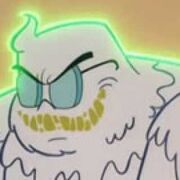 Elmer Sglue is an antagonist from The Powerpuff Girls. He is a curly haired boy who is a student at Pokey Oaks Kindergarten. He befriended Buttercup at the end when she apologized for making fun of him. However, Because of his tendencies to eating glue, no kids were friends with him. Instead, they found it humorous, and not only made fun of him, but threw hard things at him. Due to being bullied so much, Elmer turned into a giant glue monster, who wants everyone else to feel his misery. Therefore, he decided to destroy everyone in Townsville. However, he redeems himself in the end. 
Powers and Abilities
When Elmer eats glue, he becomes extremly powerful, and is able to transform himself from a little boy, into a giant glue monster. He is able to suck people in him with his glue, and to hold his own against Buttercup.